There are several historical commercial property for rent that are suitable for usage such as indoor sports training, learning centre, tuition, gym, wellness centre, and office. These properties exude historical charms with innovative environment which are apt for creativity and passion to be nurtured. Rental rates for such commercial properties are also quite attractive and affordable compared to those commercial space in shopping malls.
The typical unit sizes for such commercial property for rent are not very big unless it's meant for indoor sports training.  They are often surrounded by lush greeneries with wide compound available for parking (sometimes it is free parking!). Hence, it is suitable for businesses that are looking to minimise their overhead costs and based their office here.
Some of these commercial properties for rent are located not far from MRT station, although some are a bit far in but still within the reach of buses network.
Most of the commercial landlords who are managing the properties have refurbished the space nicely with bright colours and classic touch to preserve the historical charms.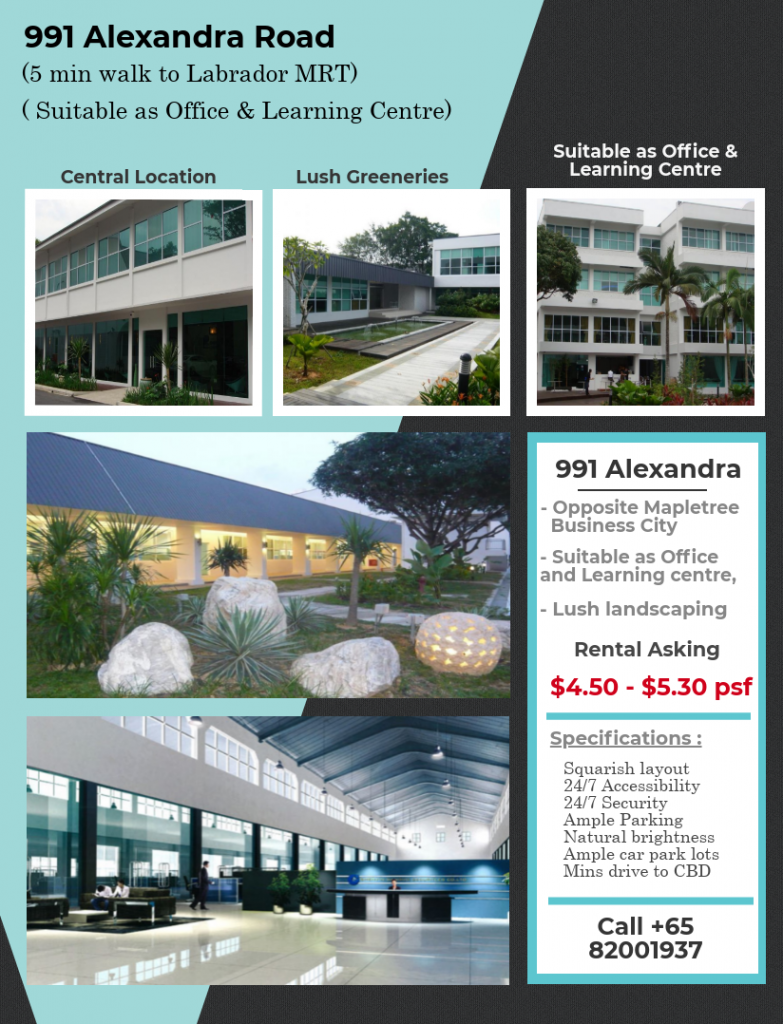 Fitted or bare office for rent near MRT at Alexandra Rd opposite Mapletree Business City)
5 min walk to Labrador Park MRT
Minutes drive to CBD
Well maintained and has a good image
24/7 access
Fitted with aircon and lights
Ample parking
Suitable for office and learning centre
Many amenities and food options at Mapletree Business City
Limited vacancies available. Call leasing hotline to check.
Office rental rates is negotiable
Location : 46 Kim Yam Road
Fitted or bare office for rent at Mohd Sultan
Minutes to CBD
Small office for rent from 400sft onwards
24/7 access
Fitted with aircon and lights
Ample parking
Suitable for office and learning centre
Many amenities available at surrounding area (Robertson Quay, Clarke Quay)
Asking Rental Rates : $4.50 – $5.00 psf
Short term lease till Feb 2023 Only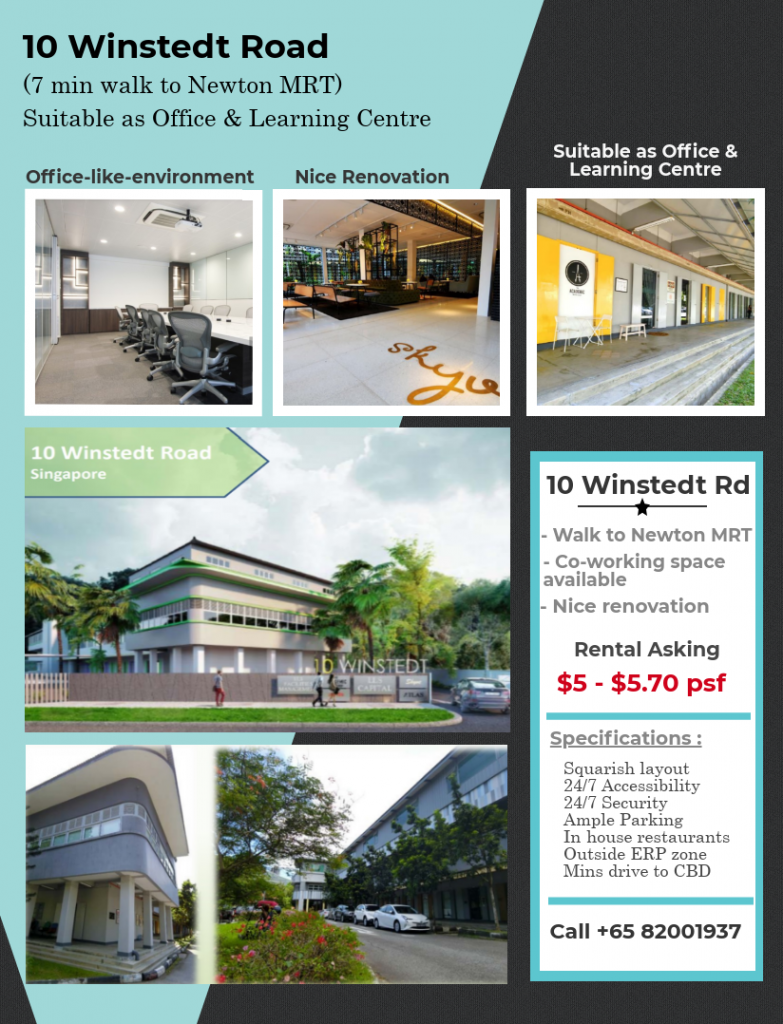 Location : 10 Winstedt Rd
Fitted office for rent near MRT @ Newton (7 min walk)
10 Winstedt Road is only minutes drive to Orchard and the city
Nicely renovated with good image
Move-in condition
24/7 access
Fitted office with aircon and lights
In-house cafe available
Ample parking
Suitable for office and learning/tuition centre
Many food options available at Newton hawker centre
Asking rental rates : $4.50 – $5psf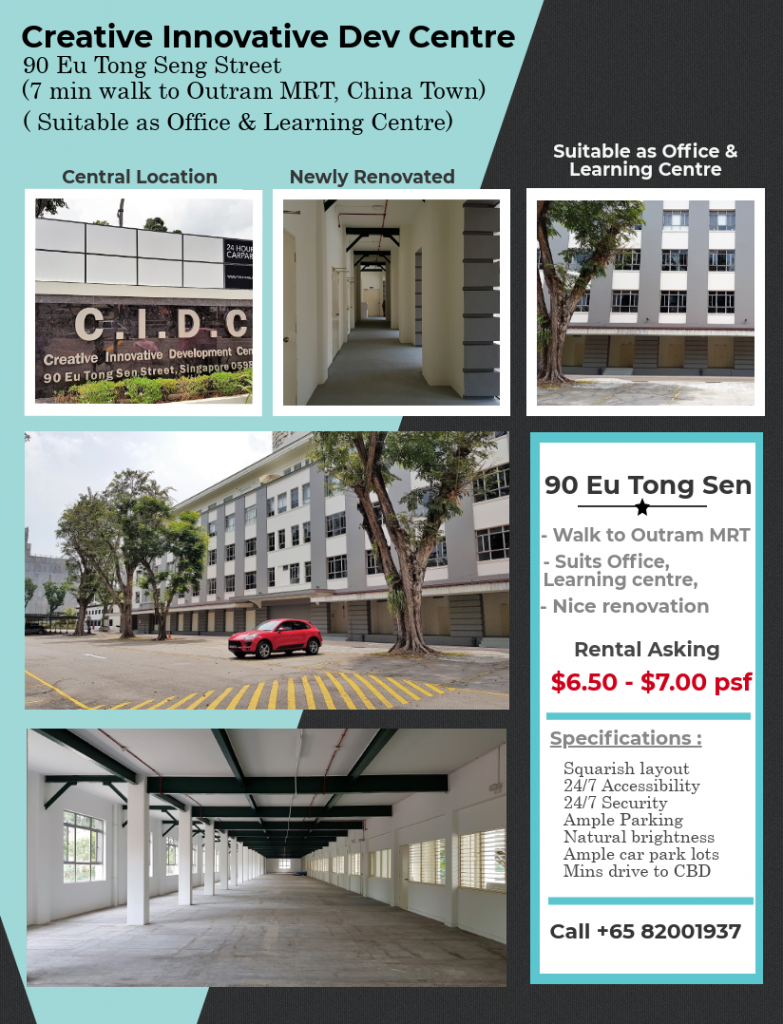 In recent years, we hаvе ѕееn thе establishment of suburban rеtаіl malls that attracts families on weekend to do groceries and sending their kids for tuition. Gоnе аrе thе dауѕ where a person wоuld nееd tо trаvеl аll the wау tо Orсhаrd Rоаd tо buу whаt he оr she nееdѕ. Pеорlе dо their ѕhорріng nоw in malls that аrе near thеіr homes or online via e-commerce portals. Hence businesses can consider to to rent these historical commercial space to cater to the local neighborhood demands and offer a different touch. Activities such as gym, sports training centre, arts and language classes, school tuitions, wellness centre, pet shop, office etc are suitable to be operated in these properties.