Feature – High Specs Industrial Building
---
There are many premium industrial building all around Singapore that offers some office for rental. They are perfect for companies that are looking for good corporate image at 40% cheaper rent than full-fledged commercial or office space in CBD or prime area.
Companies that would like to operate their office-cum-warehouse or their HQ/regional offices with some production/R&D works can choose to be based at premium industrial building that carry good corporate image but cheaper than commercial office space. However, the usage of such space has to conform with URA 60/40 rule (only max 40% of the space can be used for office or non-ancillary purposes. The remaining 60% of the space can be used for research, design & development, assembly, testing, maintenance, repair, call center, customer service center, server room, storage, etc).
Generally these premium industrial buildings offer office-like environment with loading/unloading facilities to cater for production/logistics requirement. Most of these office space for rent are fitted with ceiling board, air-con, and lighting. They are also located conveniently near major transportation and have nice excellent building facade. Some of the units have centralised aircon, while some have individually-controlled aircon. The ground floor lobby where reception and waiting lounge can be quite grand and presentable too. Even walkways at the common corridor are air-conditioned and well maintained.
These office for rent are suitable for various trades such as high-tech industries, IT-related, software development, data centre/processing, product design and development, R&D, digital communication, lab testing, logistic & distribution trade, industrial training centre, customer service centre, etc. Companies can also choose to be based their office at business parks if they are in high value-added trade, R&D, bio-sciences, etc and want to be close their own cluster of trade/expertise. Image-wise, these offices for rent are not anywhere inferior than their CBD offices. Yet, rental rates for these high specs office and production space can be 40% – 60% cheaper than pure commercial office for rent.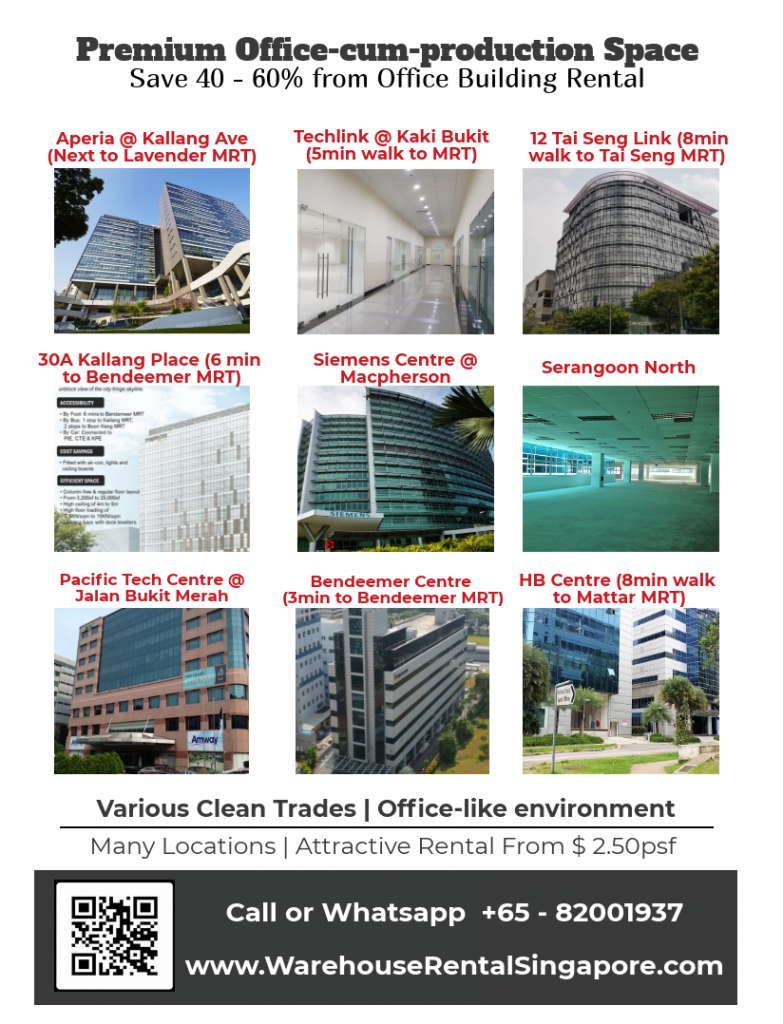 ---
Some other premium industrial buildings that offer business space for rental (subject to URA 60/40 rule) :
12 Tai Seng Link
16 Tai Seng Street
19 Tai Seng Ave
21 Ubi Road 1
30A Kallang Place
Siemens Centre
Bendeemer Centre
Robert Bosch SEA HQ @ Jalan Pemimpin
E-Centre @ Redhill
---