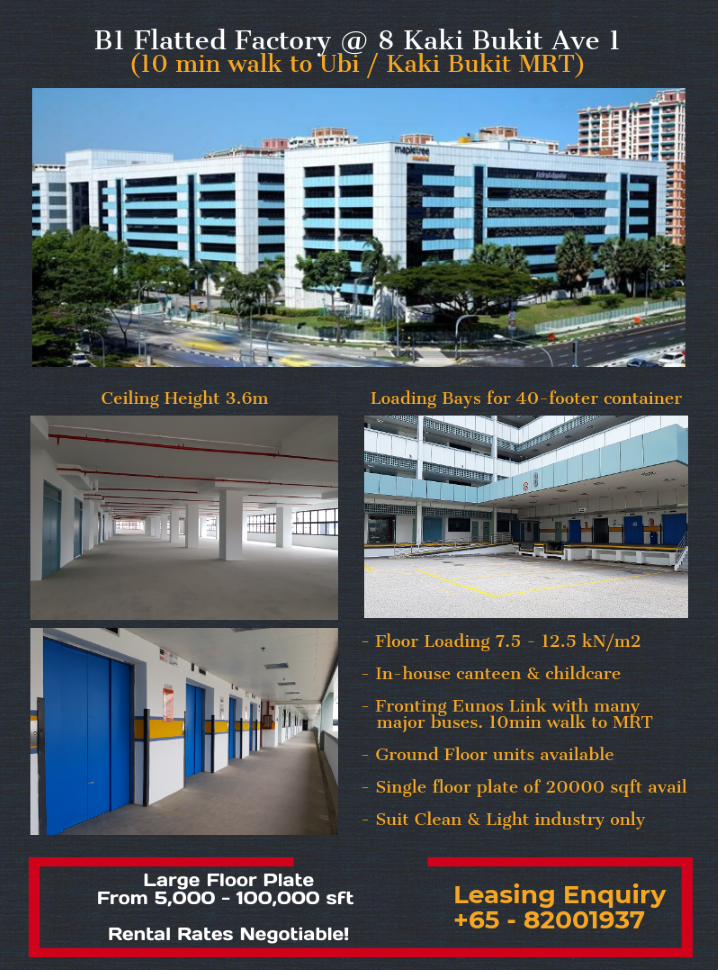 This B1 flatted factory at 2/6/8/10 Kaki Bukit Ave 1 is easily spotted fronting major road of Eunos Link with many major buses going to MRT and city. Only 10 min walking distance from Ubi or Kaki Bukit MRT, it is convenient for staff to access. Located in one of the mature residential estate, it is next to Enterprise One industrial building and surrounded by residential housing, F&B, car showrooms, furniture and commercial shops. The presence of in-house canteen and childcare centre facilities will ensure staff that work here happy as it is easy to go around with major transport options to nearby amenities. This Kaki Bukit warehouse for rent at 2/6/8/10 Kaki Bukit Ave 1 are easily accessible via expressway KPE, CTE, TPE, and ECP, which are all less than 5 min drive away. It takes approximately only 15 min to the city.
As a standard ex-JTC flatted factory, this Kaki Bukit warehouse / factory space for rent suitable for clean and light business (B1 zoning). Various sizes are available for warehousing, production, distribution, testing & assembly of equipments, IT-related trade, and call centre.
One of the previous major tenant in this industrial building at 8 Kaki Bukit Ave 1 was Hitachi. The large continuous layout from 14,000 and 20,000 sft in each of the wing can be combined up to 100,000 sft accross various floors is available now. The highest unit on the 7th floor will have minimal pillars and is fitted with false ceilings. Newly upgraded common bathroom are available on each floor. It will be suitable for company that need a head quarter office with light production area in a good location near MRT and amenities.
There are also smaller units available from 3000 / 5000/ 7000/ 10000 sft. Ceiling height of the units are 3.8m with most factory units for rent available are in bare condition with some rare occasion where there are fitted units for take-over. Layout of the units are also quite squarish and comes with windows. Ground floor units of 3000 – 5000 sft with a floor loading of 12.5kN/m2 are available (please call hotline to check availability from time to time).
---
Sizes available fr 3000/ 5000/ 7000/ 10000/ 14000/ 20000/100,000 sft
Easy access for staff – 10 min walk to Ubi or Kaki Bukit MRT
In-house canteen and child care available for tenants
Surrounded by many amenities, and F&B shops
Ceiling Height 3.8m
Floor loading 7.5 – 12.5kN/m2
Loading bay with deck leveler available
20/40 footer container accessible.
Units accessible by cargo lifts (4 cargo lifts, 3 passenger lifts)
Wide corridor for easy goods movement
Ample parking lots for vehicle
24/7 access
Good corporate image facade
Continuous large floor plate of 14,000 & 20,000 sft on single wing for exclusive use available
Rental rates $1.80psf (negotiable especially for large floor plate)
Suitable for clean and light industry such as light goods storage, IT & sofware development, call centre, testing & assembly, distribution centre, customer service centre, design, wholesale distribution, assembly & packaging, light production, e-commerce, etc
---
Other JTC B1 Factories For Rent