One-North Singapore – Office & Research Space For Rent
Fusionopolis Office Rental – Galaxis | Nexus | Solaris | Razer HQ
Biopolis Office Rental – Nucleos | Neuros | Immunos | Amnios | Synapse
Mediapolis Office Rental – Infinite Studios | Alice @ Mediapolis
---
Feature – One-North Space For Rent
---
Feature – Lab-cum-office @ City-fringe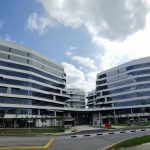 Tai Seng Exchange Address : 1 Tai Seng Avenue, Singapore 536464 Tai Seng Exchange is completed in Q1 2023 and is classified under B2 zoning, which offers an excellent corporate ...

---
Qualifying Trade for one-north business park
One-North Singapore offers office and research space for rent that are suitable for SMEs and MNCs in :
Bio-medical R&D
InfoCom (ICT)
Media
Physical Science
Engineering R&D industries
---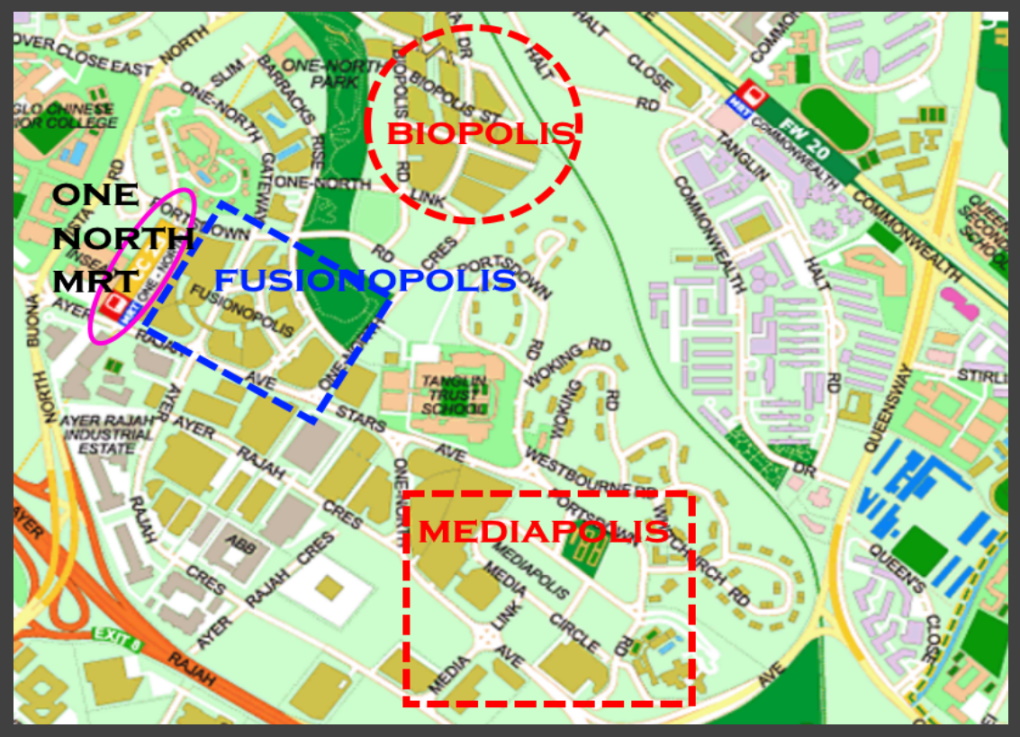 One-North business park is a 200 hectare development located in south west of Singapore and was developed first by Jurong Town Corporation (JTC) in 2003 . It plays host to 3 hubs to house key public and private institutes and organizations: Biopolis, Fusionopolis, and Mediapolis. Most of the office and research space for rent at Biopolis and Fusionopolis eg. Galaxis, Nexus, Nucleos, Neuros, Amnios, Synapse, and Solaris are within walking distance to One North MRT. There are also many amenities and food options available at Galaxis and Timbre+, which is located just opposite One North MRT bringing convenience to the community. All of the buildings within one-north offering office space rental are of high-quality and presents an excellent and futuristic corporate image facade be-fitting it's status as an epitome of research space in Singapore.
---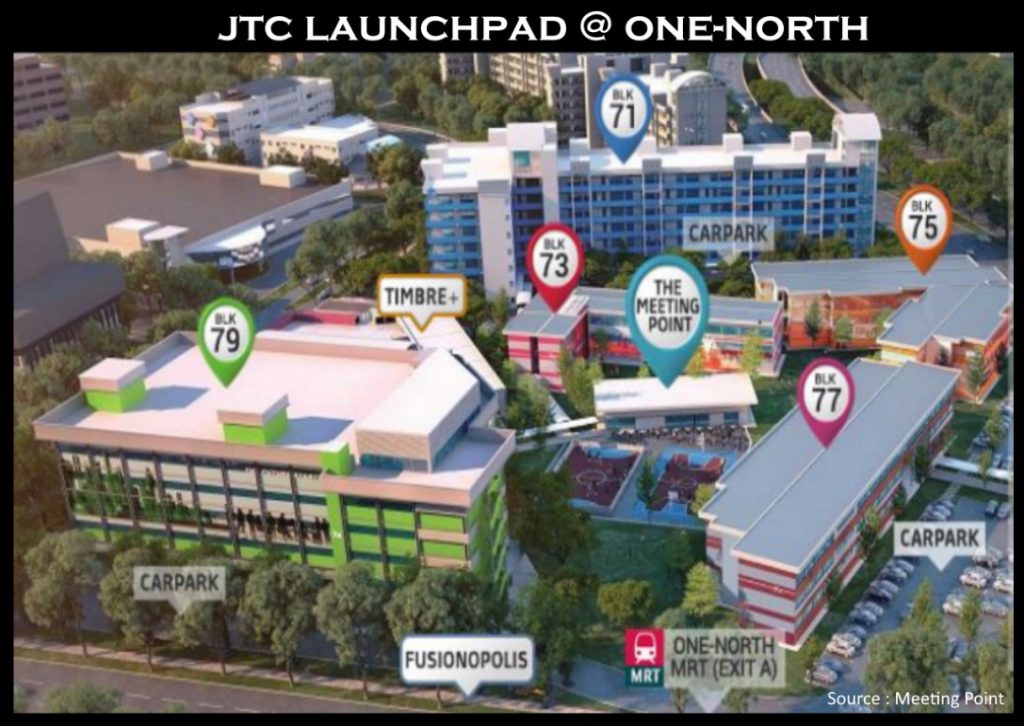 A silicon-valley inspired, JTC launchpad at Ayer Rajah Crescent was established just opposite One North MRT. The office space is used to nurture inspiring start-ups and it has become the focal point for interaction amongst launchpad graduates, subject-matter experts, and venture capitalists as it has indoor and outdoor collaborative spaces to hold meetings and parties. Todate, the start-ups community are buzzing at one-north area encompassing more than 500 start-ups and 2000 enterpreneurs. This launchpad space feature the famous Timbre+ where it houses more than 35 dining options with a good mix of hawker stalls and some restaurant brands. An array of graffiti and spray paint cool art are splashed on shipping containers which are transformed into food trucks. It is where traditional food meet its modern counterparts. There are also indoor and outdoor collaborative spaces to hold meetings and parties – similar to Google and Facebook campuses in the Valley. one-north business park comes alive when the business community and start-ups interact, eat and gather to converse for possible collaboration.
The entire one-north development has been done in stages and completed in its entirety in approximately 15 years. The changes toward this area has tremendous investment potential given the area's accessibility, presence of enterprises generating leasing demands, and ultimately capital appreciation.
---
Business Park and Lab Space for rent at BIOPOLIS & FUSIONOPOLIS
Fusionopolis Office Space – Galaxis | Nexus | Solaris | Razer HQ
Biopolis Lab Space – Nucleos | Neuros | Immunos | Amnios | Synapse
---
BIOPOLIS

– One-North Office & Research Space Rental
Biopolis Office & Lab For Rent – Nucleos | Neuros | Immunos | Amnios| Synapse
The Biopolis medical research hub was developed in 5 phases since year 2000. It provides high quality research facilities for Biomedical sciences. Scientists, technopreneurs, and researchers can meet and form partnerships to establish renowned scientific institutions, through in-depth research and graduate training programmes. It also enables researchers from private companies and public scientific / educational bodies to collaborate and achieve economies-of-scale by having access to state-of-the-art facilities, scientific insfrastructure, specialised services and proximity to other research communities at the neighbouring Science Park.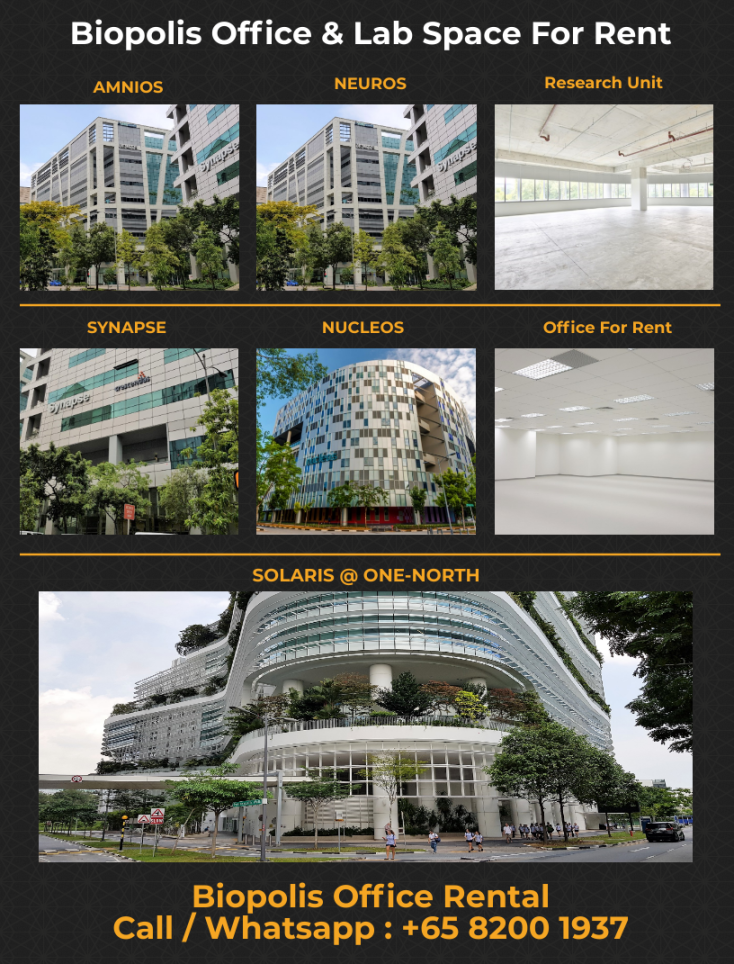 Biopolis office for rental is near to the National University of Singapore (NUS), the Institute of Technical Education (ITE), Singapore Polytechnic, National University Hospital (NUH), Singapore Science Park, Ministry of Education and Fusionopolis (an R&D centre dedicated to electronics and technology). These campus was created in order to provide space for biomedical research which could promote the collaboration between private companies and public scientific / educational bodies.
The seven Biopolis office buildings for rent that were developed on the first phase were Chromos, Helios, Centros, Genome, Matrix, Nanos and Proteos. Chromos and Helios are used by biomedical companies from the private sector and the other five buildings house public sector biomedical research agencies from the Agency for Science, Technology and Research (A*STAR).
Phase two of Biopolis office building for rental consists of a further two seven-storey buildings, namely Neuros and Immunos ( designated for research into neurology and immunology).
The total occupied floor space of Biopolis development in phase one and two is 220,000 square metres.
Biopolis phase three saw the construction of two new buildings, Synapse and Amnios, which offer space for laboratories, research facilities, retail, and offices space for rent The buildings of five to seven storeys share two interconnecting basement levels. Amnios and Synapse are intended to extend basic research activities into other segments of translational and clinical research, as well as medical technology research, to tap into the synergies within the Biopolis cluster.
Phase four and five of Biopolis development in 2010 awarded to Ascendas was to improve lab design for clinical trial support and establishment of 1,000 square metre ready-made laboratory known as Shell-Plus, which consists of basic laboratory facilities and finished vinyl flooring.
---
FUSIONOPOLIS

– One-North Office Rental
Fusionopolis Office For Rent – Galaxis | Nexus | Solaris | Razer HQ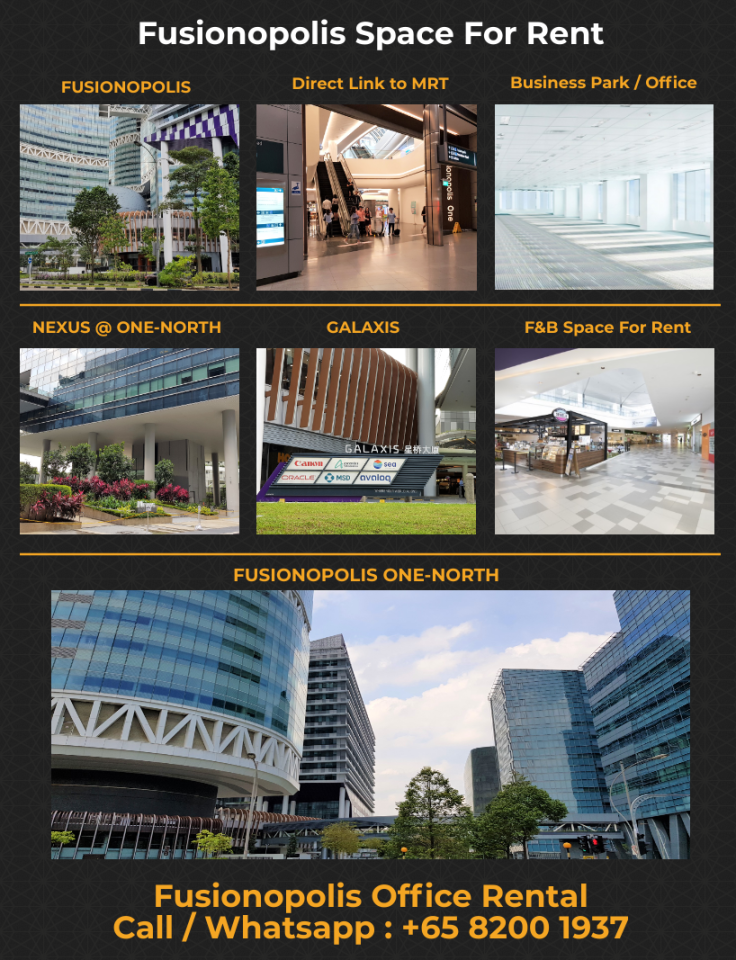 The office buildings for rental at Fusionopolis business park are suitable for companies dealing in Infocom Technology (ICT), Media, Physical Sciences, Electronics, and Engineering R&D trade. The several high quality offices for rent at Fusionopolis are Galaxis, Connexis, Symbiosis, Synthesis, Kinesis, Innovis, Nexus @ One North, Solaris and Razer HQ. All of these buildings have excellent and futuristic corporate image.
One of the building that has numerous award-winning accolades is Solaris @ one-north, which is built by Soilbuild. It won multiple awards for its green and thoughtful design. The size of office space for rent at Solaris range from 4,000 – 20,000 sft.
Fusionopolis is the first integrated work-live-play-learn development in One North. It has direct access link via basement to One North MRT and offers retail and arrays of F&B options adding convenience to the community there. The Fusionopolis cluster covers 30 hectares of One North development and is designed to provide an environment conducive to growth in the information and communications technologies (ICT), media, physical sciences and engineering industries. The state-of-the-art research facilities promote close collaboration in scientific research and technological breakthroughs, while its abundant resources empower scientists and researchers to discover and innovate. Fusionopolis also provides a fertile ground for collaboration, making it the choice location for companies embarking on end-to-end business activities.
---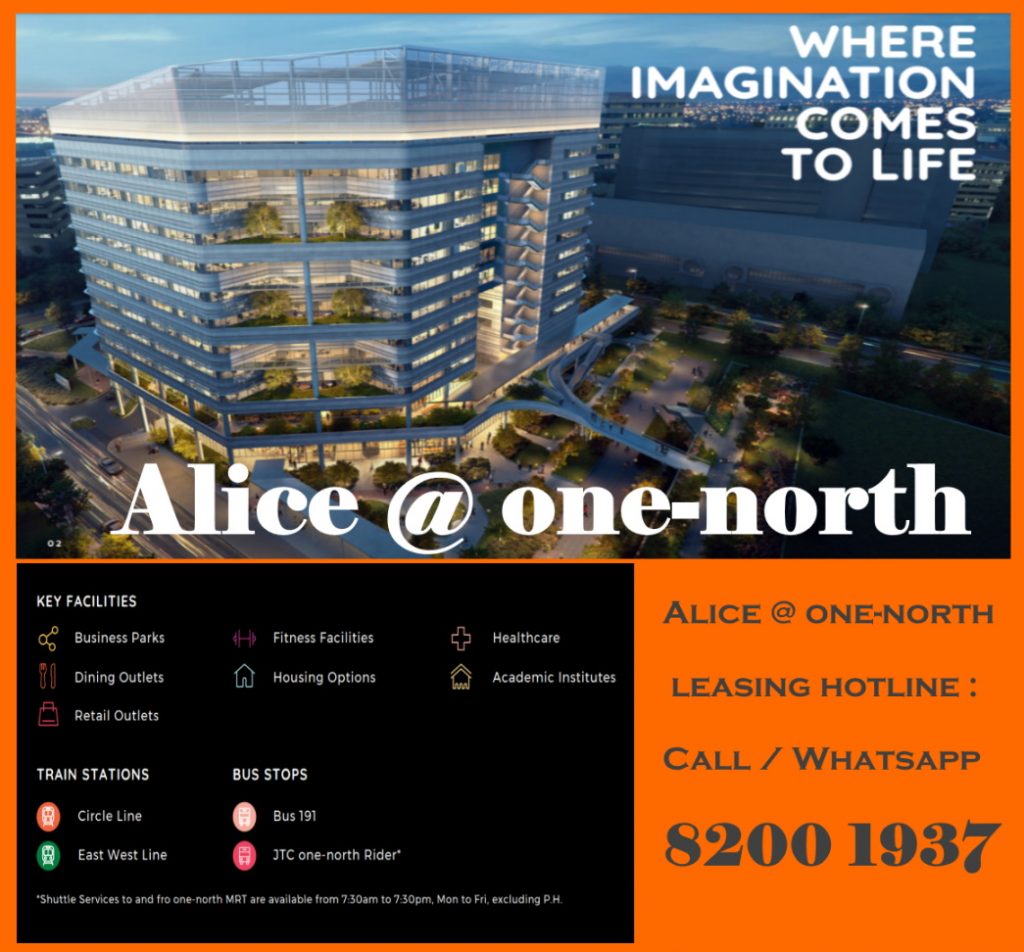 Mediapolis Office Space For Rent – Infinite Studios | Alice @ Mediapolis
Mediapolis is the 3rd strategic industry cluster in One North, after Biopolis (biomedical sciences) and Fusionopolis (infocomm, media, engineering and physical sciences). It was conceptualised to provide a 'home' to the thriving media sector. It houses Singapore's media ecosystem from incubation and R&D, to content production, processing, trade management and digital media asset distribution. Mediapolis will also be able to leverage on the creative community in the neighbouring Wessex Estate, and tap on the synergies and world-class expertise within One North. The key factor in making Mediapolis successful is its superior IT infrastructure and technology platform as media companies rely on high-speed broadband connectivity to enable the processing, management and distribution of digital media content and services. It is a digital media capital where top quality content are produced for local and international markets.
This creative Mediapolis environment is a brain child of joint-stewardship between four government agencies: MDA, JTC, the Infocomm Development Authority (IDA) and Economic Development Board (EDB) , each bringing its own expertise and strengths.

The Master Plan Concept calls for the clustering of state-of-the-art digital post-production facilities and other media infrastructure. It will also be supported by a fast and secured IT network system suited to media needs, and a conducive living and lifestyle environment. Mediapolis space for rent will be a hub that will house a media ecosystem comprising soundstages with green screen capabilities, digital production and broadcast facilities, interactive digital media (IDM) and R&D activities, computer-generated imagery and visual effects, post-production, games and animation, industry-response digital media schools, business parks, work lofts and incubators, intellectual property (IP) creation and digital rights management.
Infinite Studios office for rent at Mediapolis has well-curated mix of coffee joints, children's enrichment centre, cafes, grocer-concept store, Japanese cocktail bar with ambient music, bistro featuring Asian tapas, cool drinks and vinyl music to cater to discerning individuals. Infinite Studios space for rent ranges from sizes 1,500 – 20,000 sft.
Alice @ Mediapolis is one of the latest addition to the area near to Mediacorp campus and Infinite Studios building, where dreamers, thinkers, and makers meet and collaborate within a vibrant environment of startup spaces, shared media facilities, and an assortment of flexible work-live-play-learn spaces. Business space at Alice are designed for start-ups, SME(s) and corporate HQ. Office rental available at Alice starts from 1,000 sft up to 45,000 sft. The building also features common amenities such as meeting area, lounge and open garden concept.
---
Transport accessibility from one-north to all other parts of Singapore via MRT and private vehicle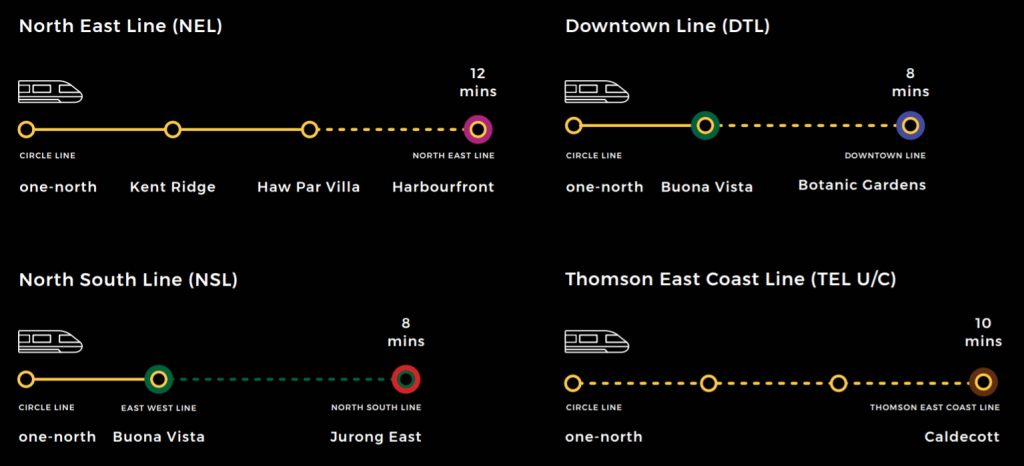 One-north MRT to Harbour Front (North East Line) – 12 mins
One-north MRT to Botanic Gardens (Downtown Line) – 8 mins
One-north MRT to Jurong East (North South Line) – 8 mins
One-north MRT to Caldecott (Thomson East Coast Line) – 19 mins

For those who drive from Mediapolis to go for business meeting at CBD, it takes only approx 17 minutes to reach. And those who need to catch a flight at Changi airport, it will take 30 minutes with cab or private vehicle via AYE.
---
One-North Office Rental Rates Guide
District
Project
Price/psf/mth
(S$)
Remarks
5
Nexus @ Fusionopolis
6.00 - 6.30
Business Park & Pure office for rent. Suit Bio-research & physical science, electronics & technology company.
5
Galaxis @ Fusionopolis
6.00 - 6.30
Business Park & Pure office for rent. Suit Bio-research & physical science, electronics & technology company.
5
Solaris @ Fusionopolis
6.00 - 6.80
Research unit. Award winning project. Sizes fr 3000 - 20000 sft.
5
Razer @ One-North
5.65
Business Park Fr 3800 - 31,000 sft. Suitr IT or technology related industry. Sheltered 6 min walk to One North MRT. Sublet fee applies for > 10K sft
5
Nucleos @ Biopolis
6.00
Research unit for Bio-medical trade.
Sizes fr 1000 - 8000 sft.
5
Neuros/Immunos @ Biopolis
6.00
Research unit for Biomedical. Suit Bio-research & physical science company.
5
Amnios @ Biopolis
7.00 - 7.50
Biomedical R&D usage. Office Size from 10000 sft.
5
Synapse / Amnios @ Biopolis
7.00 - 7.50
Biomedical R&D usage. From 2400 - 10000 sft.
5
Infinite Studios @ Mediapolis
4.60
Business Park and office-type unit available. Fr 1500 - 6000 sft
5
Alice @ Mediapolis
4.50
Suits SMEs in InfoComm, Media, Physical Science and Engineering R&D industries. Launchpad graduates & SME enjoy rental subsidy. Sizes from 1000 - 45000 sft.
---