---
Featured – Changi Business Park Rental
---
---
Changi Business Park Office Rental:
1 Changi Business Park Ave 1
3 Changi Business Park Vista (fka Akzonobel House)
Honeywell (17 Changi Business Park Central)
One @ Changi City
Plaza 8 @ CBP (1 Changi Business Park Crescent)
ESR Business Park @ Changi (6/8 Changi Business Park Ave 1)
The Signature (51 Changi Business Park Central 2)
Rigel (20 Changi Business Park Central 2)
Haite (15 Changi Business Park Crescent)
---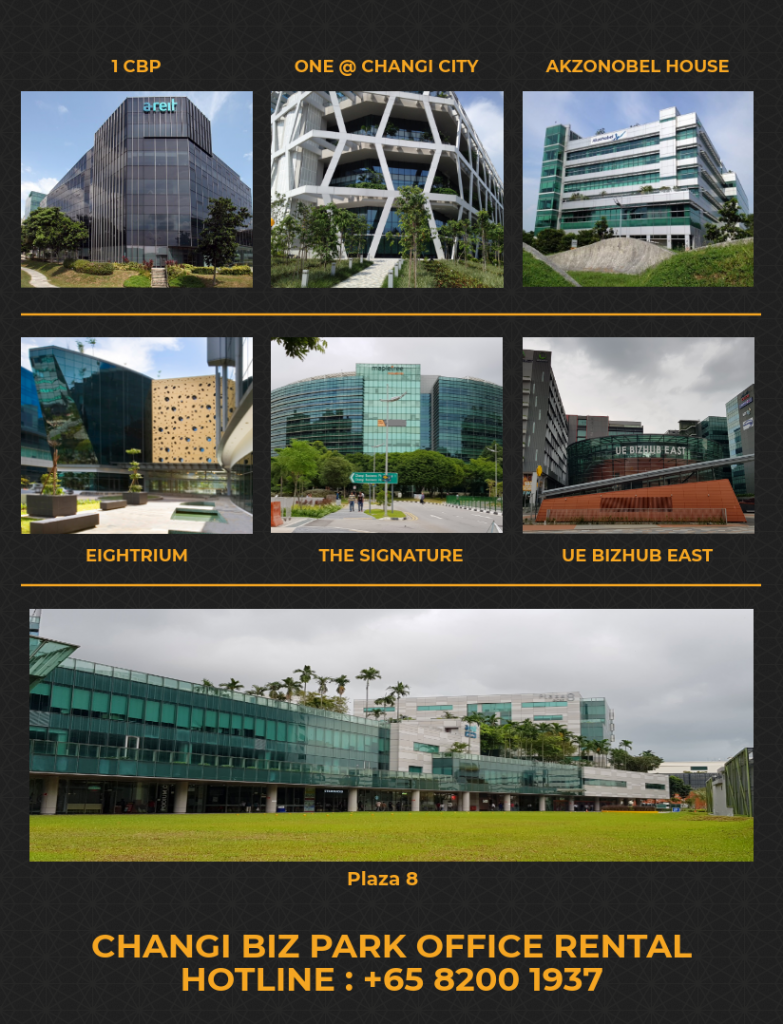 About Changi Business Park Singapore
Changi Business Park are mostly packed by tech companies, such as IT-related, software developing companies, research and development, consumer products, financial institutions, media, telecom, and so on. Only a specific trade can qualify to be based at Changi Business Park as part of the zoning specification by the Singapore authority on the land usage.
Launched in the second half of 1997, Changi Business Park has been growing ever since. Currently, Changi Business Park Singapore encompasses roughly 71.07 hectares of land of a mixed-use project that encompasses a four-star hotel (Capri by Fraser), a retail mall (Changi City Point), and offices.
Changi Business Park proximity to high standard independent facilities such as hotels, serviced suites, supermarket, gym, and childcare center makes it even more appealing to many companies, both Small Medium Enterprise (SME) or Multi National Corporations (MNC) to rent office in Changi Business Park compound.
Being one of the biggest economies in the world, Singapore is home to many high-tech companies, and a good number of them are housed in Singapore Business Parks eg. Changi Business Park, International Business Park, One North, ESR Business Parks, and Science Parks. The modern corporate image that office buildings in Changi Business Park give good impression to company that needs certain public image.  
Changi Business Park is also in close proximity to Expo where most of the famous and large-scale MICE (Meetings, Incentives, Conventions, Exhibitions) are held frequently. This presence of all these amenities and niche trade which Changi Business Park offer are advantageous to companies that are based in the area since it gives room for close business collaboration within the same trade and ease of conducting business with convenience all around. And at a fraction of office rental cost in the central business district (CBD) area (40 – 60% cheaper), Changi Business Park is a strong contender for technology companies to set up offices here. Many financial institutions have their front office in the CBD but house their back-room operations in Business Park.
---
Qualifying Trade For Business Park
Changi Business Park is located under Business Park zoning by Urban Redevelopment Authority (URA). Under Business Park zoning, the land usage that is permissible includes high tech manufacturing, product design/development, computer centre, data processing, industrial training, research & development, knowledge-intensive, back-room operations, central distribution, e-business, and core media activities.

Below are the list of uses which are allowed and not allowed within Business Park (non-white):
Allowable (within the non-White component)
Not Allowable
Minimum 60% Predominant
Maximum 40% Ancillary
Uses with the following characteristics
Core Media Activities
Ancillary Office
Pollutive Uses
Research and Development
Sick Room/First Aid Room
Bad Neighbour
Data Processing
Industrial Canteen
Independent Warehousing
Central Distribution Centre
Childcare Centre
Test Laboratory
Meeting Room
Product Design/Development
Showroom
Industrial Training
E-Business
Manufacturing of High Technology Products using Advanced Processes
---
Changi Business Park Location Map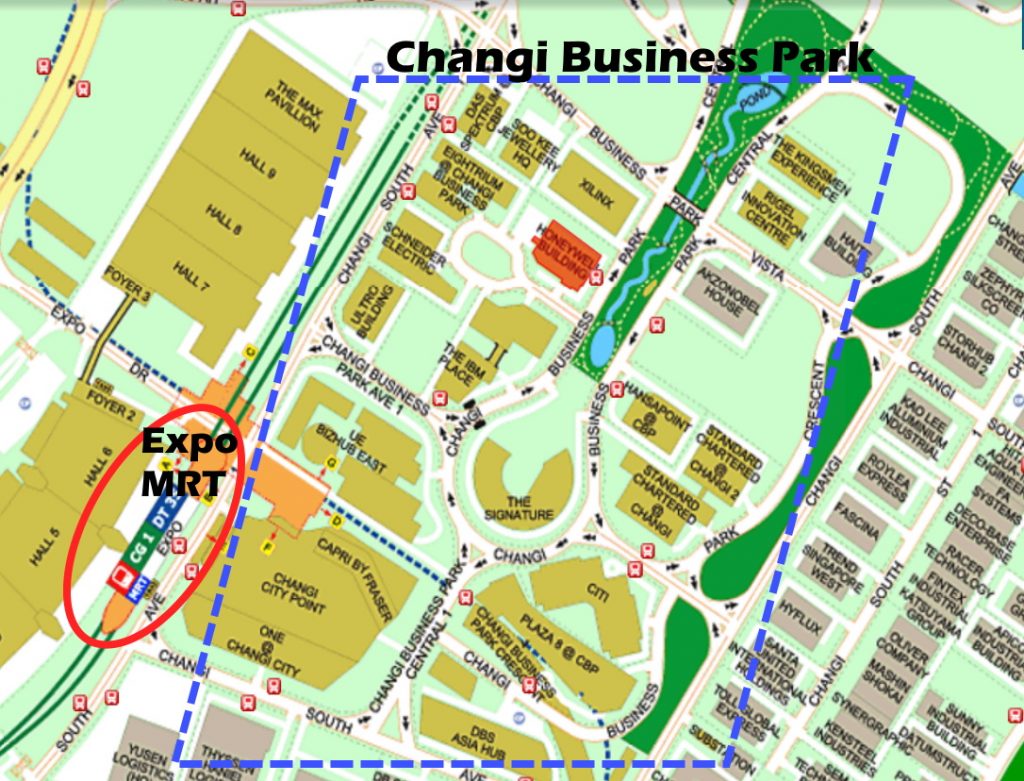 ---
Most of the office buildings for rent at Changi Business Park are within walking distance to retail amenities such as food, cafe, childcare, ATM and Expo MRT.
Most of the office units are fitted with false ceilings, centralised aircon and lightings with or without raised flooring. Many of the buildings at Changi Business Park also offer flexible configuration layout to suit different business requirements and easy set-up. There are some units in a few buildings of Changi Business Park that come in a bare condition offering cheaper rental. But again, please note that only tech related, research and development and financial industry can be based in Changi Business Park.
---
Changi Business Park Office Rental Procedure
Changi Business Park office rental is generally based on 3 + 3 renewable lease term lease and prospective tenants can pick from a range of good corporate image buildings to be based at.  Most of the office units offered in Changi Business Park usually are fitted with false ceilings and lights. Also, they are ventilated by a centralized air conditioner. Tenants are expected to renovate and furnish the office unit according to their specifications within the fitting-out period given by the landlord. A completely bare unit is also available at a cheaper rental. These bare units will suit companies that do not mind to spend a certain sum of renovation dollar to fit-up their space nicely for long-term use.
Warehouse Rental Singapore specializes in sourcing for suitable warehouse and office space in industrial buildings and Singapore Business Parks including Changi Business Parks (eg. One @ Changi City, UE Biz Hub East, Plaza 8, Honeywell, Akzonobel House,  The Eightrium, The Strategy, The Signature, Rigel, etc). Some of these buildings have nice lounges and open sitting area for discussion purposes. Most of the landlord will give a rent-free period commonly known as fitting-up period. The length of this rent-free period also depends on the rental amount agreed and the length of the lease term. Tenants are allowed to partition the space into small office rooms, meeting or conference rooms, pantry, etc as long as the renovation doesn't violate fire safety rule. Please note that upon expiry of the lease, the tenants are required to reinstate the office unit into its original condition.
You can check out the rental rates guideline for Changi Business Park office rental  below to estimate the rental amount that your company will be paying every month. Please note that this is merely a guideline and is subject to change and negotiation on case by case basis.
Please call our enquiry hotline to discuss about your office space requirements at Changi Business Park Singapore.
---
Changi Business Park Rental Rates Guideline
| District | Project | Price/psf/mth (S$) | Remarks |
| --- | --- | --- | --- |
| 16 | 1 Changi Business Park Ave 1 | 4.50 | Sizes fr 2500 sft |
| 16 | Honeywell @ 17 CBP Central | 4.50 | Sizes fr 6000 - 13000 sft |
| 16 | AkzoNobel House @ 3 CBP Vista | 4.50 | Sizes fr 4000 sft |
| 16 | Hansapoint @ 10 CBP Central 2 | 4.50 | Limited space available. Call to check. |
| 16 | One@Changi City @ 1 CBP Central 1 | 5.50 | Sizes fr 2000 - 10000 sft |
| 16 | Plaza 8 @ 1 CBP Crescent | 4.20 | Sizes fr 1200 - 7000 sft |
| 16 | ESR Business Park @ 6 CBP Ave 1 | 4.50 | Linked to Expo MRT station. Sizes fr 3000 - 30,000 sft. Retail space available. |
| 16 | The Signature @ 51 Changi Business Park Central 2 | 4.20 | Sizes fr 1000 - 8000 sft. Bare/Fitted options. |
| 16 | Rigel Innovation Centre | 2.80 - 3.00 | Sizes fr 3000 - 24,000 sft. Bare condition. |
| 16 | Eightrium @ 15A CBP | 4.00 | Sizes fr 3600 - 12800 sft. Bare or Fitted unit available. |
| 16 | Haite Building | 2.90 - 3.00 | Sizes from 1500 - 20000 sft |
---
Watch Changi Business Park Space For Rent via the Youtube video below. Enjoy!