---
Featured – B1 Industrial Space For Rent
---
---
Featured – B2 Factory / Warehouse For Rent
---
---
Featured – High Spec Industrial Building
---
---
Warehouse Rental Singapore For Various Trades & Requirements No Agent Fee
B1/B2 Factory | Warehouse-cum-office | Office For Rent | Business Parks 
Warehouse Rental Singapore compiles a considerably wide range information on Singapore warehouse rental rates that serves as a guide for companies that are looking for factory/ warehouse for rent / business parks office for rent. Please note that this warehouse rental rates guide is meant only for reference and is subject to change without any notice. No claim is valid against any representatives from Warehouse Rental Singapore for inaccurate information on this warehouse rental rates guide. Actual rental rates that will transpire between landlord and tenant is subject to case by case basis and can be negotiated. Note that this warehouse rental rates guide cover Singapore Business Parks Rental Rates too (eg. Changi Business Park, International Business Park, One-North, Science Parks, etc)

There are 16 industrial estates of which commercial and industrial space for rent such as flatted factory, high-tech building, ramp-up units, logistics warehouse, stand-alone factories, business parks and science parks can be found.
–         Click Here for East Zone : Eunos, Mac Pherson, Tai Seng, Ubi, Kaki Bukit, Changi

–         Click Here for North Zone :  Toa Payoh, Ang Mo Kio, Woodlands, Yishun.
–        Click Here for West Zone: Tuas, Jurong, Clementi, Bukit Batok, Benoi

–         Click Here for Central : Pasir Panjang, Bukit Merah, Henderson, Commonwealth
---
What is URA 60 /40 Usage Rule?
To ensure that limited industrial land is used mainly for industrial uses, the URA requires at least 60% of the total floor area of an industrial building to be used for core industrial activities. However, URA recognises that certain non-industrial activities, such as ancillary offices, staff canteens and showrooms are needed to support the predominant industrial uses. Hence, such supporting non-industrial uses, together with ancillary areas (e.g. lift lobbies and circulation spaces) are allowed to occupy up to 40% of the total floor area of an industrial development. – URA
In short, the unit in industrial building is not allowed to be used 100% as office, shop front eg. travel and maid agencies, accounting firms, law firms, advertising agencies, tuition center, supermarket, religious activities, child care, etc. There need to be a predominant use of minimum 60% to be set aside for core industrial activities (see table below). The ancillary component is limited to a maximum of 40% for non-core or supporting uses such as office function eg. HR, admin, finance, sales and marketing, pantry. 
Please refer to the illustration below for a more comprehensive understanding of URA 60/40 Rule.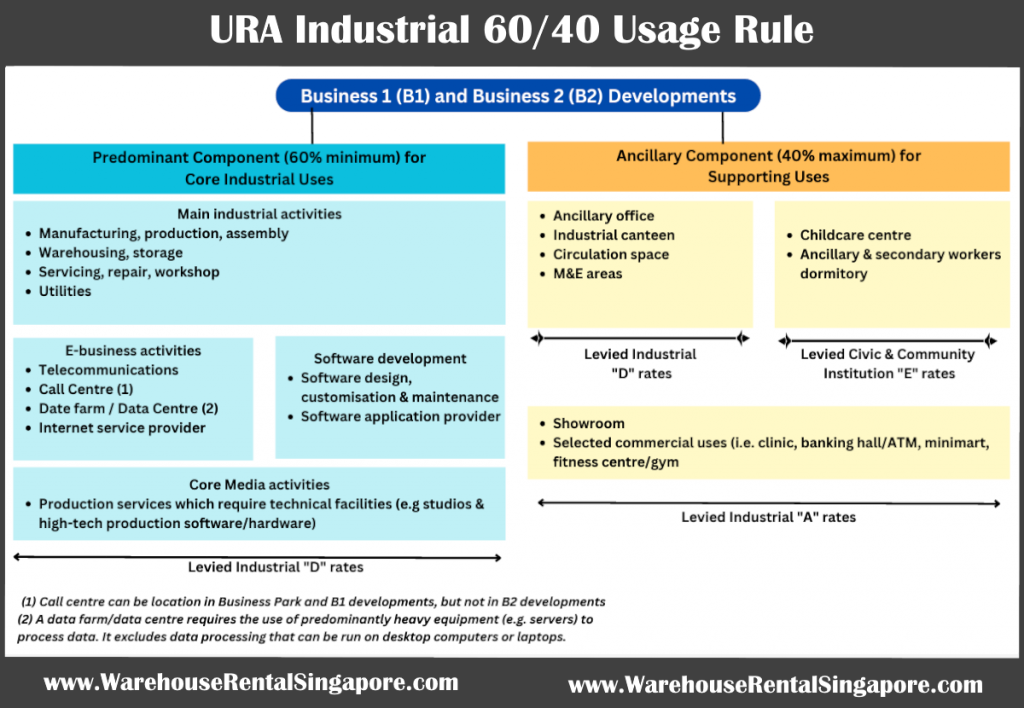 The government has recently cracked down on illegal uses of such warehouse space for rent by tuition agency, travel agency, churches, beauty saloon, etc who abuses cheaper rental rate in such industrial building. Refer to The Straits Times article on the crackdown of unauthorised uses of industrial units here. Under the new guidelines published by the government on 12 June 2012, religious activities can now be held in industrial sites due to the lack of space of suitable area. 
Companies that require certain corporate-image while having a functional production and warehouse space close by, can choose high-specs industrial buildings for rent. Such premium industrial buildings generally have good corporate image facade externally and internally. They are good choices for tenants that need certain image yet want to save on office rental costs. Rental rates in such premium industrial office buildings are cheaper than full commercial office type. The warehouse/ office rental rates  in these high specs industrial office building can be cheaper by 40 – 60% than commercial office building depending on the location and building type. Please note that the space usage in such high-specs industrial building needs to conform to URA 60/40 rules as well. For companies that in need of functional warehouse-cum-office at a cheaper rate, flatted factories or ramp-up units are  popular choice esp among the SME(s).
Some companies prefer to rent a bare warehouse unit so they can renovate it to their own liking, while some prefer a fitted unit to save on renovation costs. Fitted unit may come with a takeover fee that can be negotiated. Note that ground floor industrial space generally commands a higher rent than that of upper floor. Factory/ Warehouse for rent by various landlords in Singapore typically request for 2 – 3 months deposit depending on the lease terms. Some landlords even look at the company's paid-up capital (eg. min 6 months of gross rental or SGD100,000 paid-up capital) to decide the minimum rental deposit as they would like to be ensured of the going-concern and viability of the tenant. Warehouse rental rates are typically fixed during the lease period or can be negotiated on an escalating rental basis after certain period (esp for longer lease duration 3- 5 years). A free renovation/ fitting-out period for certain period are also normally given by the landlords to facilitate the move-in. 
Some tenants that require certain specifications for unit level, loading bays, floor loading, ceiling height of such warehouse for rent/ office for rent are welcome to discuss their requirements with our professional staff for assistance.
Do let us know what are your operational or location preferences for factory / warehouse space for rent so we can recommend a suitable match.
Landlord / Tenant welcome to list and enquire at Warehouse Rental Singapore. 
---