Featured – Logistics Warehouse For Rent
---
---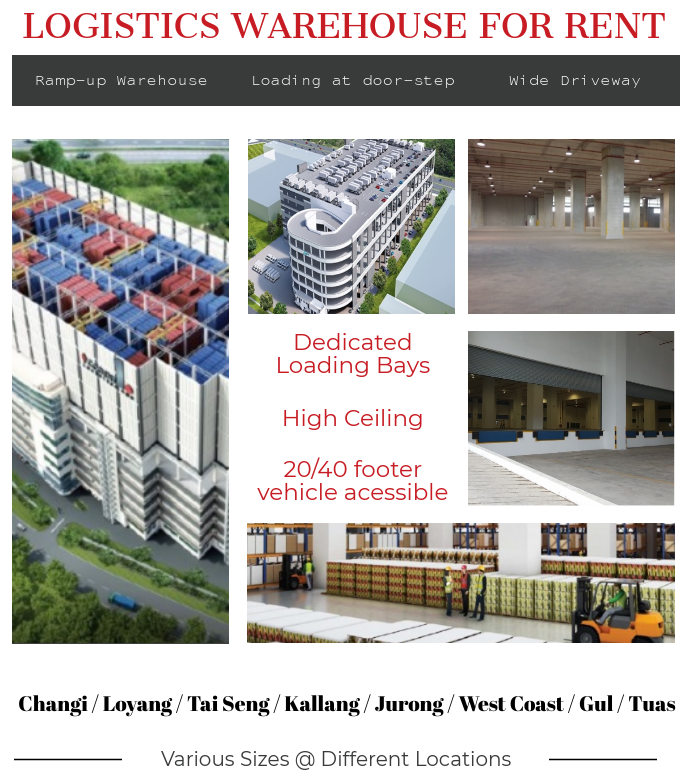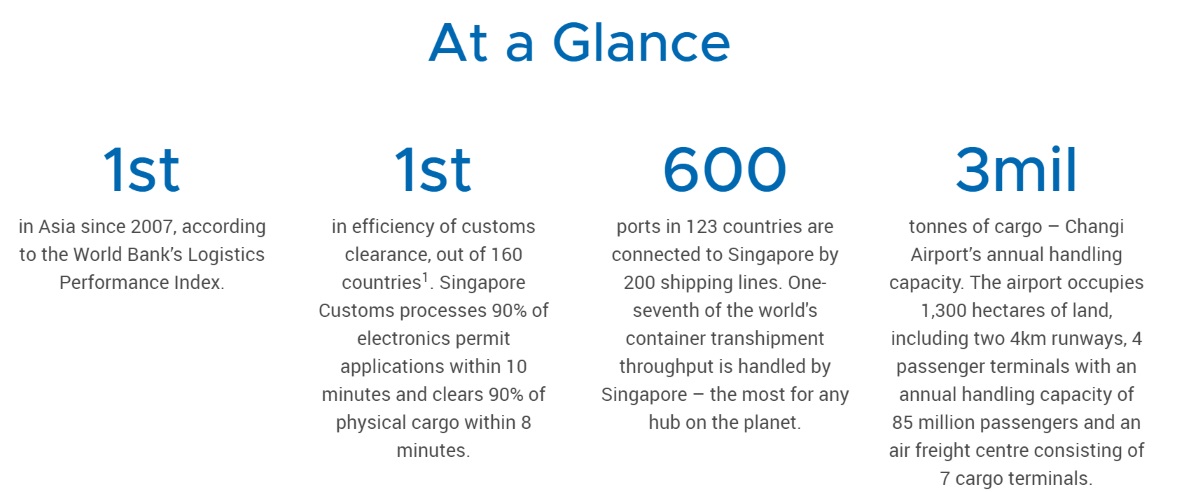 Singapore – Ranked by World Bank as Asia's top logistics hub for 10 years in a row.
The unprecedented boom in regional cross-border trade and consumption strengthens Singapore as a regional hub for global players. Today, Singapore is a prime location for major logistics firms, with the top 25 global players (eg. DHL and Schenker) having regional or global HQ functions here.
There are 6 port terminals in Singapore namely Tanjong Pagar, Keppel, Brani, Pasir Panjang, Sembawang and Jurong. These terminals are mainly operated by 2 main operators: PSA Singapore Terminals Pte Ltd and Jurong Port Pte Ltd.
There are many logistics warehouse in Singapore especially in the West (near to the port) and East area (near to Changi airport). Depending on the requirements, typical logistics warehouse come in ramp-up or flatted units. Ramp-up warehouse mostly have dedicated elevated loading bays, while flatted warehouse normally shares loading bays on ground floor and transport the goods with cargo lifts. 
Ramp-up and Flatted Logistics Warehouse For Rent :
| | | |
| --- | --- | --- |
| Project | Price/psf (S$) | Remarks |
| Changi Logistics Centre @ 19 Loyang Way | 1.60 | 4-storey ramp-up warehouse with shared loading bays (Ground flr 17 bays, upper floor 15 loading bays). Ceiling 6 – 20m. Floor loading 20 – 40kN/m2. Size 20000 – 40000 sft. Ancillary office for rent available. |
| 10 / 12 Changi North Way | 1.70 | 5-storey ramp-up warehouse with mezzanine office. Ceiling 8m, Floor loading 20kN/m2. Size fr 44000 – 110,000 sft |
| Xilin Districentre A/B/C/D @ Changi South St 2 | 1.60 | Logistics warehouse with cargo lift access. Near Changi Airport. Size from 20000 sft. Ancillary office available @ $2.30psf |
| LogisTech (3 Changi North St 2) | 1.60 | Size from 10,000sft onwards. Ancillary office available @ $2.50psf. |
| 3 Changi South St 3 | 1.70 – 1.80 | 3 sty cargo-lift logistic facility & 4 sth ancillary office tower. Within Changi International Logispark. Size from 10,000sft onwards. Air-con warehouse available. |
| 5 Changi South Lane | 1.50 – 1.60 | 6 sty ramp up logistic w/hse & ancillary office. Close proxy to Changi airport. Just outside FTZ. Ideal for logistics specialists. |
| 47 Changi South Ave 2 | 1.60 | Size from 3200 – 6000sft. Ancillary office available. |
| 70 Alps Ave (Changi Free Trade Zone) | 1.60 | 2-sty ramp-up w/hse under Free Trade Zone (FTZ). Located within Airport Logistics Park (ALPS) |
| 18 Tampines Industrial  Crescent | 1.50 | Size fr 4000 – 14000sft. Ramp-up, direct loading to unit, 40 footer container accessible to grd flr loading bay. Near IKEA, Courts, TPE. |
| Logis Hub @ 2 Clementi Loop | 1.20 – 1.40 | B2 flatted warehouse with cargo lift access. Size from 20,000 sft. Ample loading bays. Wide compound for 40-footer container. |
| 30 Boon Lay Way | $1.30 – $1.60 | Along Boon Lay Way and within walking distance to Jurong East MRT. Ground floor warehouse with direct loading bay access at $1.60 psf and upper floor warehouse with cargo lift access at attractive rates. Ancillary office space available. |
| 40 Penjuru Lane | 1.30 – 1.40 | Sizes fr 15,000sft – 100,000sft. B2 ramp-up warehouse with dedicated loading bays. 40 footer container access. |
| 31 Jurong Port Road | 1.20 – 1.30 | B2 Ramp-up logistics warehouse with dedicated loading bays. Ceiling 8m. Sizes from 10,000 – 50,000sft. Suits logistic, construction and engineering companies. Ancillary office available. |
| 2 Fishery Port Road |  TBA | JTC Food Zone. 40 ft ramp-up modern cold room facility. Ceiling 11.85m, Floor loading 20kN/m2, dedicated loading bays. Size from 10000 – 40,000 sft. |
| 48 Pandan Road | 1.30 | 6-storey ramp-up logistics warehouse. Ceiling 10m. Only 9min drive to Clementi. Size available up to 168,000 sqft per floor (sub-divisible). |
| Pandan Logistic Hub @ 49 Pandan Road |  1.40 | 5 storey B2 ramp-up warehouse with ancillary office. Ceiling 8.85m (Top floor 11 m). Floor loading 20kN/m2. Suits logistic, construction and engineering companies. Size fr 20,000sft up. |
| Commodity Hub @ 24 Penjuru Rd | 1.20 | 9-storey ramp-up logistics warehouse with dedicated loading bays. Ceiling 9m (Top floor 12m). Floor loading 20kN/m2 (Top floor 25kN/m2). Ancillary office space available |
| 27 Penjuru Lane | 1.20 | Ramp-up with ceiling height 9m (12m for top floor). Dedicated loading bays with dock leveler. Size from 40,000 sft – 100,000 sft |
| 46A Tanjong Penjuru Rd | 1.30 | 5-storey Ramp-up logistics warehouse with dedicated loading bays, ceiling 9m. Size available 106,000 sft including mezzanine office. |
| Pioneer Hub @ 15 Pioneer Walk | 1.60 | Two blocks of 6-storey ramp-up logistics warehouse with dedicated loading bays. Ceiling 9 – 12m, Floor loading 20 – 30kN/m2. Allows up to  45 ft high cube containers. |
| 76 Pioneer Road | 1.30 | 5-storey Ramp-up logistics warehouse walking distance to Tuas Crescent & Gul Circle MRT |
| 21 Benoi Sector | 1.20 | Various size available from 20,000 – 54,000sft. Negotiable rent. Platinum rated warehouse. Ramp-up with ceiling height 8m. Dedicated loading bays with dock leveler. Tight security. Temperature-controlled warehouse and Logistic services available. |
| 15 Gul Way | 1.10 | 40 ft Ramp-up logistics warehouse. Ceiling 7.5 – 10.5m, Floor loading 35kN/m2. Large size from 50,000 sft. Ancillary office space available. |
| 20 Gul Way | 1.10 – 1.20 | Ramp-up logistics warehouse with dedicated loading bays. Ceiling 9m (Top floor 12m).  |
|  10 – 40 Tuas South St 1 |  1.00 | Single storey B2 warehouse. Suits  building material suppliers, construction and engineering companies. Direct loading. 40-footer access. Pitch roof. |
|  51 Tuas View Link |  1.20 | B2 single storey warehouse suitable for logistic plan operators, export zones for vehicles, building materials suppliers. Size available 26000 / 54000 / 81000 sft. Ceiling height 10m, floor loading 20kN/m2, 800Amp electrical power, up to 10 dedicated loading bays. Ancillary office space available. |
---