Featured – B1 Factory / Warehouse For Rent
---
B1 Industrial Factory Warehouse For Rent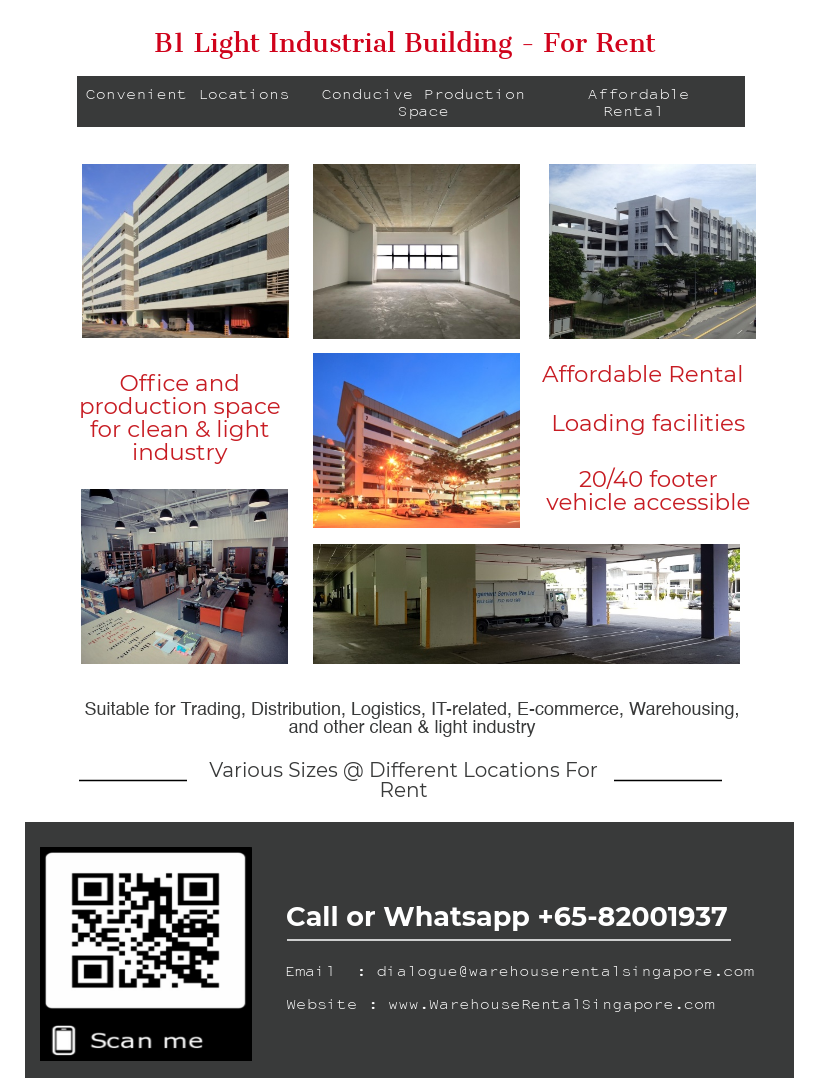 B1 Industrial Allowed Activities
The difference between B1 and B2 industrial classification uses are:
B1 zoning areas are intended to be used mainly for clean and light industry, warehousing, public utilities, and telecommunication uses and other public installations for which the nuisance buffer is less than 50m.  While B2 are for heavier general trade of which nuisance buffer can be more than 50m and within health and safety buffers.
Certain industrial activities that are able to meet the nuisance buffer requirements of not more than 50m may be allowed in B1 zones subject to evaluation by the relevant authorities.
Suitable activities in B1 industrial building (subject to URA 60/40 Rule) includes:
1. Computer software design and development
2. Product/prototype design, industrial and engineering design
3. Logistics and distribution services
4. Assembly and repair of  computer hardware and  electronic equipment
5. Information Technology (IT) technical support/ maintenance centers.
6. Packing of dried foodstuff (No fresh food exposure to the air)
7. Warehouse and storage of finished products except for storage of fresh food items, chemicals and dangerous goods (DG).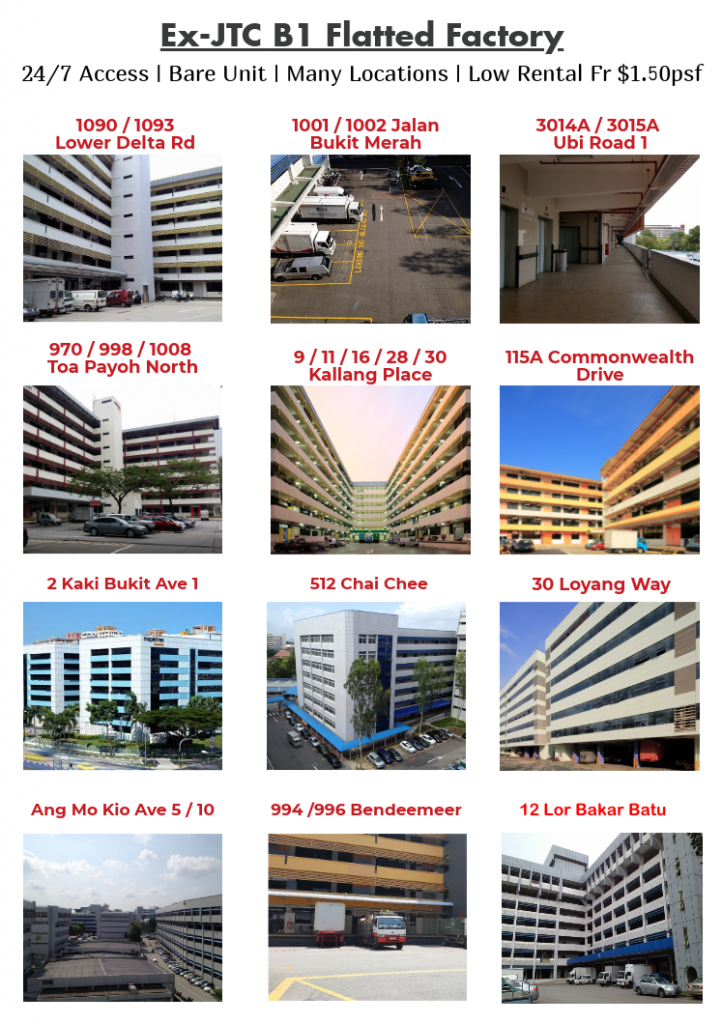 These ex-JTC flatted factories are generally classified as B1 light industrial buildings, suitable for clean and light industry.
Ex-JTC flatted factory normally comes in a bare condition with only fire sprinklers or smoke detectors are present. Tenant are required to install their own electrical DB (distribution board), lightings. Upon expiry, the unit will have to be reinstated and returned to the landlord in their original condition.
All of these factories have loading bays that come with dock leveller and allow for 20/40-footer container access.
Ceiling height ranges from 3.5m – 4.2m. Floor loading ranges from 7.5kN/m2 – 15kN/m2.
Lease term of these flatted factory is typically 3 years and they are located in various parts of Singapore.
Rental rates for these flatted factories can go as low as $1.40psf on certain outskirt areas and are typically for large units. Otherwise, rental rates for a more centralised area is around $1.70 – $2.00 psf for upper floor units. Ground Floor unit is generally 20% more expensive than the upper floor units and are generally priced above $2.00 psf.
What is URA 60/40 Rule?
To ensure that limited industrial land is used mainly for industrial uses, the URA requires at least 60% of the total floor area of an industrial building to be used for core industrial activities. However, URA recognises that certain non-industrial activities, such as ancillary offices, staff canteens and showrooms are needed to support the predominant industrial uses. Hence, such supporting non-industrial uses, together with ancillary areas (e.g. lift lobbies and circulation spaces) are allowed to occupy up to 40% of the total floor area of an industrial development. – URA
Please refer to the illustration below for a more comprehensive understanding of URA 60/40 Rule.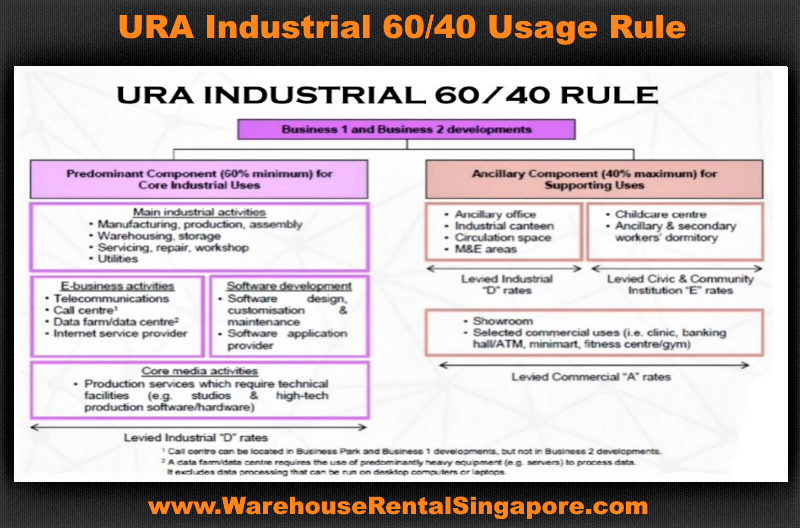 Call the leasing hotline for a detailed discussion about your warehouse or factory space requirements and timeline.
---