---
CT Food Chain Food Factory For Sale –  Latest UPDATES
Almost Fully SOLD!
Only Level 2 and Ground Floor units are available. Less than 20 units available.
Best Buy :
Level 2 | 3520 sft | $694 psf – $2.44 mil
CT FoodChain (former Pantech 21 site) is a rare B2 ramp-up food factory for sale with 64-year leasehold suitable for food manufacturing or processing. It comprises of 10-storey multi-user general industrial development (food factory) with 98 units located in the mature Pandan Food Zone and offers great conveniences and flexibilities for all your food business needs. Reasonably big land size of 74,283 sqft. Expected TOP (Temporary Occupation Permit) for CT FoodChain is September 2023. Formerly, the site is known as Pantech 21 which has 99-years lease tenure from January 1984.
CT FoodChain developer is a renowned Chiu Teng Group, who is very much known for their property development in commercial and industrial sector. Their property design has the interest of end-user in mind which incorporates smart design that has flexibility in use. An example of Chiu Teng Group property portfolio includes "The Creek at Bukit Timah" and "Tagore 8". For their high calibre and quality work, Chiu Teng developer won "Best Boutique Developer For Singapore and South East Asia" award in 2016.
CT Food Chain Food Factory For Sale
CT FoodChain food factory for sale is a purpose-built for food establishment that require central kitchen for catering, processing, storage and manufacturing. All units are equipped with water point, dedicated exhaust shaft, floor trap, and direct loading at door-step for 10-feet lorry (ground floor units can accommodate 20-footer container access). Units from 1st – 3rd floor have mezzanine floor space that can be used for office purpose with a ceiling height of 6.825m. Level 5th – 9th units have no mezzanine floor and has ceiling height of 5.075m. The highest unit at level 10 is called Sky Module and has the highest ceiling of 7m.
Developer Sales Team Hotline +65 82001937
CT FoodChain Address: 200 Pandan Loop
CT FoodChain location is at 200 Pandan Loop, Singapore 128388 (currently known as Pantech 21 site) within Pandan Food Zone (Clementi Planning Area) that takes only 20 min to CBD via West Coast Highway and AYE (Ayer Rajah Expressway). This location has great connectivity to most parts of Singapore.
Approx 3 min to West Coast Highway
Approx 5 min to AYE
Approx 7 min to Clementi MRT
Approx 10 min to Jurong East MRT
Approx 10 min to Jurong Fishery Port
Approx 16 min to Tuas Check Point
Approx 20 min to CBD
Approx 22 min to Orchard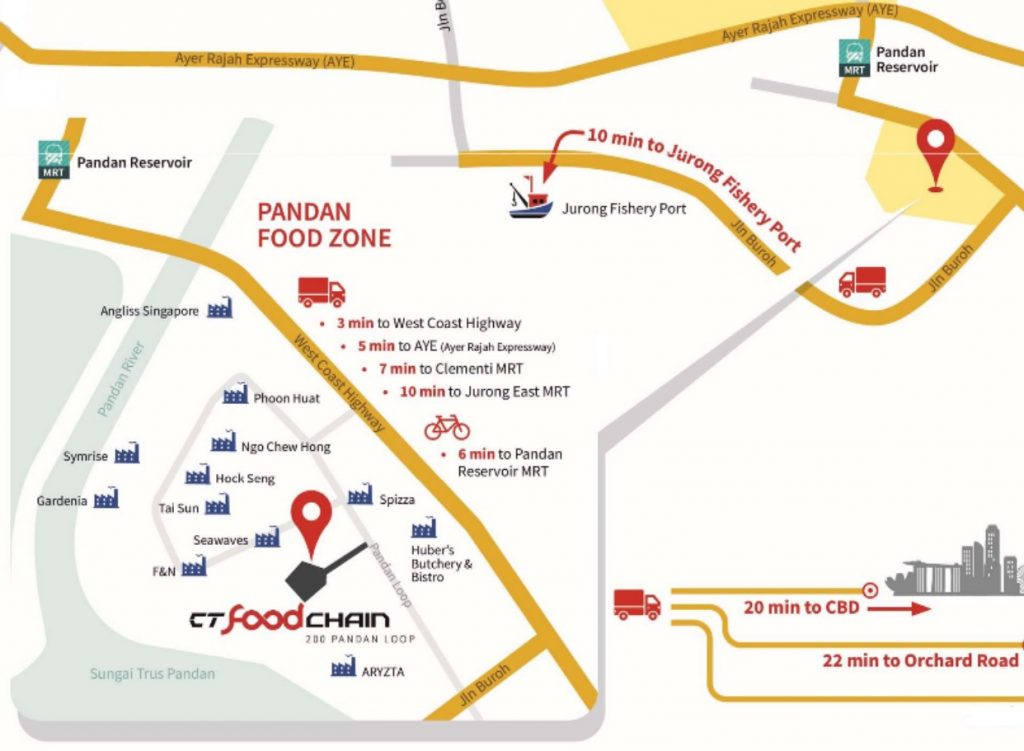 | Project Details | CT FoodChain |
| --- | --- |
| Description | 10-Storey Multi-User General Industrial Development (Food Factory) With 98 Units On Lot 06856L MK05 At 200 Pandan Loop (Clementi Planning Area) |
| Land Zoning | B2 |
| Land Tenure | 99 years from 27 Jan 1984 |
| Remaining Lease | Approx 64 Years |
| Expected TOP | Sep 2023 |
| Site Area | 6901.10 sqm (74,283.44 sqft) |
| Plot Ratio | 2.5 |
| Max Allowable GFA | 17,252.75 sqm (185,708.6 sqft) |
| AMSL/Technical Height Control | 65m |
| Developer | Chiu Teng Group |
| Factory Type | Ramp-up Factory with door-step loading |
| Storey Heights | 10 |
| No Of Units | 98 |
| Carpark Lots | 43 Lots |
| Handicapped Carpark Lots | 1 Lot |
| Motorbike Lots | 2 Lots |
| Lorry Lots | 10 Lots (7.5m Rigid Frame) |
| Loading Bay | 1 (20-footer) |
| Bicycle Lots | 84 Lots |
| Passenger Lifts | 2 Nos (@15 Pax) (Size : 1.6 x 1.6 m) |
| Goods Lift | 1 Nos (3 ton) (Size : 2 m x 3m) |
| Service Lift | 1 Nos (3 ton) (Size : 2 m x 3m) |
| Ramp Width | Approx 7.2m |
| Driveway Width @ 1st Sty | Approx 9m |
| Driveway Width @ 2nd ~10th Sty | Approx 7.2m |
| Refuse Chute | Dedicated (2nd - 10th Lvl) |
| Kitchen Exhaust Duct | Dedicated |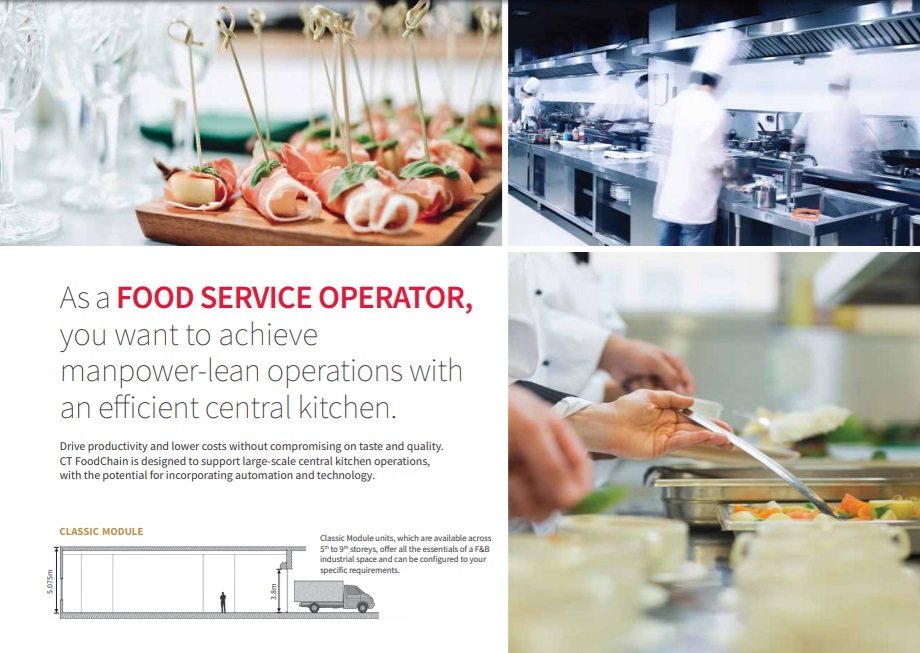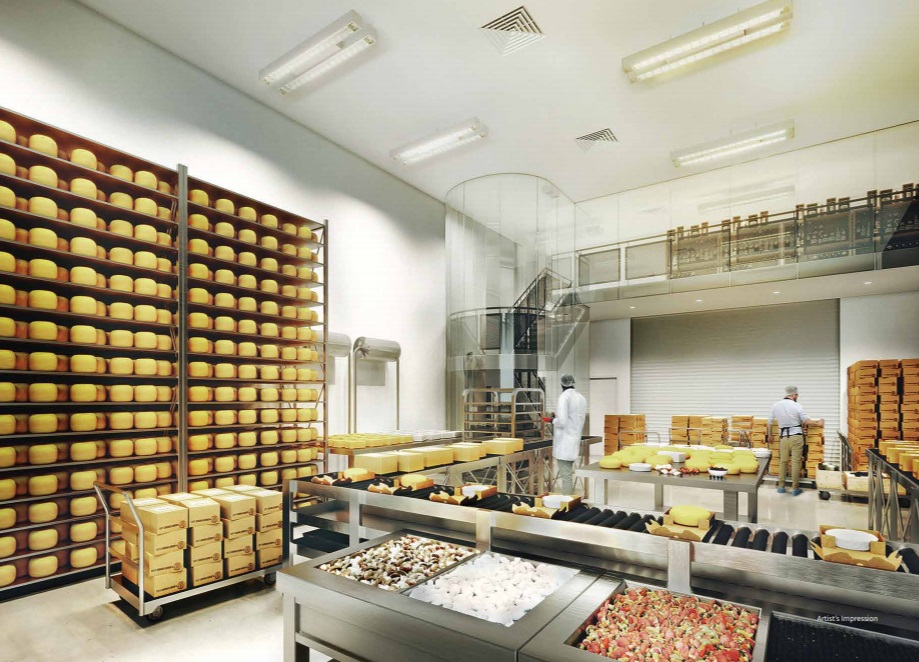 Rare Supply of Food Factory For Sale
Why CT FoodChain food factory for sale is an attractive and rare investment opportunity?
Rare 64 Years Lease Tenure approved for food factory.
Located within established Pandan Food Zone and surrounded by diverse food factory that can offer opportunities for collaboration.
Within walking distance to future Pandan Reservoir MRT.
Minutes away from the vibrant Jurong East & Jurong Lake District
Easy access to most parts of Singapore via West Coast Highway, AYE and MCE.
Regular unit layout with 4 different types of configuration to fit different operational requirements eg. central kitchen, food processing, food packing, cold room, food catering, etc.
Ramp-up facility to every floor
Ample parking lots & door-step loading/unloading providing convenience and efficiency.
Central Refuse Disposal Chute.
Higher rental yield 4% & above for food factories vs office / retail unit
Two entrances/exits for each unit (Door and roller shutter).
Attractively Priced To Sell from $1.4x million Only!
Good potential for capital gain in 3 – 5 years time.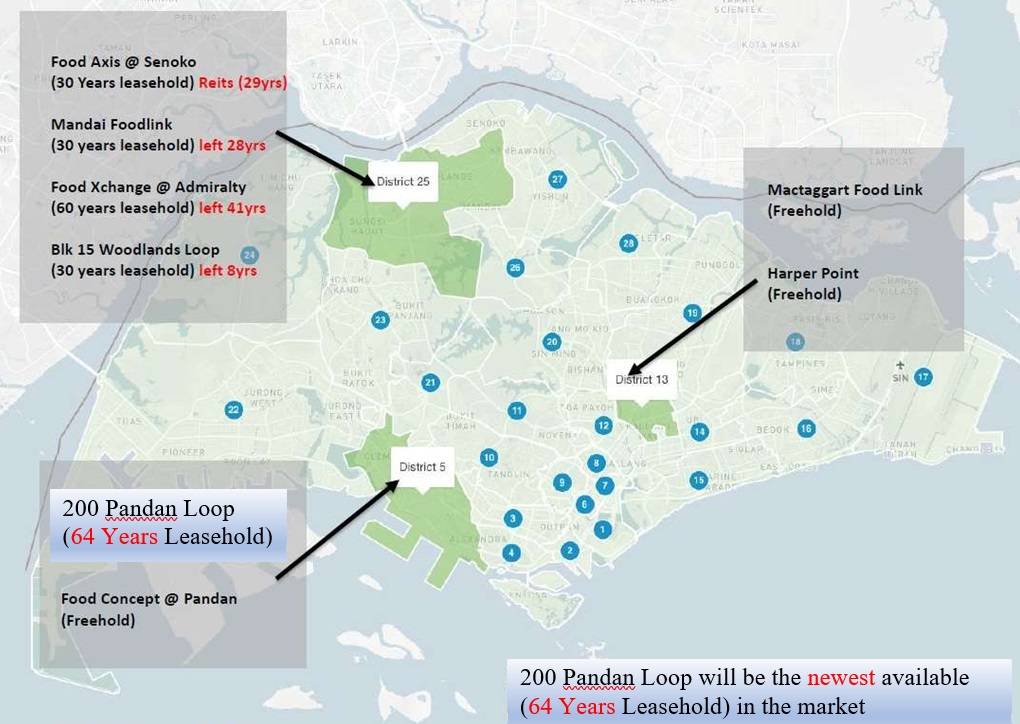 Demand for food factories and central kitchens in Singapore has risen over the years with government push to increase productivity coupled with high retail rents. Most of the food factories are located with major food zones in the East (D13, D16), North-east (D25), West (D5) and central regions. Most of these food factories are built by JTC or private owners for rental purpose only. While food factories for sale are mostly built by either Real Estate Investment Trust (REIT) or private developer.
CT FoodChain is the latest food-factory for sale located Pandan food zone that have a long lease of 64 years old (Land lease is 99 years from 27 Jan 1984). Most of other leasehold food factory for sale in the market are less than 40-years by now eg. Mandai Foodlink (28 years), Food Axis @ Senoko (29 years). Once completed, CT FoodChain will be one of the rare food factory that still have a long lease of 64 year lease tenure.
Food factory rental rates in established food zones in the established food zone region (Pandan Loop, Jalan Tepong, Mac Pherson, Bedok North) are generally higher at $1.80 – 2.40 psf than those in the north and far west region (Senoko Avenue, Mandai Link, Tuas) $1.50-2.40 psf.
Occupancy rates in mature food manufacturing areas are quite full between 80% – 100% compared to only 60% in newer and further-off locations. Hence CT Food Chain location at mature Pandan food zone presents a rare and attractive investment opportunity for both investors or end users themselves.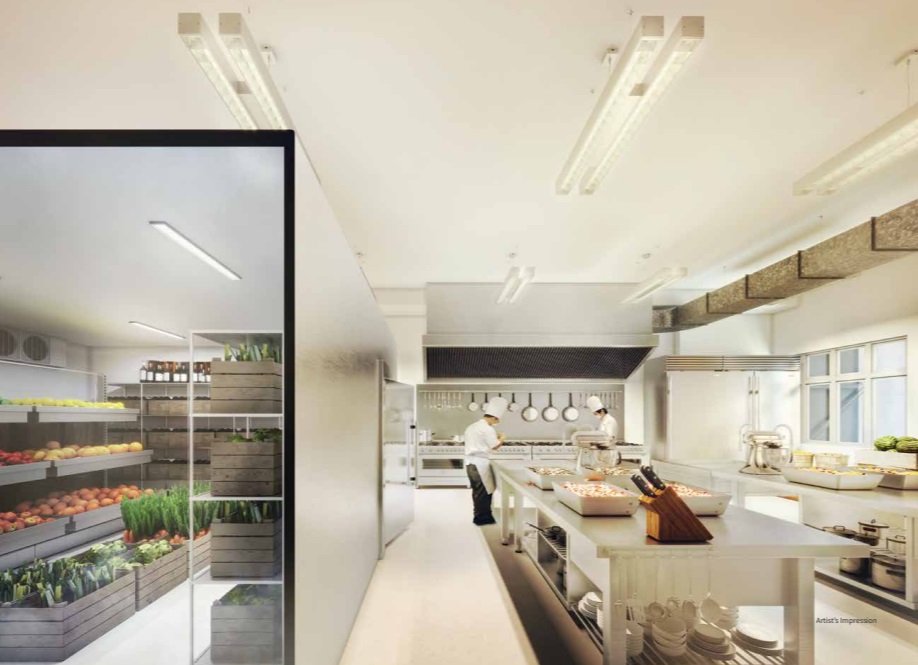 CT FoodChain Cross-sectional View 1st -10th Level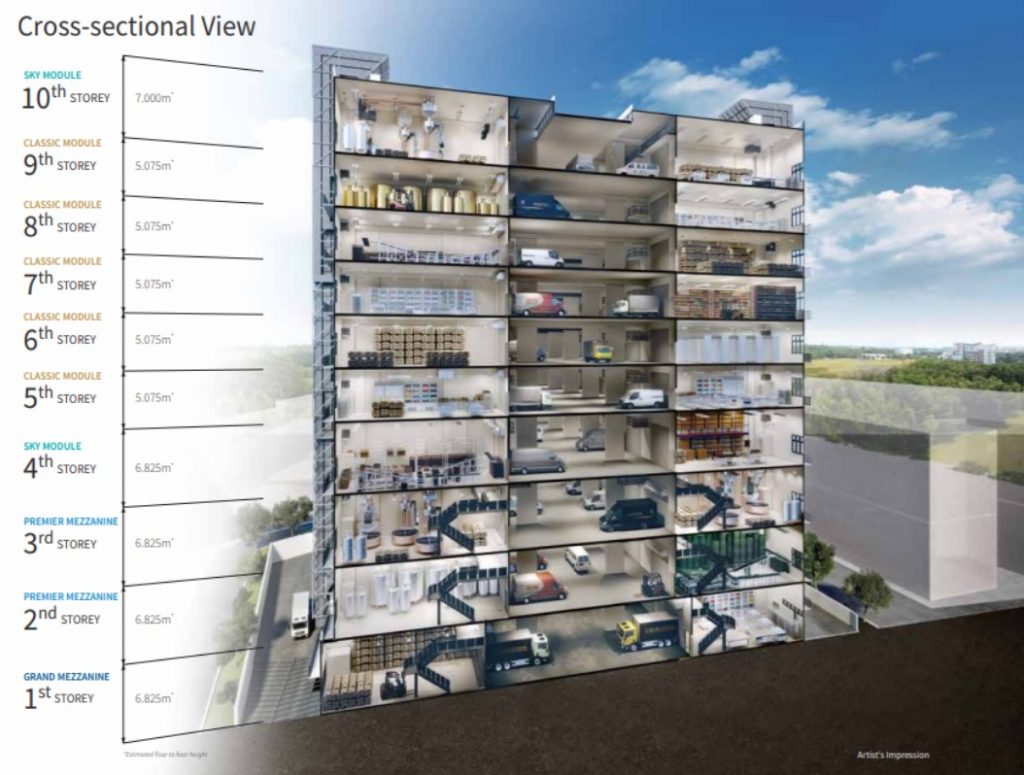 There are 4 different unit food factory types in CT FoodChain to cater different operational requirements from food manufacturing, central kitchen, cold storage to food innovation. Each food processing and storage require careful planning and sharp execution to fulfill the highest standard possible in terms of quality and hygiene of the end products. Hence the layout of these 4 different types of food factory are designed to meet different business needs.
Grand Mezzanine (1st level – approx 3180 – 3530 sft with ceiling height of 6.825m)
Premier Mezzanine (2nd – 3rd Storey – approx 3460 sft with ceiling height of 6.825m)
Classic Module (5th – 9th Storey – approx 1786 sft with ceiling height of 5.075m)
Sky Module (4th and 10th Storey – approx 1798 sft with ceiling height of 6.825m & 7m)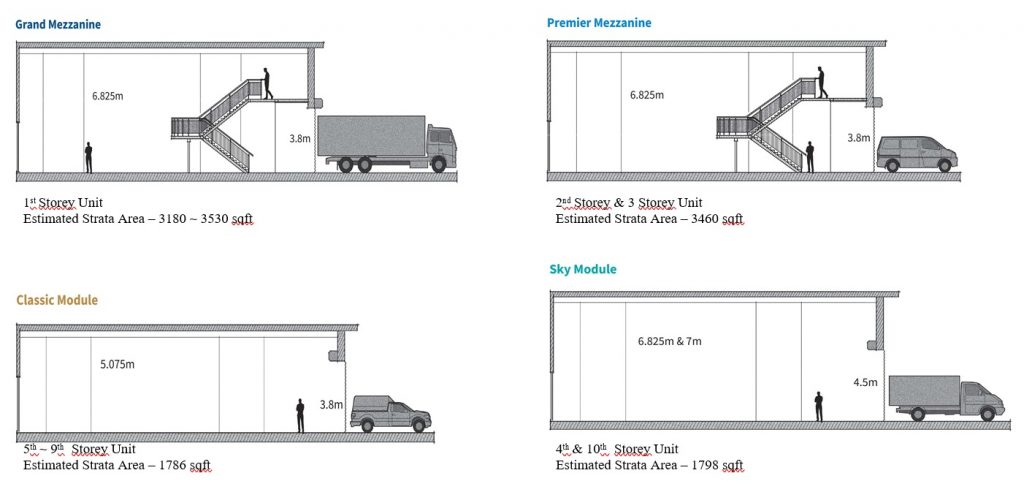 Download CT FoodChain E-Brochure & Floor Plans Here
CT FoodChain Price Guide (Subject To Change)
Note: All units on Level 9 are now SOLD OUT (As of 14th July 2019). More than 80% of buyers bought 2 units or more.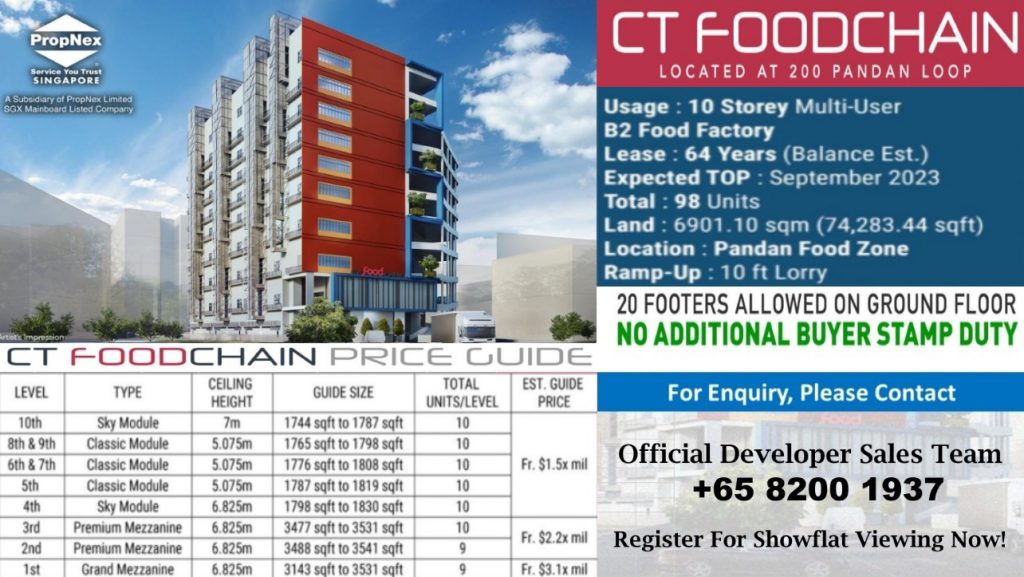 The cheapest and smallest quantum unit for CT FoodChain food factory for sale is the Classic Module unit without mezzanine (from 1765 sft, ceiling height 5.075 m) priced from $1.4x million onwards. While Premium Mezzanine unit (2nd – 3rd level) with a ceiling height of 6.825m is priced from $2.2 million onwards. Ground floor food factory with the smallest size of 3143 sft and ceiling height of 6.825m are also available from $3.1 million onwards. There are only 9 limited units of ground floor food factory for sale that cater to direct loading for 20-footer container at CT FoodChain, less than 10% of total 98 units in this 10-storey development. All upper floor food factories will only be able to cater for door-step loading for 10-feet lorry.
Please call Official Appointed Developer Sales Team at +6582001937 to get the latest information, CT FoodChain brochures, CT FoodChain floor plans and direct developer pricing of CT FoodChain food factory.
Call Developer Sales Team @ 8200 1937 To Register Your Interest NOW!
---