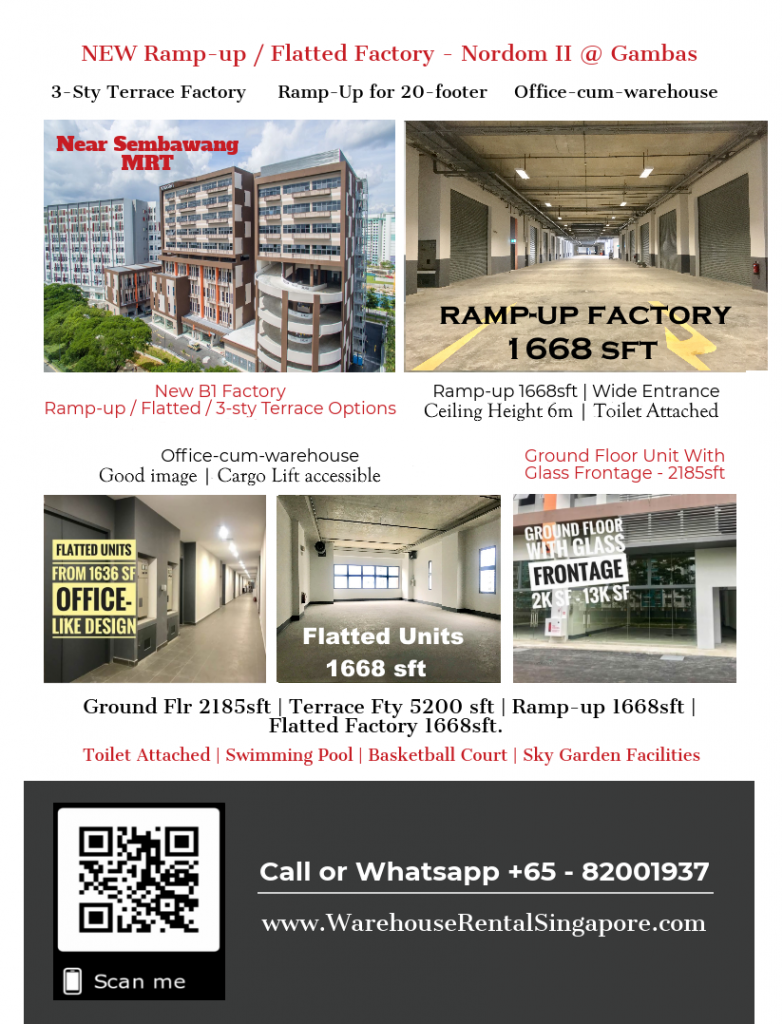 ---
B1 RAMP-UP | FLATTED | TERRACE FACTORY FOR RENT AT GAMBAS
NORDCOM I & II @ Gambas Crescent
Nordom 1 & 2 @ Gambas Crescent have a nice corporate image building with office-like environment with facilities such as attached toilet, swimming pool, sky Garden, basket ball court facilities. These 2 projects are highly sought after by many businesses and are almost 100% fully leased out. Please call hotline to check availability from time to time.

Factory Types Available for Rent :

1. Ground Floor unit with Glass Frontage for Branding
2. Ramp-up from 2nd – 5th Floor
3. Flatted Factory from 6th Floor with lift access facing pool and sky garden.
Ramp-up Factory specifications :
* Ramp up only for 20 foot rigid frame vehicles
* Power Supply 100A 3 Phase
* Cargo lift capacity is 2.5 tons
* Floor Loading 10kN/m2, Floor to floor height 6m
* Power Supply 100A 3 Phase
* Attached Washroom
* Typical size 1668 sft
Flatted Warehouse-cum-office specifications
▪ Office-look environment design
▪ Passenger and cargo lift accessible
▪ Floor to floor height 6m, Floor Loading 7.5kN/m2
▪ Power supply 100 amp 3 phase
▪ Typical size : 1668 sft
Nordcom II – Building Details:
▪ Total of 347 units
▪ Total of 350 car parking lots (Level 5 car park)
▪ Lorry parking lots 24
Asking Rental Rates for Nordcom II factory units :
Ramp-up Factory : $1.60 – $1.80 psf
Flatted Factory : $1.40 – $1.50 psf
Ground Floor Factory with frontage : $2 psf
---