Penjuru Ramp-up Warehouse For Rent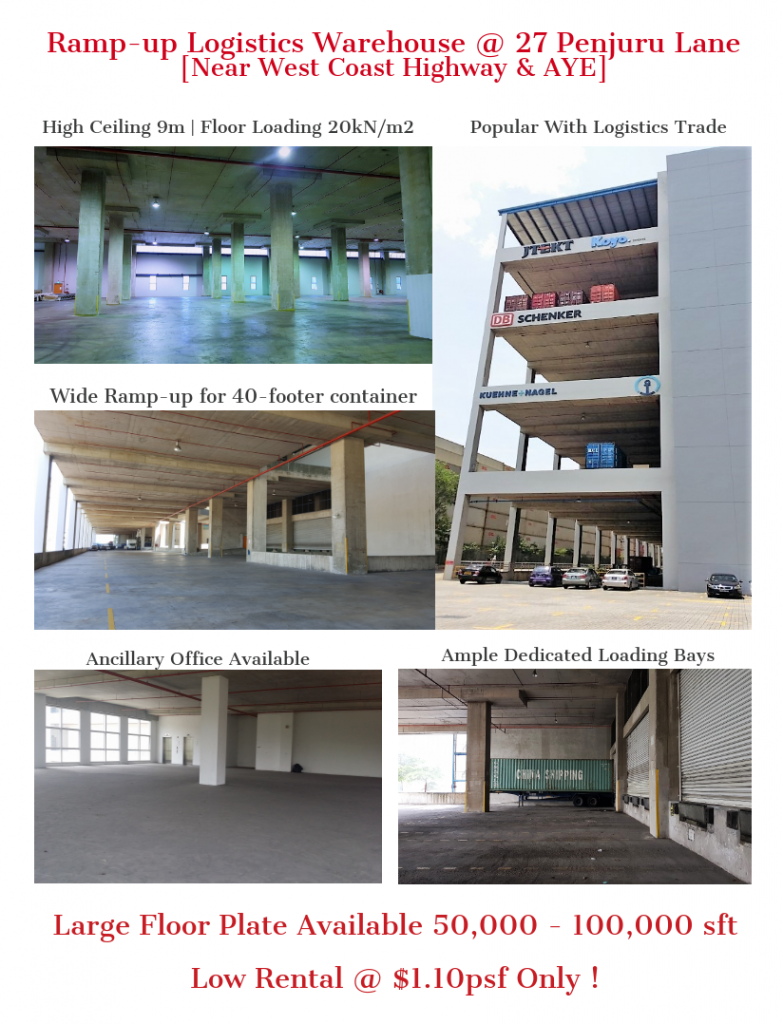 This is a logistics ramp-up Penjuru warehouse for rent that can accommodate 40 footer container at 27 Penjuru Lane. The location is mostly popular with logistic trade as it is easily accessible via West Coast Highway ,AYE and those companies who have a lot of goods movement to the neighboring country, Malaysia. All of Penjuru area is zoned as B2 industrial use.
27 Penjuru Lane warehouse for rent is dedicated mostly to logistics player, big or small due to its good specifications such as high ceiling from 9m – 12m and heavy floor loading of 20kN/m2. Few units left for rent and sizes are generally big from 20,000 to 100,000 sft. The rental in Penjuru area is quite cheap as well. Competition from some B2 flatted factory with cargo lift access can go as low as $0.80 psf (such as 31 and 37 Penjuru Lane). This ramp-up Penjuru warehouse for rent with dedicated loading bay at door-step at 27 Penjuru Lane is asking for a rental rate of $1.10 psf (subject to GST). With some rent-free period, the effective gross rental (EGR) rate can be even lower. Suitable for logistics players that rely on cheap rental to move volumes.
The ramp-up and driveway is wide and able to fit high cube 40-footer container. Only large floor plate warehouse are available (20,000 up to 100,000 sqft).
Please call hotline to check availability.
---
Penjuru Warehouse For Rent @ 27 Penjuru Lane
| Property Address | 27 Penjuru Lane |
| --- | --- |
| Property Type | B2 Ramp-up Warehouse |
| Floor Size Available | 50,000 - 100,000 sft |
| Rental Rates (S$/psf) | $1 psf |
| Asking Price (S$)/mth | Approx $50,000 - $100,000 / month |
| Ceiling Height | 9 - 12 m |
| Floor Loading | 20 - 50 kN/m2 |
| Loading Bays | Dedicated Loading Bays For Every Unit |
| Unit Condition | Bare unit |
| Contact No | +65 8200 1937 |
---
27 Penjuru Lane Warehouse For Rent – Building Specs:

* Dedicated Loading bays equipped with dock levelers
* Efficient optimal layout, no wastage of space
* High ceiling of 9m (12m height for the top floor)
* Heavy floor loading of 20 kN/m2
* In-house aircon canteen
* Wide driveway to fit 40-footer container
* Ancillary office space available
* Ample parking
* 24-hour access
* 24-hour security
Some units have mezzanine office space available. Only very few warehouse units left for rental. Call leasing hotline to check for availability.
---