Location : 11 Bishan St 21 and 38C Jalan Pemimpin
Robert Bosch SEA Headquarter consists of two blocks of high specs B1 industrial building, which are located diagonally opposite of Marymount MRT (2-minute walk) and right opposite Raffles Institution Junior College. The building is well served by a good network of roads and is conveniently linked by major arterial roads such as Bishan Road, Marymount Road and Thomson Road. Central Expressway (CTE) and Pan Island Expressway (PIE) are also easily accessible.
---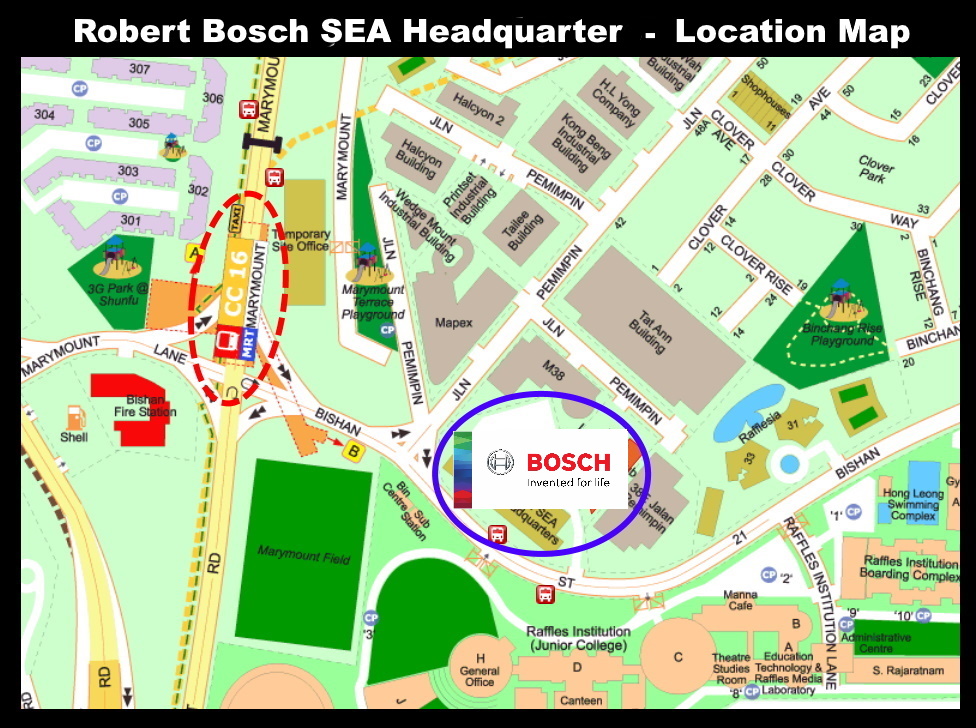 ---
Property Specifications
Robert Bosch SEA Headquarter @ 11 Bishan St 21
7-storey B1 light industrial building with 2 level of basement carpark
Good Location opposite Marymount MRT Station (CC16)
Quick access to CTE / PIE
Ideal for Customer Service Center, IT-related trade, Design & development, E-commerce, start-up, etc
In-house cafeteria available
Bare and fully fitted units available
Centralised aircon
Size available : From 1,740 – 10,961 ft2
Availability : Immediate
---
---
Available Space For Rent :
Available Unit
Size (ft2)
Remarks
Asking Rental (S$/psf)

11 Bishan St 21

Level 1 (Cafetaria)

4,676.50

Rental rates excludes utilities

$4.52

*

Level 1

1,740

Full glass frontage.

$6.00

*

Level 3

1,600

Centralised aircon. Bare condition

$5.50

*

Level 4

1,876

Fitted with table & chair, furnitures. Centralised aircon. Access via cargo lift only

$5.50

*

38C Jalan Pemimpin

Asking Rental (per month)

Level 3

299

Fully fitted and carpeted. Centralised Aircon (see picture below).

$2,000
* Asking Rental Rates is Negotiable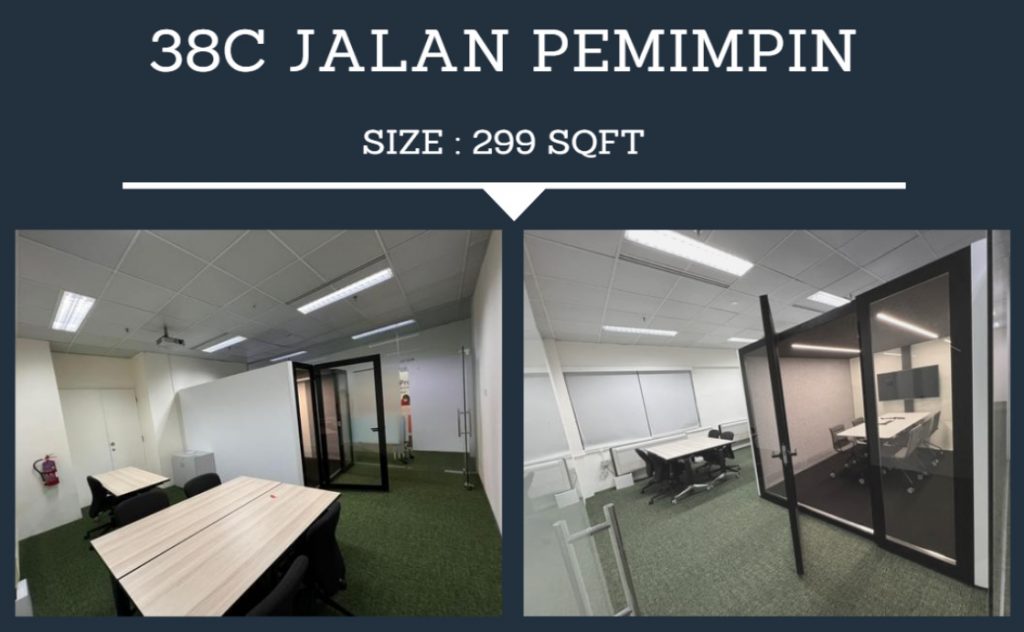 ---
Building Technical Specifications
Ceiling Height: Level 1 3.7 m; Upper level – 3 m
Floor Loading: Level 1 – 7.5 kN/m2; Upper level – 7.5 kN/m2
Features
2 nos. (2.09 ton) cargo lift
4 nos. passenger lift
1 nos. loading/unloading bays (with dock levellers for 20' x 40' containers)
Car Park
Facilities Available
Level 1
Cafeteria
In Bosch, we have a cafe/bistro that serves a variety of cuisines, ranging from Zichar to Western. They also serve breakfast in the morning, with noodles or toasts. Fear not about limited seating areas in our cafeteria, we have an outdoor seating areas for those who prefer to take a breather from the building.
Gym
We also have a gym in level 1 that is accessible to all associates and tenants. The facilities in it includes treadmills, upright bikes and dumbbells!
Level 1 and 2 – Available for booking
Conferences rooms and Meeting Rooms
These conferences and meeting rooms are made available for all to hold events. Most of the things are prepared prior to your event. All you need to do is to inform the Facilities Management team about your event and the setting up of halls will be done for you.
Open Spaces
Besides having a multi-purpose hall, we also have an open area for associates & tenants to hold outdoor event such as BBQ Party and much more. The open areas are spacious enough to have a catering service at there too. All you have to do is to notify the Facilities Management team!
Level 2
Main Lobby
Our main lobby is accessible for all and it can also be used for events purposes. With a media wall at the main lobby, you can also flash your event slides/videos on it!
Roof Garden
Lower Roof Garden
Facing the beautiful skyline of Marymount area, associate can enjoy their lunch break or coffee break there. Events can also be held at that area. It is definitely a place for you to take a breather after a long day of hard work.
Lease Term : 2 – 3 Year Lease
Accessibility
2 mins walk to Marymount MRT Station (CC16)
Quick Access via major expressway CTE & PIE
---
Space For Rent @ Bosch Building – Opposite Marymount MRT
Lease Term : 2 – 3 Year Lease
Accessibility
2 mins walk to Marymount MRT Station (CC16)
Quick Access via major expressway CTE & PIE
---