Factory | Warehouse |Business  & Science Parks | Office – For RENT
We collaborate with many landlords (REITS and strata-titled owners) to market their available commercial and industrial space for rent. There is no agent commission payable by prospective tenants. Our wide and expansive network allows us to offer variety of commercial space for rent all around Singapore.
We have the following types of commercial & industrial property for rent suitable for different trades:
Commercial Office Space
Logistics Warehouse
Open Land / Yard
Small Storage – Work & Store concepts
Office-cum-warehouse
R&D, E-Biz centre, Laboratory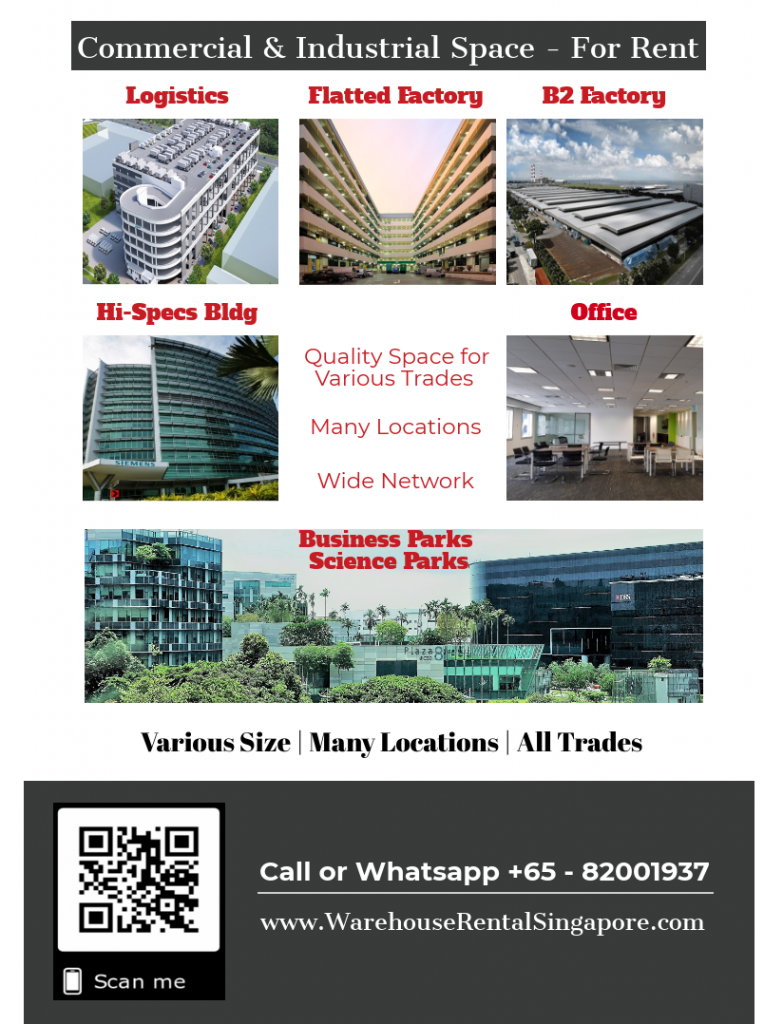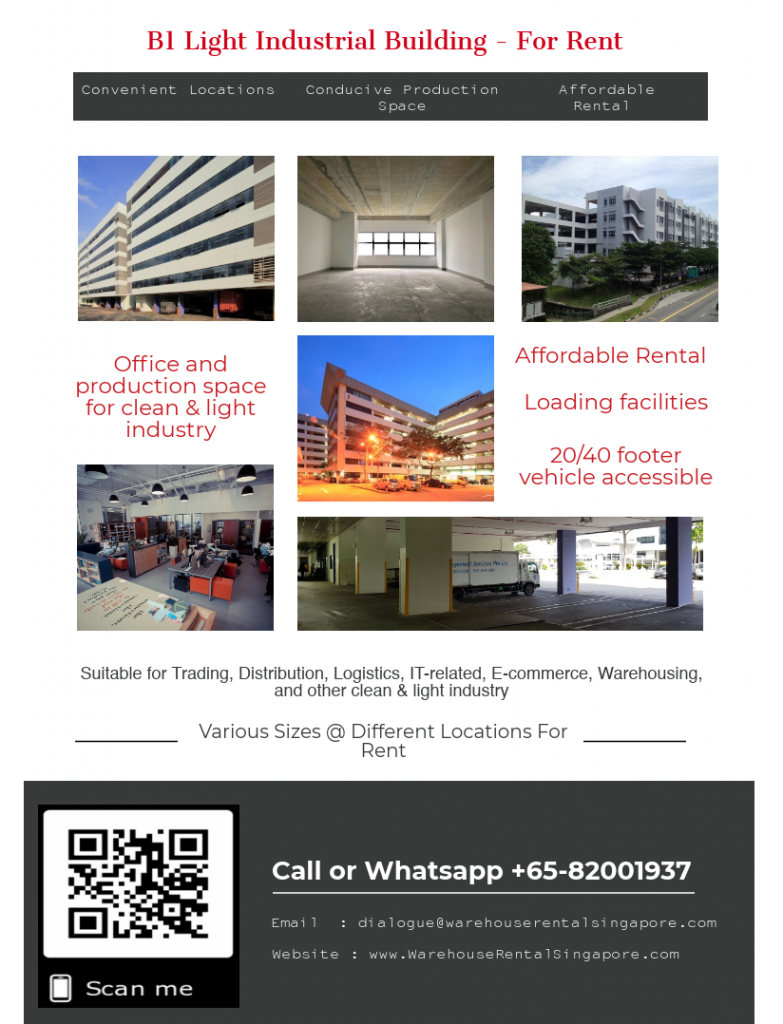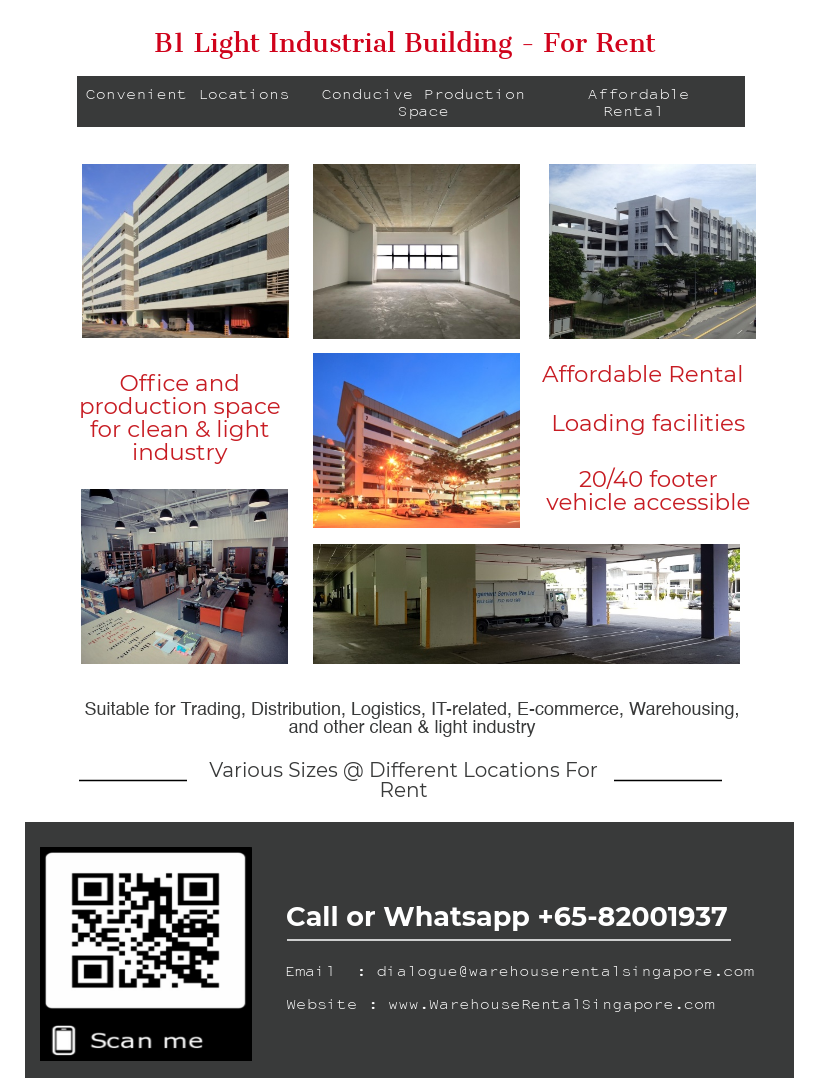 B1 Light Industrial Space – For Rent :
Ramp-up Factory : Enterprise one, Eunos Technolink, Paya Ubi Industrial Park, Northstar, Bartley Biz Centre, WCEGA, One Commonwealth,  etc.
 Flatted Factory (With cargo lift access) : 3014A Ubi Rd 1, 1001 Jalan Bukit Merah, 1091 Lower Delta Rd, 155 Kallang Way, 512 Chai Chee Lane, 9 Kallang Place, Joo Seng Warehouse, etc.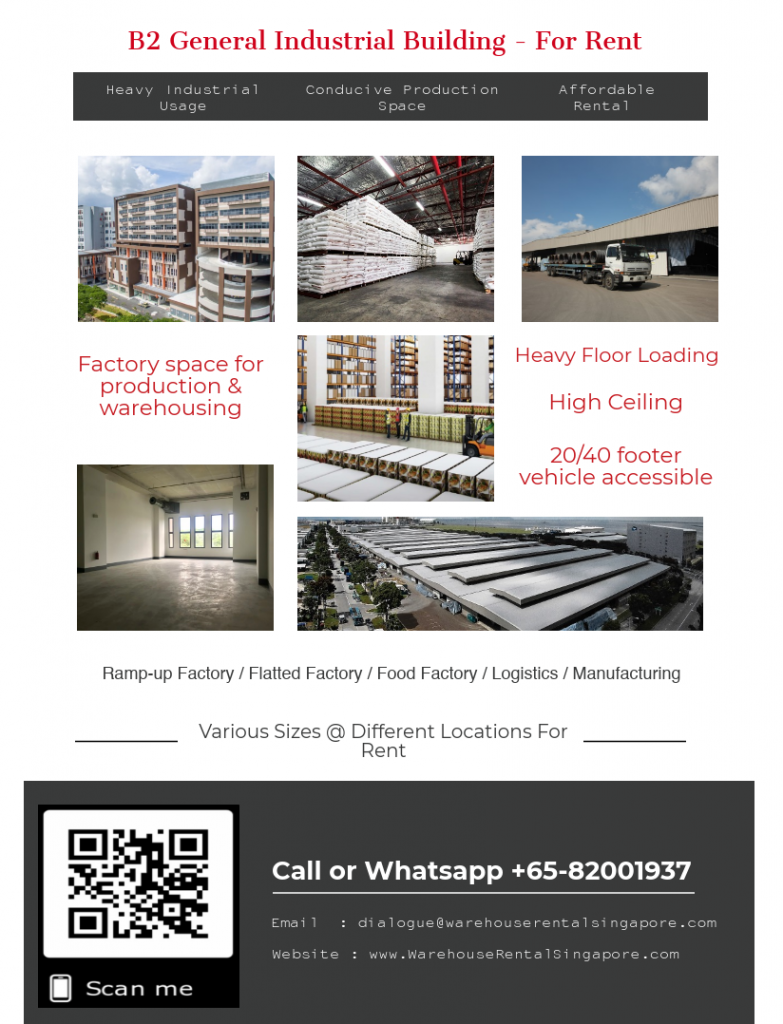 B2 Factory / Logistics Warehouse – For Rent
11 Changi North St 1 | 138 Joo Seng Rd | 85 Deful Lane 10 | 10 Changi South St 3 | 4 Tuas Avenue 5 | 30 Boon Lay Way | Jurong Logistics Hub | 31 Penjuru Lane | 40 Penjuru Lane | 119 Neythal Rd | 51 Benoi Road | 10 Pandan Crescent | 5B Toh Guan Rd East | 76 Pioneer Rd , Nordcom 1 & 2, Woodlands Spectrum,  etc.
Hi-specs Business Space (Nice Corporate Image with Loading/Unloading Facilities)
Alexandra Technopark | 30A Kallang Place | New Tech Park @ Lor Chuan | Eunos Techpark | Techpoint @ Ang Mo Kio | Techlink & Techview @ Kaki Bukit | Siemens Center | Hyflux Innovation Centre | HB I & II @ Macpherson | Oxley Bizhub | BS Bendeemer Centre | Aperia | KA Place & KA Centre @ Kampong Ampat |Pacific Tech Centre @ Bukit Merah|  Pantech 21, etc.

Tenant may use the space as ancillary office-cum-warehouse in accordance to URA 60/40 Rule.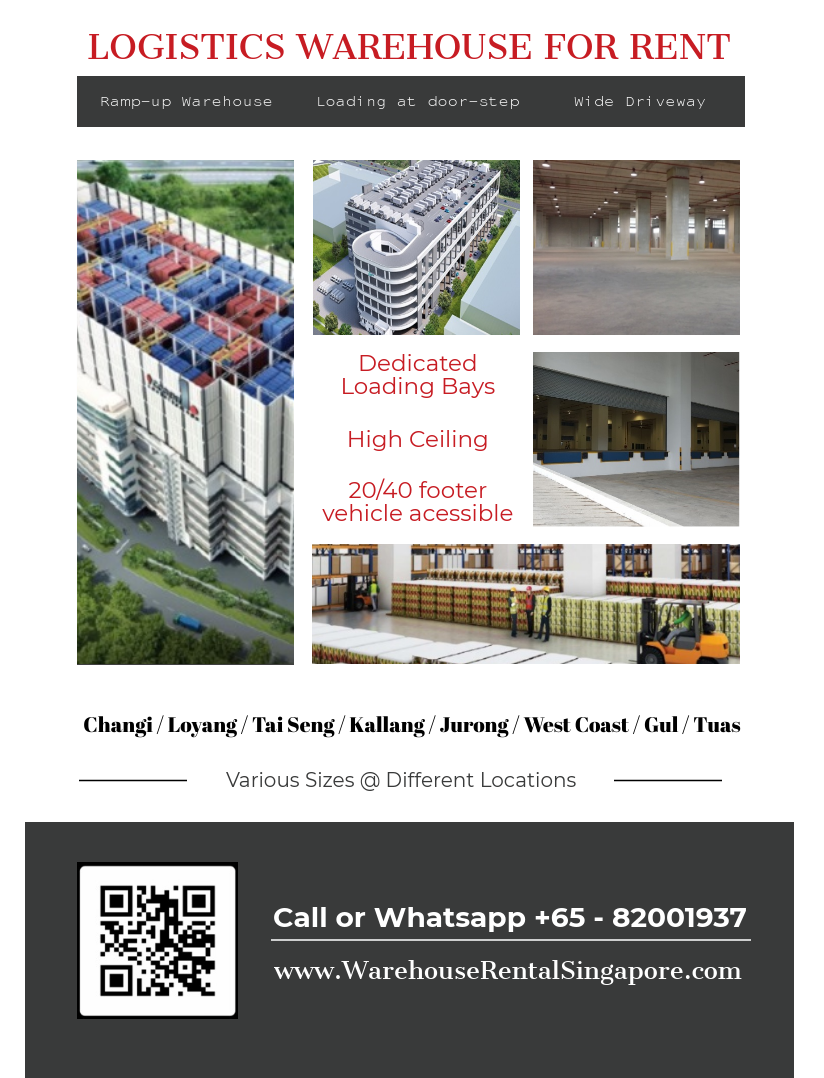 Business Parks For Rent 
1.International Business Park – For Rent
Icon | Nordic | iQuest | Techquest | Acer | Creative | The Synergy | The Strategy
2. Changi Business Park – For Rent
Akzonobel, One @ Changi City, Plaza 8 @ CBP, Honeywell, The Signature, Eightrium, Rigel, Haite
3. Viva Business Park @ Chai Chee
4. One North (Biggest R&D hub developed by JTC) – For Rent
Bio-Medical R&D Space: Nucleos, Neuros & Immunos @ Biopolis, Synapse
Infocomm Technology (ICT) Space: Galaxis, Nexus, Solaris, Amnios
5. Science Park 1 and Science Park 2 – For Rent
Cavendish, Chadwick, Curie, Cintech I/II/III/IV, The Franklin, The Rutherford
Teletech Park, The Alpha, The Aries, The Capricorn, The Galen, The Gemini, The Kendall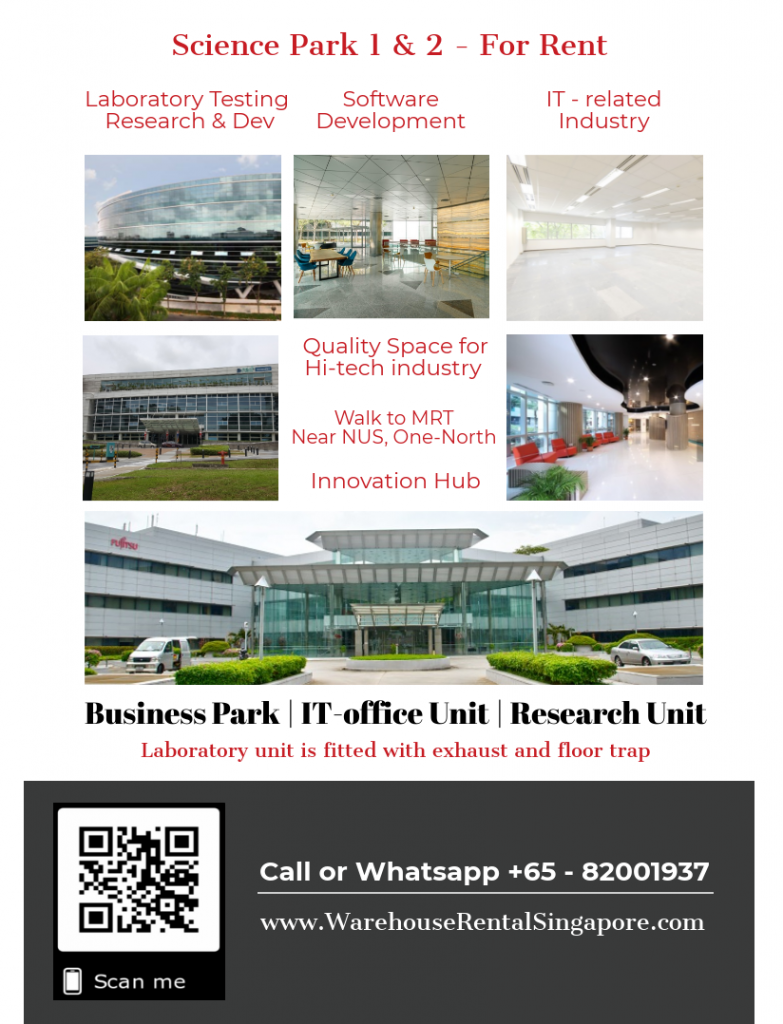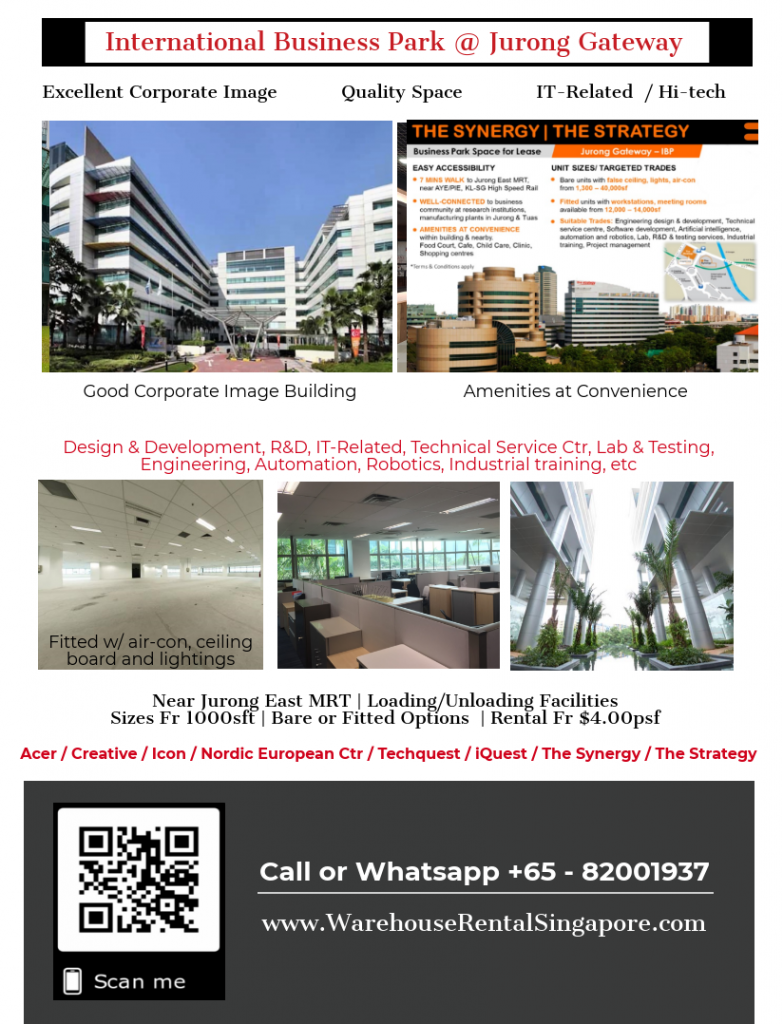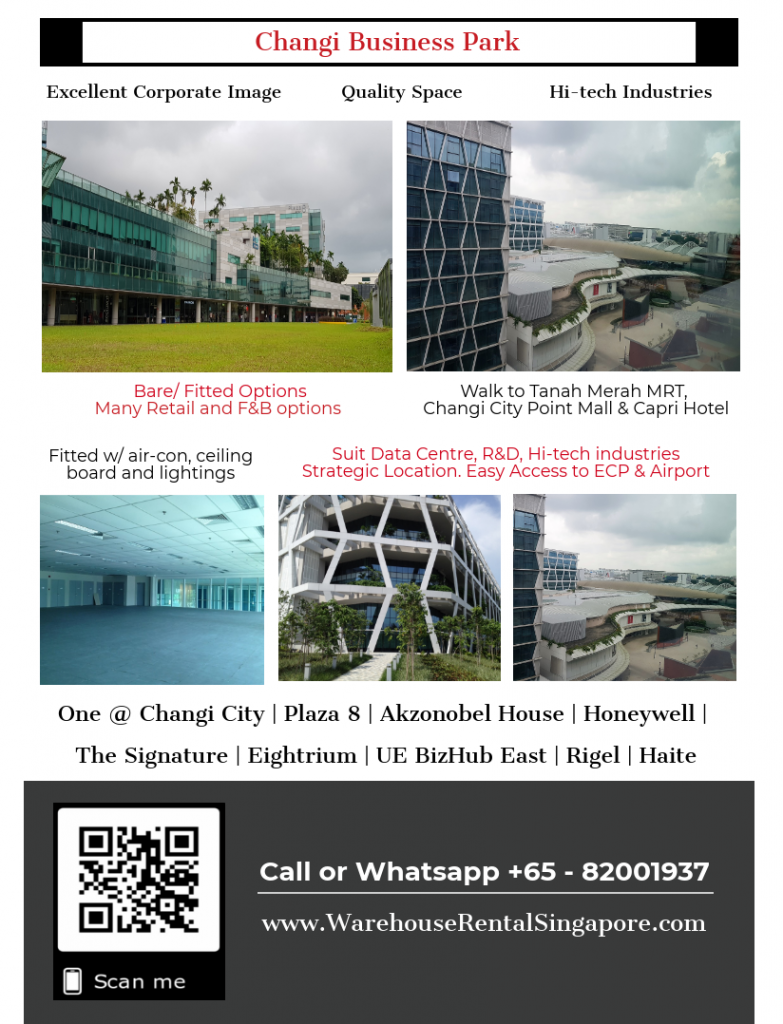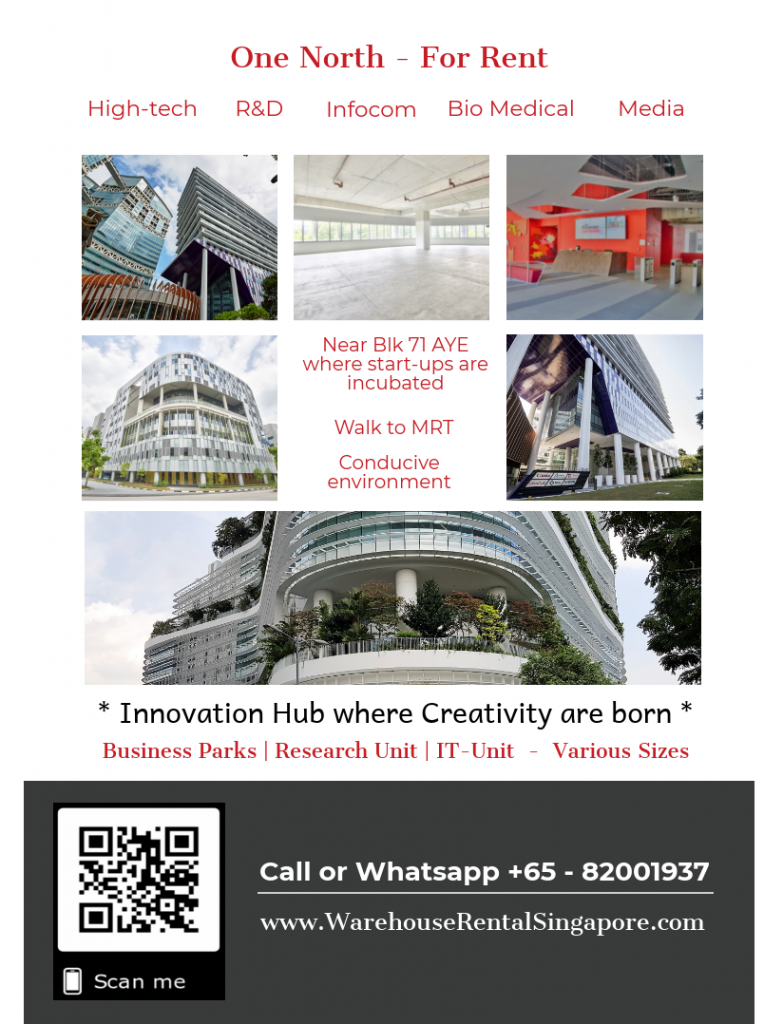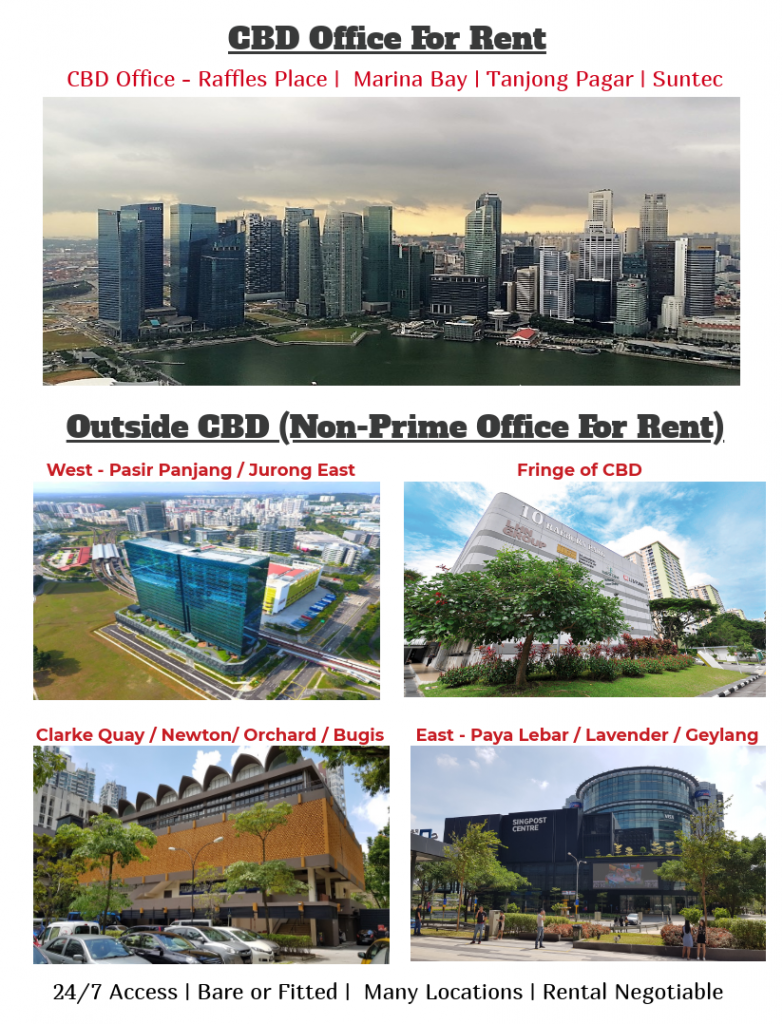 Call us for more information if you would like to get some indicative warehouse or office rental rates pricing around the area you are looking for. Different buildings with various specifications at different locations will certainly command different pricing. There is no one-size fits all kind of requirements.
(Landlord/Tenant welcome to list/enquire)
TESTIMONIAL
" My current industrial rental is expiring in 3 months and I have been looking for new space for the past 2 months. I viewed several units with different agents but didn't find the unit that fits our requirement. Most agents said they will call me if there is a suitable unit but NONE actually did. Meiti was the only one who took the time to explain prospective industrial space and location in consideration of our financial budget and specific requirement. She patiently helped me to arrange viewing over the span of 1 month. I trusted that she was working very hard to find the suitable units when many just said they will call back."
From: Lynn, Manager, Lesenphants Singapore.
CALL 65-82001937 Now!
Or email us at
dialogue@warehouserentalsingapore.com
Landlord / Tenant welcome to list and enquire.
Call 65 – 82001937 for more info or email us at dialogue@warehouserentalsingapore.com