What is URA 60/40 Rule?
To ensure that limited industrial land is used mainly for industrial uses, the URA requires at least 60% of the total floor area of an industrial building to be used for core industrial activities. However, URA recognises that certain non-industrial activities, such as ancillary offices, staff canteens and showrooms are needed to support the predominant industrial uses. Hence, such supporting non-industrial uses, together with ancillary areas (e.g. lift lobbies and circulation spaces) are allowed to occupy up to 40% of the total floor area of an industrial development. – URA
In short, the unit in industrial building is not allowed to be used 100% as office, shop front eg. travel and maid agencies, accounting firms, law firms, advertising agencies, tuition center, supermarket, religious activities, child care, etc. There need to be a predominant use of minimum 60% to be set aside for core industrial activities (see table below). The ancillary component is limited to a maximum of 40% for non-core or supporting uses such as office function eg. HR, admin, finance, sales and marketing, pantry. 
Please refer to the illustration below for a more comprehensive understanding of URA 60/40 Rule.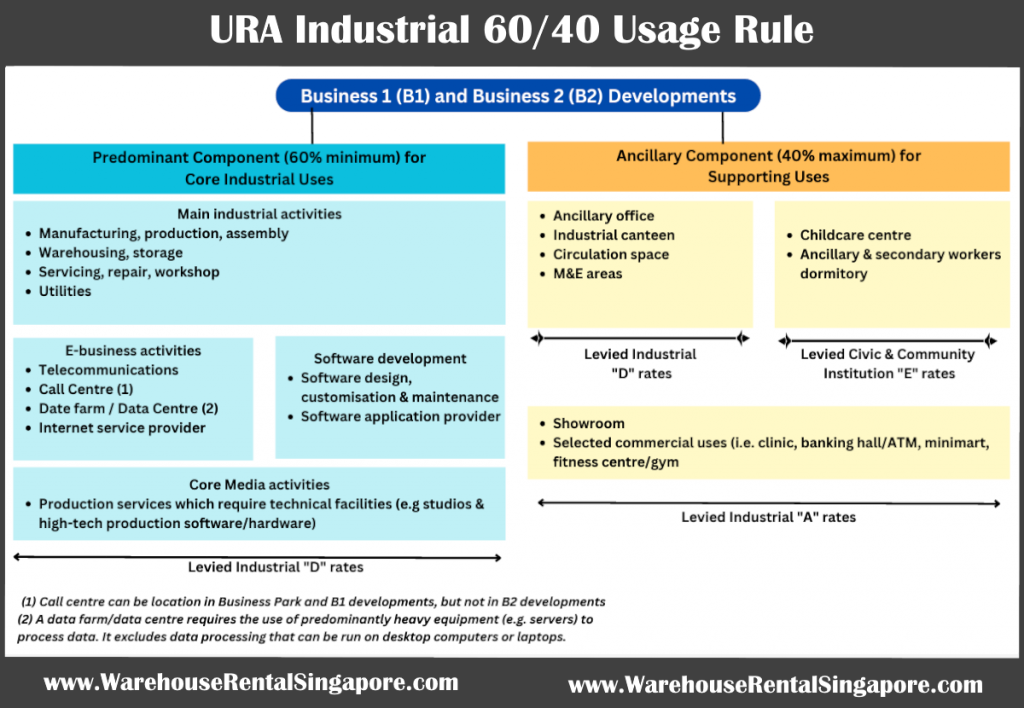 Change of Use
If the prospective tenant  would like to use the industrial space differently from the above guideline, such as converting the space to be a showroom, fitness center/ gym, supermarket, tuition center, or other non-industrial activities, the company can apply for change of use online to URA. There will be a non-refundable processing fee and some documents required for the authority's consideration. The application will be considered on a case-to-case basis and can be rejected or approved. Please note there might also be additional levy to industrial rates if the change of use application is approved.