ESR Business Park (formerly known as Viva Business Park) For Rent @ Chai Chee is located in between Bedok and Kembangan MRT.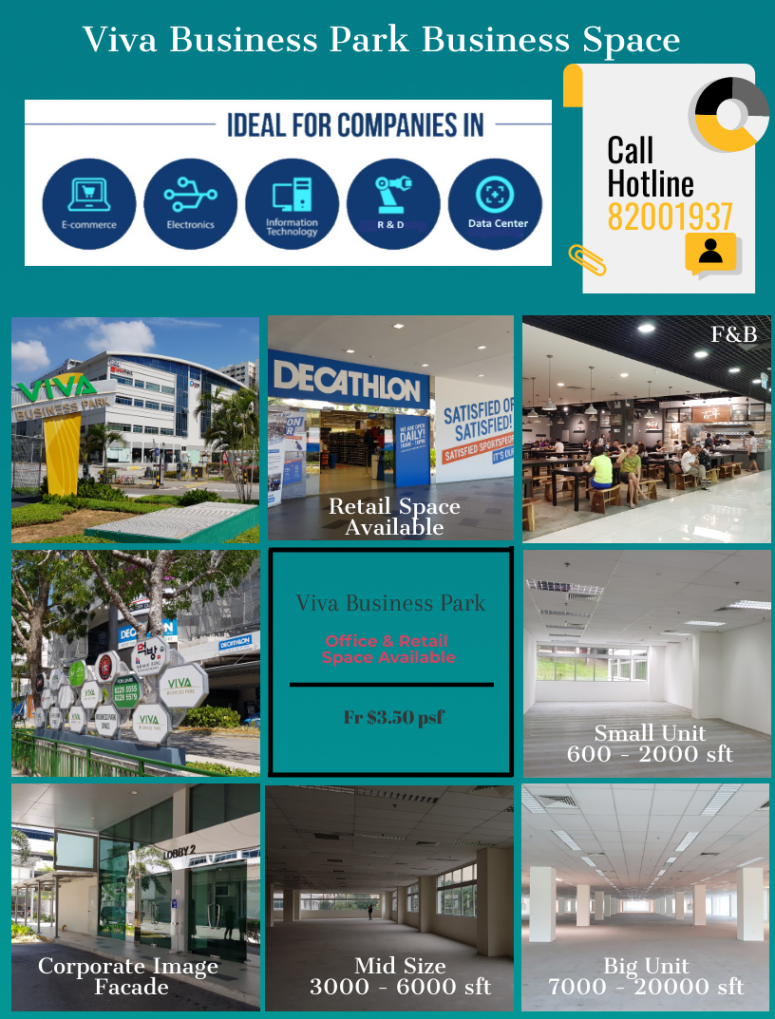 ESR Business Park (formerly Viva Business Park) Office & Shop For Rent
ESR Business Park Commercial Block 750 (F&B and retail shop for rent)
Retail space suitable for commercial learning centre, lifestyle, clinic, dental, supermarket.
F&B and Retail shop for rent available. Sizes from 600 – 3,000 sft at rental asking rates of approximately $8 psf – $10 psf. Some units with frontage is available from time to time. Please call leasing hotline to check.
ESR Business Park Block 750 A
Block 750A is a mixed site of retail and business park component. This block houses a prominent retail shop such as Decathlon, Burger King, Happy Fish Swim School.
Office for rent available at Blk 750A sizes range from From 500 – 9000 sft @ $3.50 – $3.70 psf. 
Floor Loading 5 – 7.5 kN/m2.
Ceiling Height 3.1m
ESR Business Park Block 750B
Block 750B at Viva Business Park has a retail component shop on ground floor, which currently houses Harvey Norman Factory Outlet.
Office for rent available at Block 750B generally range from sizes 3000 – 8000 sft @ $3.50 psf. Some units come with exclusive lobby frontage. Good for branding and excellent corporate image. This block is more suitable for company that does not require a warehouse component as there is no loading bay and cargo lift. 
Floor Loading 5kN/m2
Ceiling Height 2.8m (up to false ceiling) and 3.25m (up to slab).
ESR Business Park Block 750C
Office For Rent available – Sizes From 500 – 7000 sft @ $3.00 – $3.50 psf (Some units comes with full length windows and some are internal units without windows).
Floor Loading 5kN/m2
Ceiling height 2.8 – 3.1m
ESR Business Park Block 750D
Block 750D generally has bigger size warehouse-cum-office unit. There is a loading bay and cargo lift available. 
Floor Loading 7.5 – 12.5 kN/m2
Ceiling height 3.1m (up to slab). Generally no false ceiling.
Office-cum-warehouse available for rent – Sizes from 5,000 – 52,000 sft @ $3.50 psf negotiable.
ESR Business Park Block 750E
Block 750E has loading bay and 4 cargo lifts available.
Floor Loading 12.5kN/m2
Ceiling height 3.1m (up to slab)
Office-cum-warehouse for rent available – sizes From 5000 – 52,000 sft @ $3.50 – $3.60 psf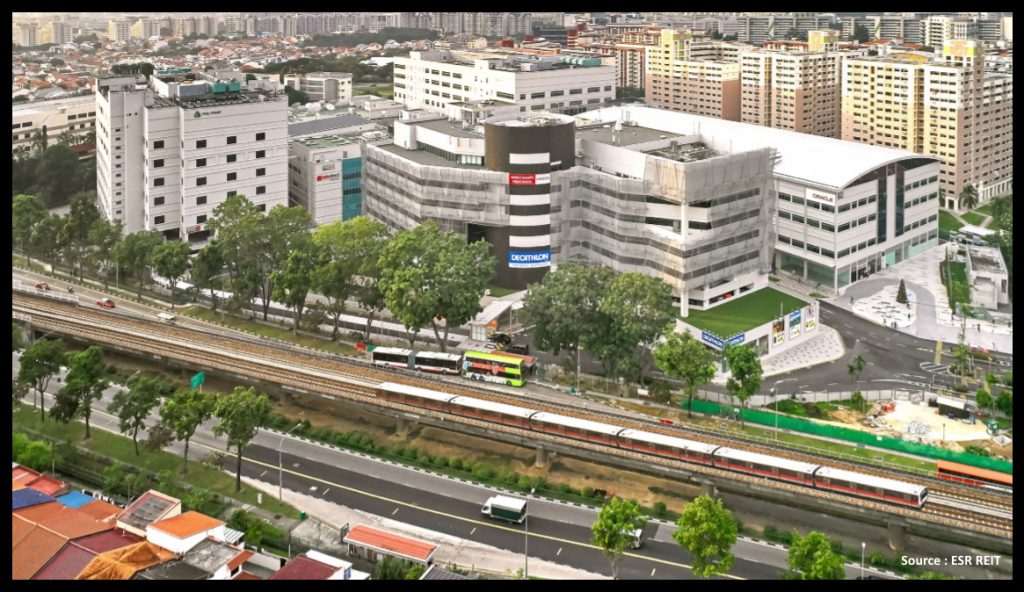 Amenities at ESR Business Park @ Chai Chee (formerly Viva Business Park)
ESR Business Park office for rent is surrounded by amenities and Chai Chee residential estates in District 16. The site has been redeveloped and rejuvenated to incorporate commercial retail and F&B spaces to give tenants great convenience to commute, work and play. Decathlon flagship store that offers cheap and quality sporting goods all year round are one of the major anchor retail tenant at ESR Business Park. It's wide frontage can be seen from the major Upper Changi Road. These retail stores draw crowds even on weekends with the presence of Auto Gymnastics Center and Dance School. There are also varieties of well known F&B restaurants and cafe available here offering abundance of choices such as Burger King, Pastamania, delicious Korean army stew by Muk Bang Korean restaurant, super burger of Andes by Aston, the comforting Li Xin Teochew fishball noodle, Hei Sushi, and the popular Yong Tau Fu Stall "Bai Nian". The Tenants at ESR Business Park are surely spoilt for choices and conveniences.
ESR Business Park is easily accessible via ECP and PIE. It's only approximately 15min away to Changi airport too.
Free Shuttle Bus to MRT
There is also a free shuttle bus to Bedok, Tampines and Pasir Ris MRT station on daily basis (including public holiday). Pick up point is from Block 750 Retail Mall.
The shuttle bus schedule departing to Pasir Ris MRT is at the following timing : 10.30 am / 11.30 / 12.30 pm / 4.30 pm / 5.30 pm / 6.30 pm / 7.30 pm.
While shuttle bus departing to Bedok and Tampines MRT are at : 9.40 am / 11 am / 12.20 pm / 1.40 pm / 4.40 pm / 6 pm / 7.20 pm / 8.40 pm / 9pm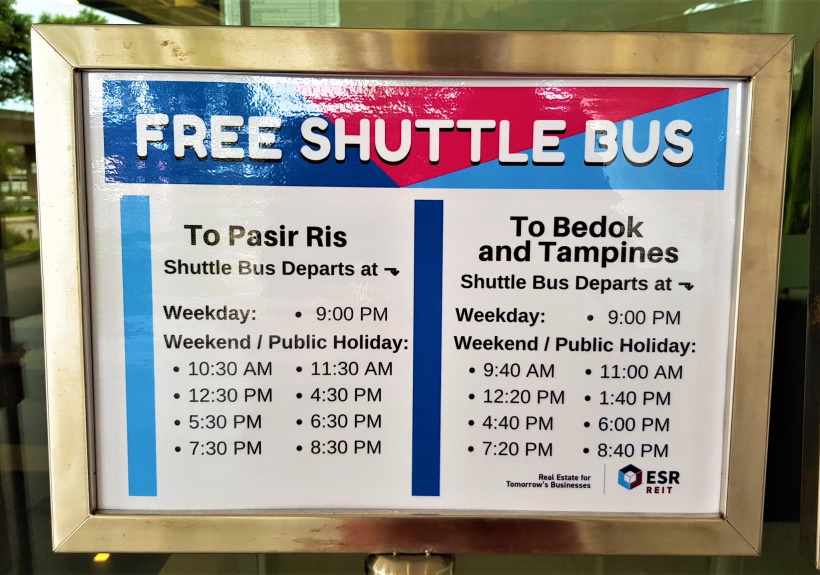 Unit Specifications & Suitable Trade at ESR Business Park
Typical office units at ESR Business Park for rent are fitted with ceiling board, lightings and aircon. Some fitted office units that are nicely renovated are available from time to time (subject to availability). Loading/unloading facilities are also available for logistic purpose.
Suitable trades includes IT-related industry, design and development, R&D, telecommunication, pharmaceutical, and other hi-tech related companies. The building facade of ESR Business Parks and clean environment present a reasonably good corporate image for those companies looking for "well established" image. The units are generally suitable as office and production space.
Rental rates of $3.20 – $3.60 psf for ESR Business Park is the lowest amongst all other Business Parks for rent in Singapore eg. International Business Park, Changi Business Park, One North, Science Parks. Typical sizes start from  1000 sft onwards. Contiguous space on the entire level for exclusive use can also be discussed. Companies can save office rental up to 30% – 50% by moving to business parks from full commercial office building, provided if their trade qualifies to be based in business parks.
Please click here to check out the rental rates for all other commercial space for rental.
---