B2 Ramp-up Factory For Rent @ 22 – 32 Pioneer Crescent
Size : 22,000 / 36,000 sft 
(Available  Aug / Sep 2023)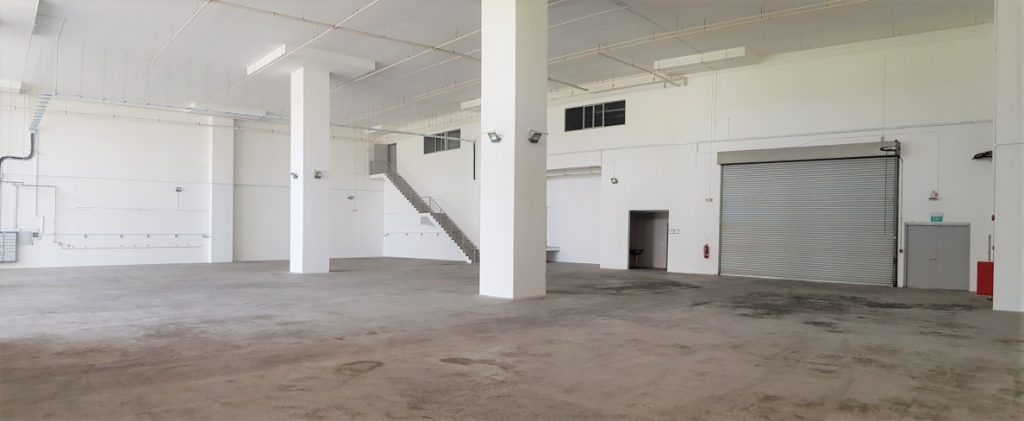 Ramp-up unit

Size approx 22,000 / 36,000 sft (including mezzanine office)

Approx 8.8m Ceiling Height

15kN/m2 Floor Loading

Direct container/truck access to the unit 

20/40-footer container accessible

Available Aug / Sep 2023

Lease term : minimum 3 years

Asking rental $1.85 psf + GST (negotiable)
---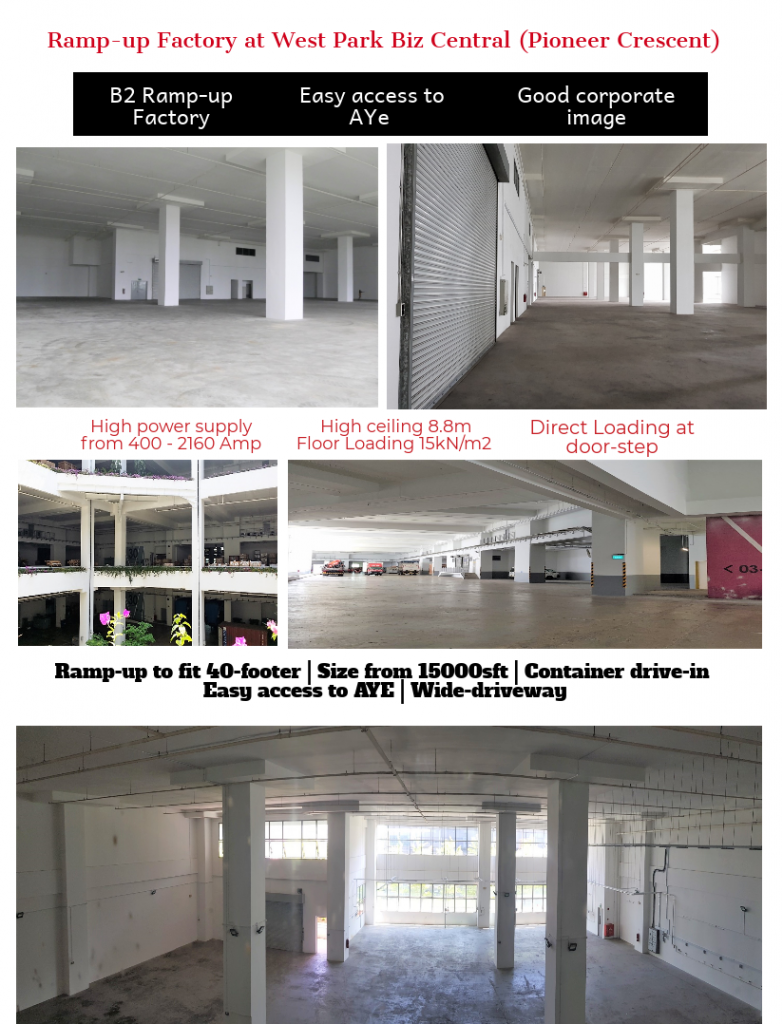 Westpark BizCentral Ramp-up Factory (22 – 32 Pioneer Crescent) – Building Specifications:
– Ramp-up with direct loading / unloading @ door step
– High power supply of 400amp to 2,160amp, 3-phase
– 26 nos of parking lots for 40-footer container
– 35 nos of parking lots for lorry
– Efficient layout with mezzanine office space
– High floor-to-ceiling height of 8.8m
– Floor loading 15kN/m2
– Asking rental rates $1.85 psf (negotiable)
West Park BizCentral is a B2 factory consists of ramp-up factory and non ramp-up unit (with cargo lift access). It is located just opposite Cogent Logistics Hub at the intersection of Pioneer road and Tanjong Kling Road.
The ramp-up factory has a high ceiling of 8.8 m and some units come with mezzanine office. Dedicated toilets are attached in the unit. Wide shutter gates entrance. All ramp-up units have dedicated parking area for heavy vehicles/containers at door-step.

The flatted (non-ramp-up) units are those with cargo lift access. The units are fitted with lights, ceiling board, and aircon, which is suitable as office-cum-warehouse for E-commerce, IT or R&D companies.

Ample parking lots are available at basement car park. Occupiers of Westpark Biz Central also have a convenience of food options served at the in-house canteen. The building has a good corporate image and efficient unit layout suitable for big manufacturing company or SME(s) looking for small operation space from 2,000 sft onwards.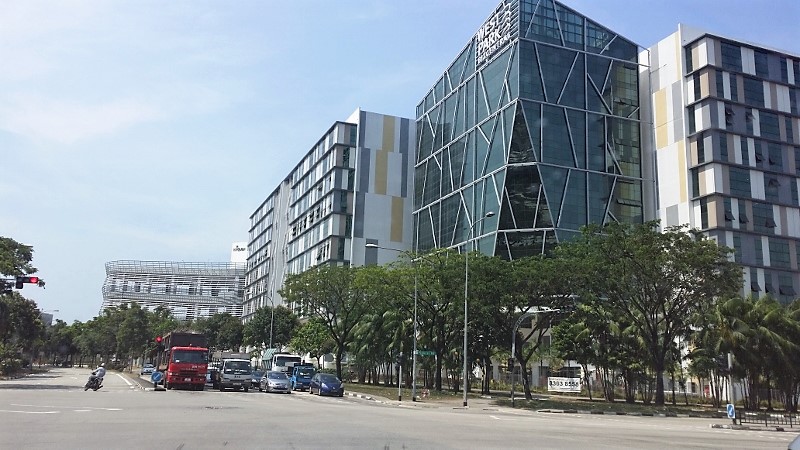 Sizes for ramp-up factory for rent at Westpark Biz Central range from 11,000 – 44,500sft (Mid-sized units generally range from 18,000 to 37,000 sft). All factory units have toilets attached. Most of the units also have ancillary office at the mezzanine level, which allows close supervision of the production and warehousing operation at the lower level area. All units are in bare condition. Asking rental rates for Westpark Biz Central ramp-up factory is $1.85 psf + GST (negotiable). Whereas asking rental for non ramp-up unit fitted with lights & aircon (see below) is $1.65 psf + GST (negotiable).
---
* Non Ramp-up unit w/ Cargo Lift @ West Park Bizcentral For Rent
(Address : 20 & 30 Pioneer Crescent)
Typical Sizes : 2000 – 8000 sft
Ceiling Height : 3 – 3.5m / Fitted with Lights & Aircon
Asking Rental : $1.65 psf + GST (Negotiable)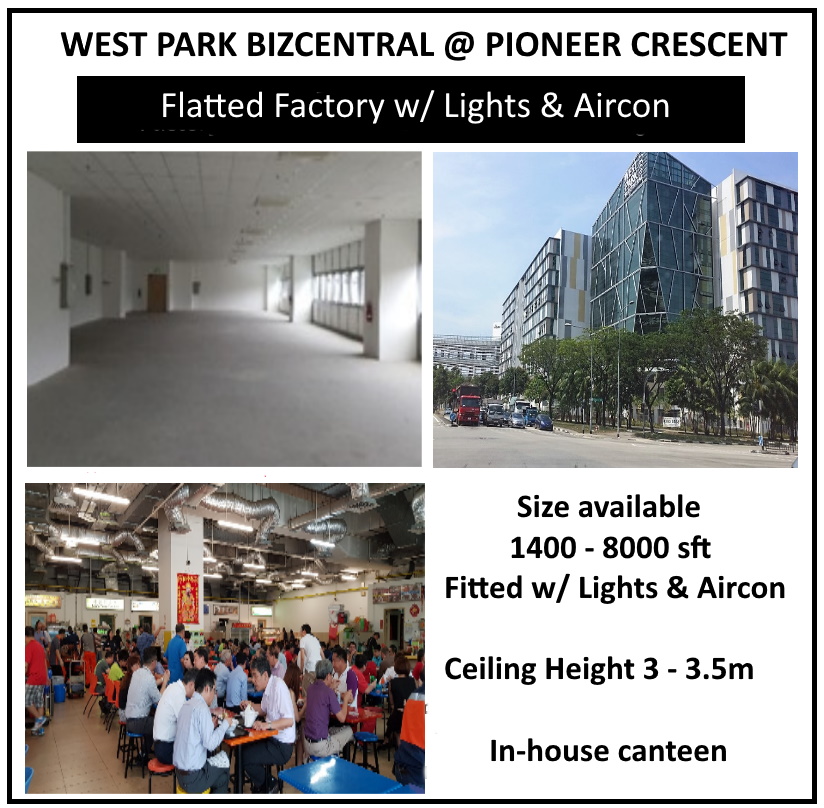 West Park Bizcentral has another type of B2 factory for rent, which is the non ramp-up unit. It is fitted with false ceiling and aircon. It ranges from 2,000 – 8000 sft. With a ceiling height of 3 – 3.5m (floor to false ceiling), it is generally suitable as ancillary office space for companies that would like to have their staff work on-site together with the ramp-up factory unit. Company that would like to be near Tuas area and want to have a good corporate image can also consider West Park Bizcentral factory and office rental. All these units come with windows and have floor loading of 10kN/m2. Some panaromic views can be enjoyed from this flatted office units for rent from block 20 Pioneer Crescent.
West Park Bizcentral flatted factories are suitable for company that are dealing with IT, E-commerce, and R&D. Some units are in fully fitted condition (please call leasing hotline to check availability). Asking rental rates is $1.65 psf (negotiable).