---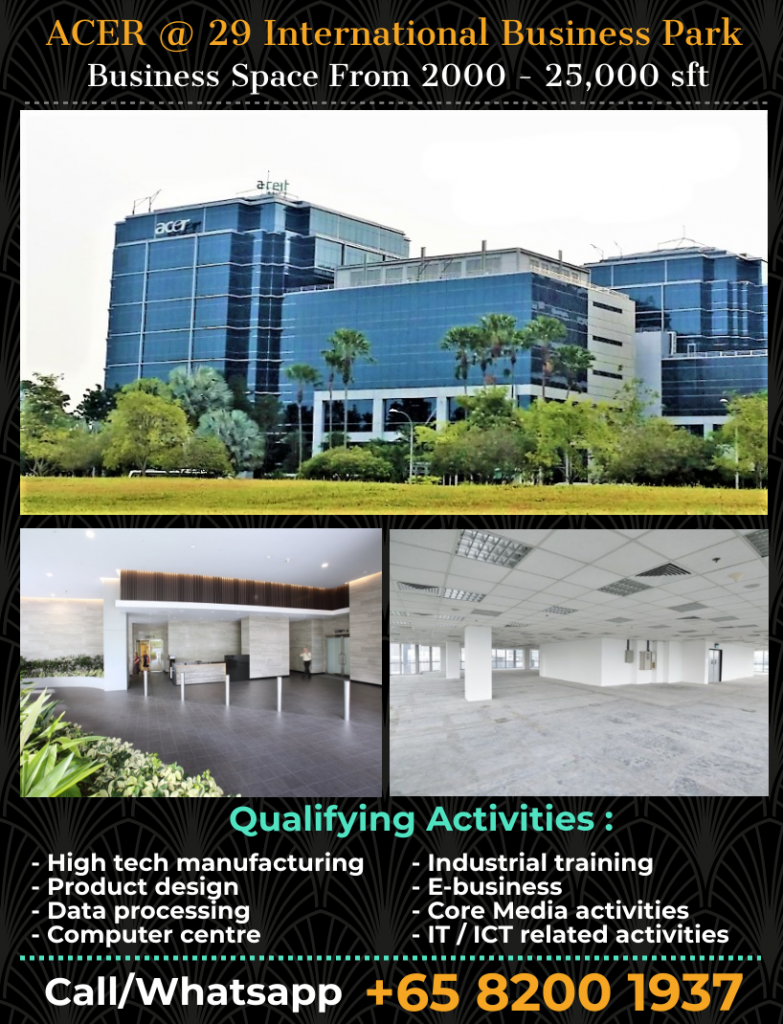 ---
ACER @ 29

International

Business Park – IT Office For Rent
Promo Rates For Limited Time Only!
Up to 12 months Net Rent Free for minimum 3-year lease @ $3.70 psf pm.
Size from 2,000 – 25,000 sft (For Selected Units Only!)
Bare and Fitted Office Units available
Selected units at 31 International Business Park (a.k.a Creative) also have special promo rates
Amenities : Cafe and child-care center
Call Leasing Hotline to enquire availability
---
ACER Location : 29 International Business Park, Singapore 609923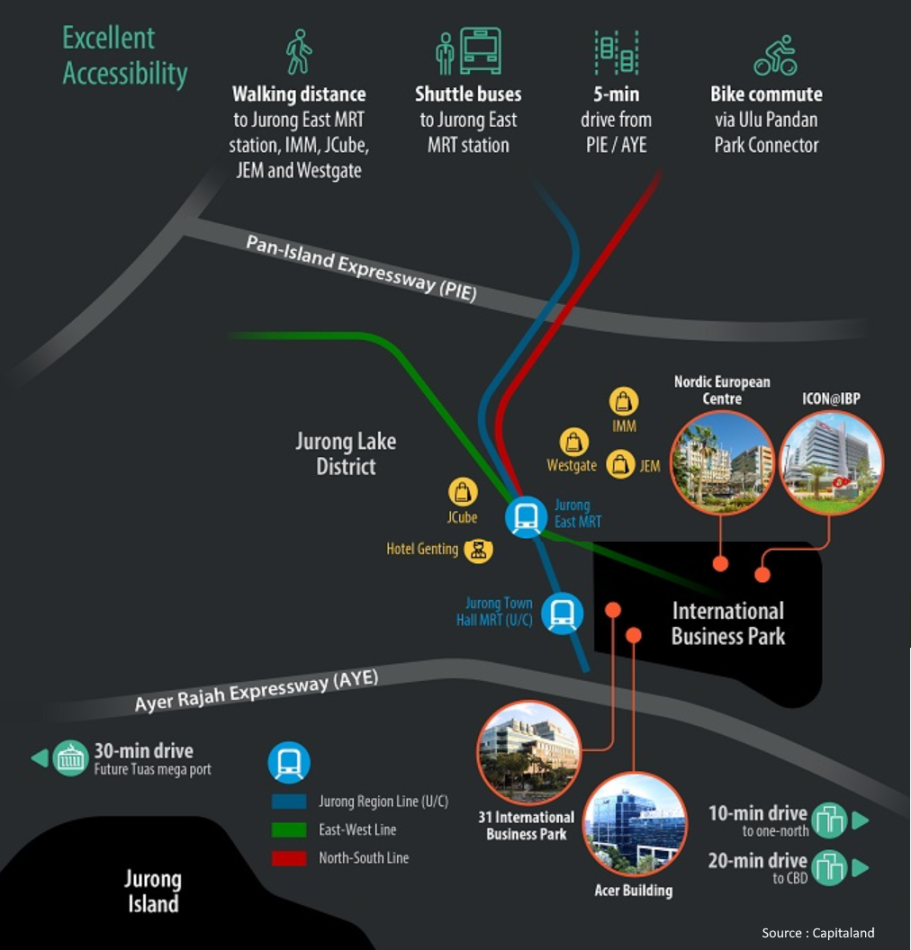 Located at the Jurong Gateway, ACER at 29 International Business Park (IBP) is quite close to Jurong East MRT, IMM, JCube, Westgate and various F&B outlets and retail shops at Jurong East Regional Centre. There is also a shuttle bus service provided by JTC to Jurong East MRT station. It is a prominent development within the IBP with two 8-storey towers interlinked by a 5-storey podium, which is equipped with various facilities. ACER building is designed for IT-related trade, software development, knowledge-intensive such as automation & robotics, and backroom operations. It is located within the International Business Park and is easily accessible via major expressways such as AYE and PIE. Jurong East MRT station and Jurong East Bus Interchange are located close to the development or approximately 10 minutes walk from ACER IBP. There is a cafe within the building itself and is secured with security surveillance 24/7.
All of the office space for rent at ACER International Business Park are fitted with false ceilings, centralised aircon and lighting with or without raised flooring. Some of the office space for rent may come in fitted (ready for plug and play) or in bare condition. Office space for rent can be as small as 900 sft to large sizes up to 50,000 sft. Please call hotline to check availability. Many of other office for rent at International Business Park (IBP) also offer flexible configuration layout to suit different business requirement and easy set-up.
---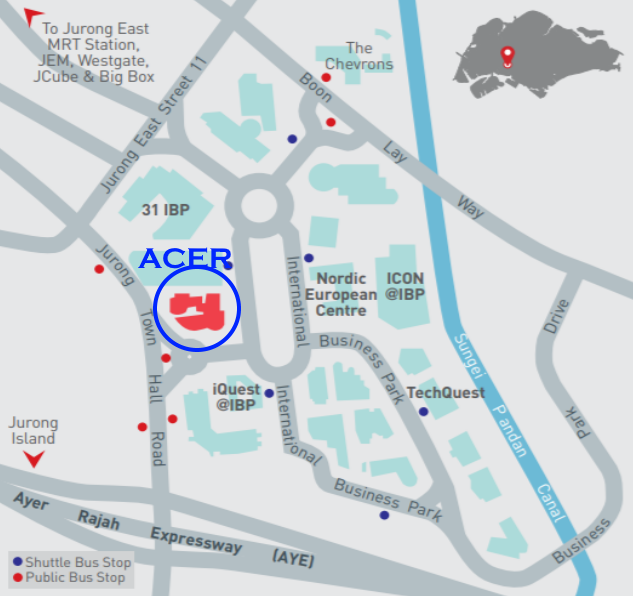 ---
Qualifying Trade For International Business Park
ACER at 29 International Business Park (IBP) is located under Business Park zoning by Urban Redevelopment Authority (URA). Under Business Park zoning, the land usage that is permissible includes high tech manufacturing, product design/development, computer centre, data processing, industrial training, central distribution, e-business, core media activities, and IT / ICT related activities.
---
ACER @ IBP Office Rental – Building Specifications :
Total Net Lettable Floor Area (NLA) : Approx 22,438 sqm
Typical Floor Plate : Approx 4654 sqm
Floor Loading
1st storey: 15.0 kN/sqm
2nd storey: 7.5 – 12.5 kN/sqm
3rd to 5th storey: 7.5 kN/sqm
6th to 8th storey: 5.0 kN/sqm
Carpark decks: 2.5 kN/sqm
Ceiling Height :
Floor to False Ceiling Height
– 1st storey: 5.4 m
– 2nd storey: 3.8 m
– 3rd to 8th storey: 2.7 m
Floor to Slab Soffit Height
– 1st storey: 6.3 m
– 2nd storey: 4.7 m
– 3rd to 8th storey: 3.8 m
Passenger lifts: 6 x 1,150 kg (3 per block)
Cargo lifts: 3 x 4,000 kg – Dimensions: 3.5 m (W) x 3.25 m (D) x 2.48 m (H)
Loading Bay : 7 loading/unloading bays with dock levelers
Car Parking Lots : 234 lots (1 lot allocation for every 200 sqm leased)
Air-conditioning System (inclusive in the monthly rental) : Mon – Fri (8am – 6pm), Sat (8am – 1pm) except public holidays.
---
International Business Park Office Rental Procedure
International Business Park office rental is generally based on 3 + 3 renewable lease term lease with a certain rental-free fit-out period given. 
Most of the office units offered in International Business Park usually are fitted with false ceilings, lights, and centralised aircon with or without raised flooring. Tenants are expected to renovate and furnish the office unit according to their specifications within the fit-out period given by the landlord. The length of this rent-free period also depends on the rental amount agreed and the length of the lease term. Tenants are allowed to partition the space into small office rooms, meeting or conference rooms, pantry, etc as long as the renovation doesn't violate fire safety rule. Please note that upon expiry of the lease, the tenants are required to reinstate the office unit into its original condition.
Other International Business Park's office for rent are available at The Strategy, The Synergy, Icon @ 3A IBP, Nordic European Centre, Tolaram @ 1A International Business Park, Techquest, and iQuest @ 27  International Business Park.
Please call our enquiry hotline to discuss about your office space requirements at International Business Park (IBP).