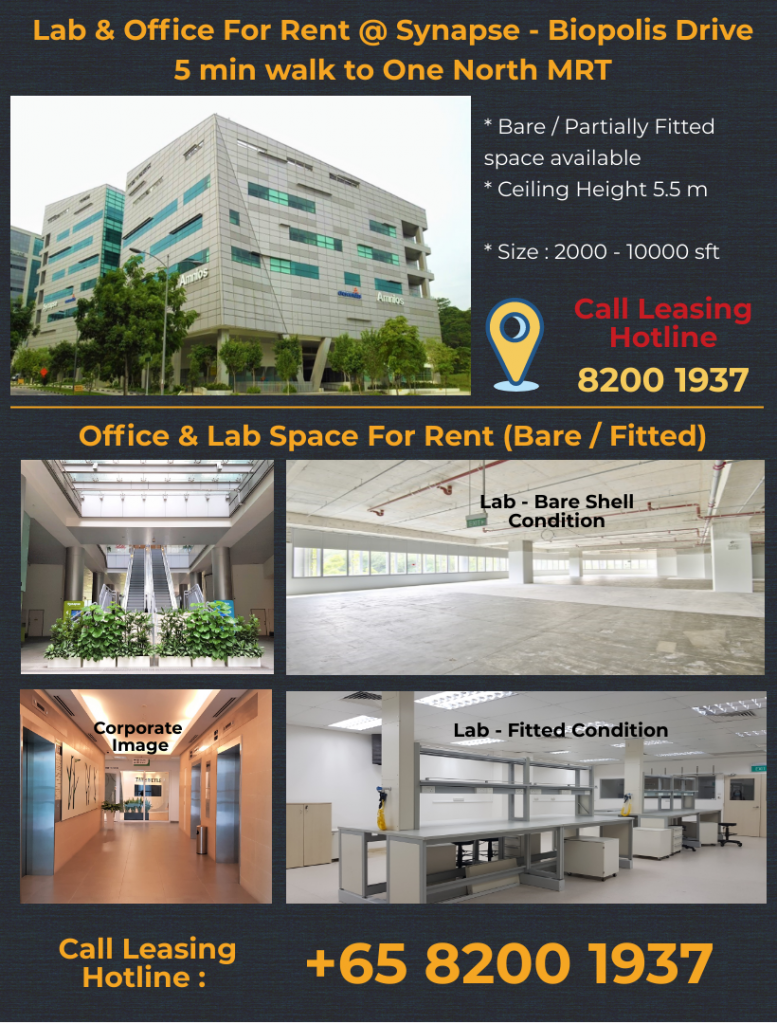 ---
Amnios & Synapse Lab For Rent Location : 1 & 3 Biopolis Drive
These 2 buildings are connected to each other and share the same ground floor compound and facility. It is only 5 min walk to One North MRT. Amnios and Synape mostly have research unit / lab space available for bio-medical research industry. Most of the lab space comes in bare shell condition. At times, there are partially fitted lab with standard equipment available. Please call hotline to check availability.
For companies that would like to avoid heavy capital investment expenditures to fit up the lab and office, they may request for landlord to renovate the bare unit according to their specifications. The renovation costs will then be spread over the lease term on top of the rental costs per month.
Technical Specifications :
Ceiling Height (Floor to Floor) : 5.5 – 7.5 m
Floor Loading : 5 – 7.5kN/m2
Asking Rental : $5.75 – $7.50 psf (Negotiable)
Sizes Available : From 2,000 – 15,000 sft
---
Rare Partially Fitted Lab For Rent @ Synapse (Size : 2050 sft | Asking Rental $7.50 psf)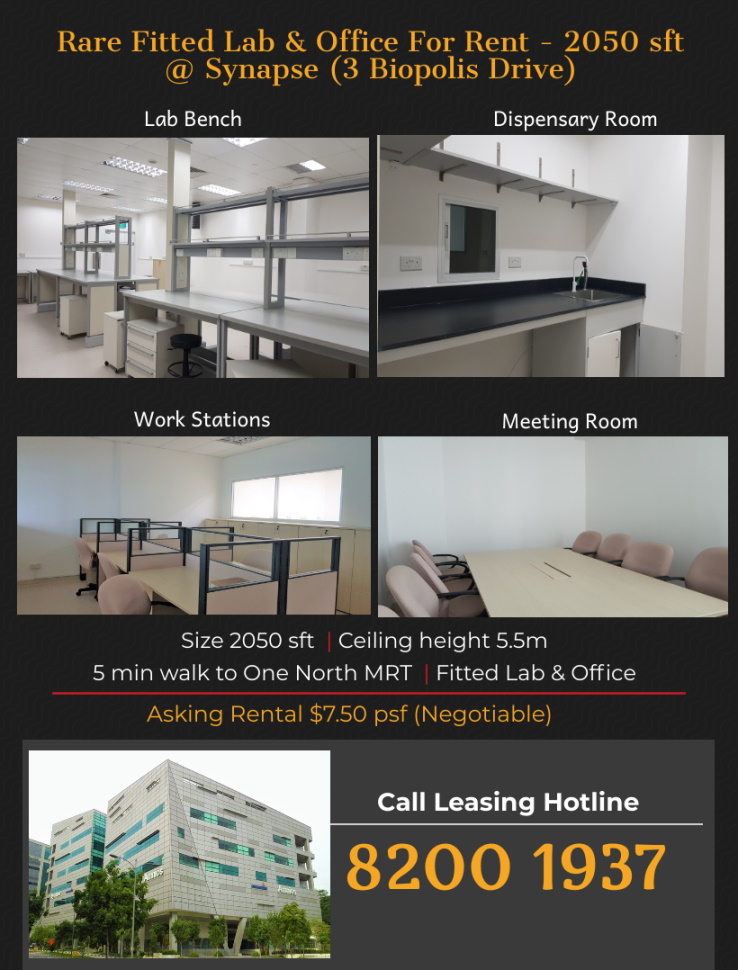 ---
Amnios & Synapse @ One North Biopolis Transport accessibility via MRT & Car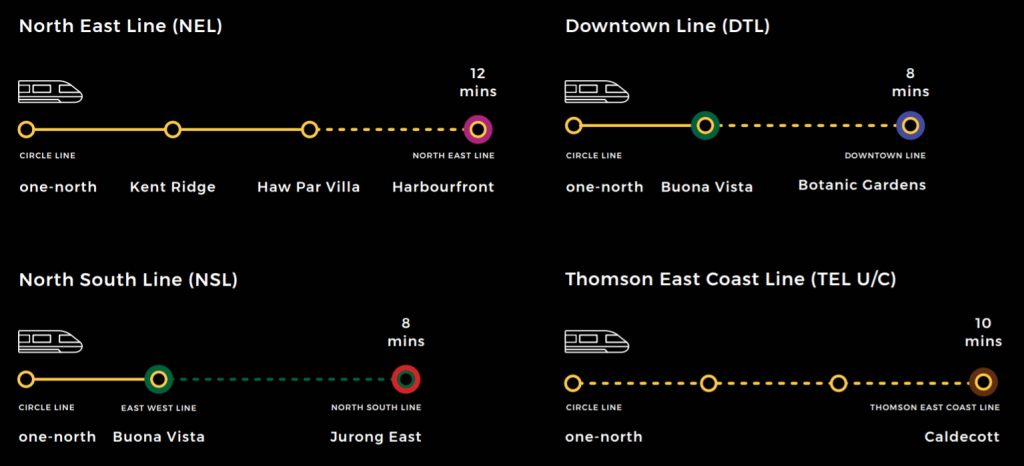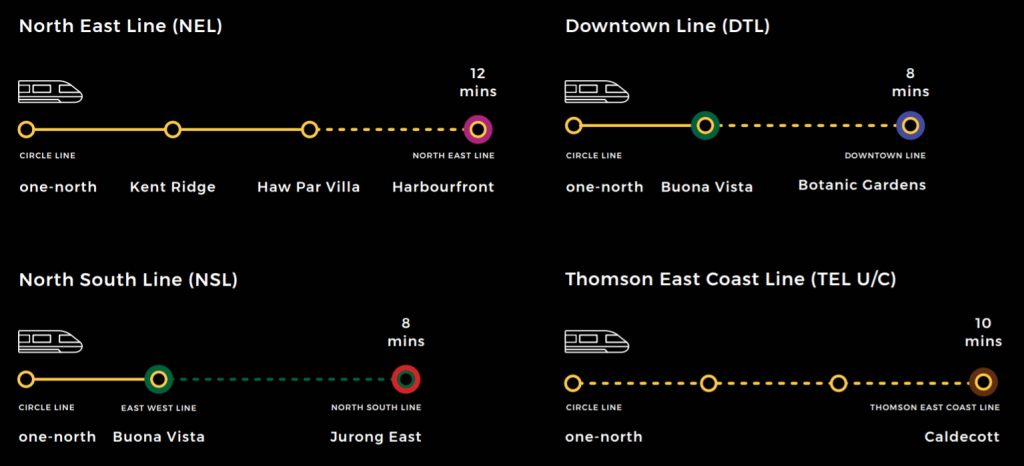 One-north MRT to Harbour Front (North East Line) – 12 mins
One-north MRT to Botanic Gardens (Downtown Line) – 8 mins
One-north MRT to Jurong East (North South Line) – 8 mins
One-north MRT to Caldecott (Thomson East Coast Line) – 19 mins

For those who drive from Amnios or Synapse Biopolis to go for business meeting at CBD, it takes only approx 17 minutes to reach. And those who need to catch a flight at Changi airport, it will take 30 minutes with cab or private vehicle via AYE.
---
One-North Business Park & Lab Rental Rates Guide
(Disclaimer : The rental rates guide below serves as a reference only and is subject to change without any prior notice).
District
Project
Price/psf/mth
(S$)
Remarks
5
Nexus @ Fusionopolis
5.80 - 6.30
Business Park & Pure office for rent. Suit Bio-research & physical science, electronics & technology company.
5
Galaxis @ Fusionopolis
6.00 - 6.30
Business Park & Pure office for rent. Suit Bio-research & physical science, electronics & technology company.
5
Solaris @ Fusionopolis
5.90
Research unit. Award winning project. Sizes fr 2700 - 13000 sft.
5
Razor SEA HQ @ Fusionopolis
5.90
Business Park Usage. Suitable for IT or techonology related industry. Fully sheltered 6 min walk to One North MRT. Sublet fee applies.
5
Nucleos @ Biopolis
5.80 - 6.20
Research unit for Bio-medical trade.
Sizes fr 1000 - 8000 sft.
5
Neuros/Immunos @ Biopolis
5.80 - 6.00
Research unit for Biomedical. Suit Bio-research & physical science company.
5
Amnios @ Biopolis
5.75
Biomedical R&D usage. Office Size from 10000 sft.
5
Synapse @ Biopolis
5.75 - 6.60
Biomedical R&D usage. Size about 2400 sft. Fitted unit or bare condition.
5
Infinite Studios @ Mediapolis
4.60 - 5.20
Research unit and office-type unit available. Sizes fr 3000 sft.
5
Alice @ Mediapolis
3.85 - 5.70
Suits SMEs in InfoComm, Media, Physical Science and Engineering R&D industries. Launchpad graduates will enjoy rental subsidy. Sizes from 1000 - 45000 sft. imageAmenities available to tenants: Meeting rooms, childcare centre, huge event halls, F&BShuttle bus at 10 mins' interval to Buona Vista and one-north MRT
---