---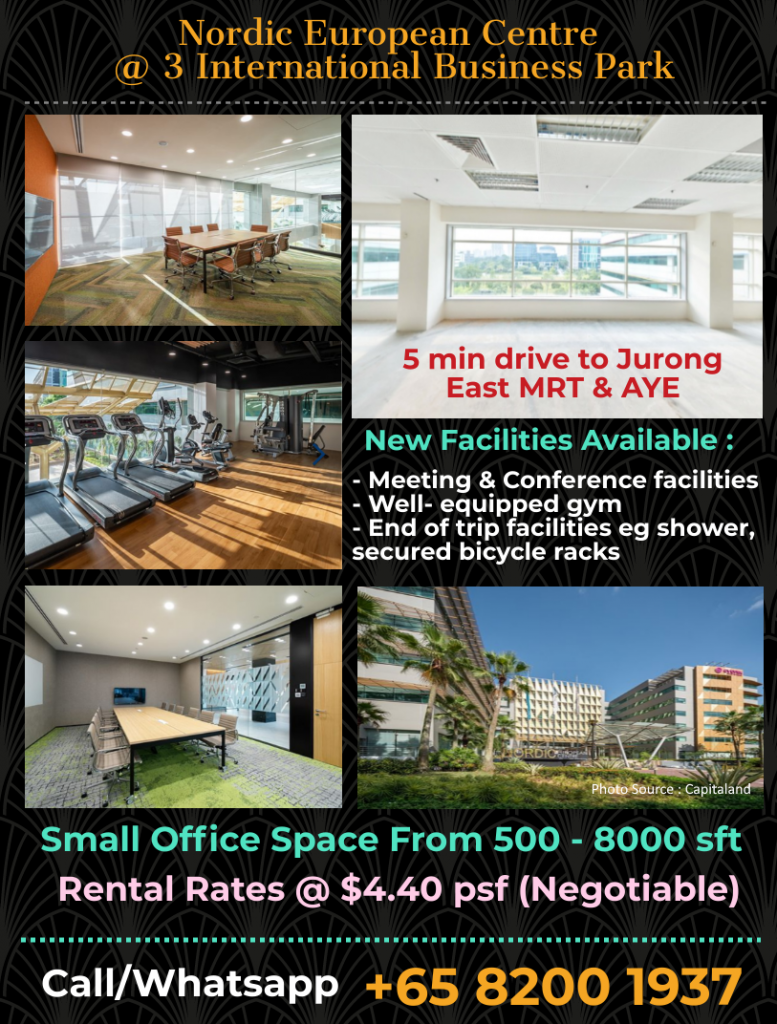 ---
Nordic European Centre Location : 3 International Business Park, Singapore 609927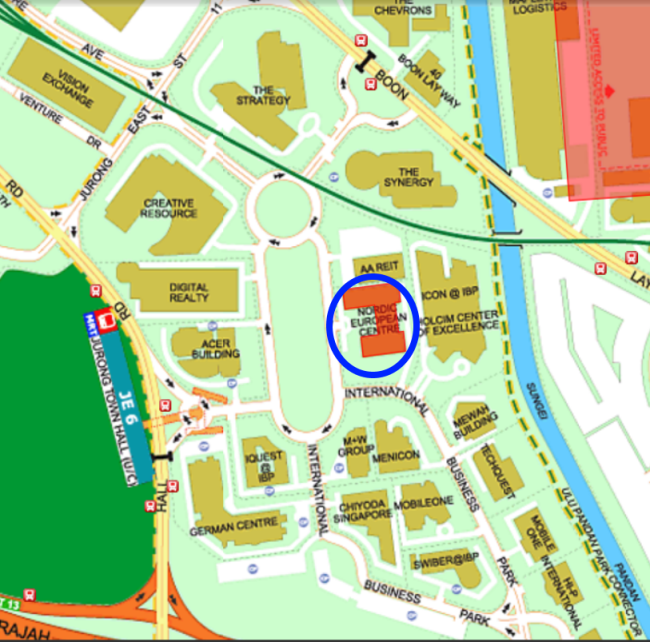 ---
A newly renovated building, Nordic European Centre at 3 International Business Park (IBP) now offers an excellent corporate image facade complete with new conference and meeting room facilities, an enhanced activated lobby space, a well-equipped gym as well as end of trip facilities. These amenities cater to the active lifestyle needs of today's workforce and provides an ideal environment for companies seeking to establish their business in Singapore. Nordic European Centre is located right smack in the middle. While the outside resembles the headquarters of every MNC ever, the inside, however, resembles a millennial-friendly co-working space, but without the free beer or the piercing-heavy concierge. The environment does make a difference. It's a reprieve from the stifling claustrophobia which afflicts too many workplaces, a healthy reminder that a little space can make a huge difference.  
After the significant transformation, Nordic European Centre is now one of the most space efficient and modern buildings, offering regular unit sizes within International Business Park. Small business office space for rent available starts from 500 sft up to 8000 sft. There is also a shuttle bus service provided by JTC to Jurong East MRT station. There are several chill-out rooms for you to brainstorm and long tables where you and your co-workers can 'collaborate' at Nordic European Centre. The one-man cubicles for privacy and sofas aplenty where you can 'catch-up over coffee'. The walls are covered with lush foliage for those beautiful instagram shot and the ceilings have motion-activated ceiling fans. In short, it resembles a cross between a liquidity-rich tech start-up and a hipster coffee joint.
Nordic European Centre  (Nordic) offer business office for rent and is designed for IT-related trade, software development, R&D Lab, high tech manufacturing,  knowledge-intensive such as automation & robotics, and backroom operations. It is located within the International Business Park and is easily accessible via major expressways such as AYE and PIE. Jurong East MRT station and Jurong East Bus Interchange are located close to the development or approximately 5 minutes drive from Nordic @ IBP.  A retail podium within the development provides easy access to a food court, restaurants, bistros and cafes, childcare centre, clinic and convenience shop, next to the restful greenery views of an adjacent Park Connector. Nordic @ IBP is within minutes drive to many Jurong East shopping centres (eg. IMM, Big Box, JEM, JCube, Westgate and The Furniture Mall). 
JEM and Westgate are about 10 minutes away on foot or 5 minutes drive inside an air-conditioned comfort of a shuttle bus. There are also shuttle buses bringing you to nearby hawker centres in Jurong East. There are no winding queues for healthy options, and no tissue packets demarcating territory. 
Best of all, there are many food options that have sprouted up in the blue building just adjacent to the business park. There's Thai, Indian, Mexican and even Zi Char if you can spare the time. Once you're done eating, you can work off the calories in the Nordic European Centre's gym–which is free for all tenants or Zumba and KpopX fitness classes conducted next door at ICON@IBP and 31 International Business Park.
All of the office space for rent at Nordic are fitted with false ceilings, centralised aircon and lighting with or without raised flooring. Some of the office space for rent may come in fitted (ready for plug and play) or in bare condition. Office space for rent can be as small as 500 sft to large sizes up to 50,000 sft.  Please call hotline to check availability.  Many of other office for rent at International Business Park (IBP) also offer flexible configuration layout to suit different business requirement and easy set-up.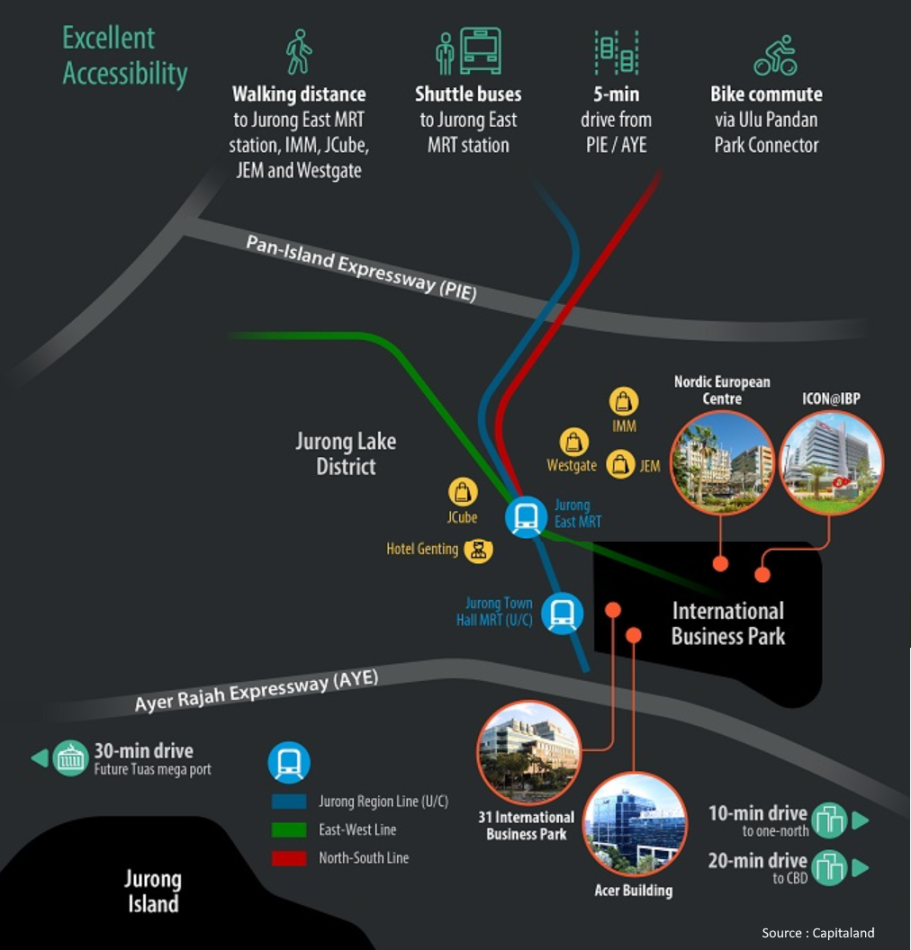 ---
Nordic European Centre @ IBP – Building Specs: 
Floor Loading :
1st storey: 20.0 kN/sqm
2nd storey: 10.0 kN/sqm
3rd to 7th storey: 7.0 kN/sqm
Ceiling Height :
Floor to False Ceiling
– 1st storey: 3.5 m
– 2nd to 7th storey: 2.8 m
Passenger Lifts: 4 x 1,020 kg with capacity for 15 persons (2 at each Wing)
Cargo lift: 1 x 2,000 kg
Fire lift: 1 x 545 kg
Loading Bay : 2 loading/unloading bays with dock levellers
Car Parking Lots : 204 (1 lot allocated per 200 sqm leased)
Air-conditioning System (inclusive in the monthly rental) : Mon – Fri (8am – 6pm), Sat (8am – 1pm) except public holidays.
Amenities : Auditorium & meetings rooms, Gym facilities, cafe, end-of-trip facilities
---
International Business Park Office Rental Procedure
International Business Park office rental is generally based on 3 + 3 renewable lease term lease with a certain rental-free fit-out period given. 
Most of the office units offered in International Business Park usually are fitted with false ceilings, lights, and centralised aircon with or without raised flooring. Tenants are expected to renovate and furnish the office unit according to their specifications within the fit-out period given by the landlord. The length of this rent-free period also depends on the rental amount agreed and the length of the lease term. Tenants are allowed to partition the space into small office rooms, meeting or conference rooms, pantry, etc as long as the renovation doesn't violate fire safety rule. Please note that upon expiry of the lease, the tenants are required to reinstate the office unit into its original condition.
Other International Business Park's office for rent are available at The Strategy, The Synergy, ACER @ 29 IBP, Icon @ 3 IBP, Tolaram @ 1A International Business Park, Techquest, and iQuest @ 27  International Business Park.
Please call our enquiry hotline to discuss about your office space requirements at International Business Park (IBP).

---
International Business Park Rental Rates Guide
District
Project
Price/psf /mth (S$)
Remarks
22
Icon @ 3A IBP
3.80
Sizes fr 1500 - 23,000 sft
22
Nordic European Centre @ 3 IBP
4.60
Sizes fr 400 - 10000 sft
22
Techquest @ 7 IBP
4.00
Sizes fr 400 - 13000 sft
22
iQuest @ 27 IBP
3.50
Sizes fr 1800 - 10000 sft
22
Acer @ 29 IBP
3.70
Size 1500 - 16,000 sft. Promo for selected unit - Lease 3 years Pay 2 Years Net Rental Only.
22
Creative @ 31 IBP
3.90
Size 1000 - 50,000 sft. Promo for selected unit - Lease 3 years Pay 2 Years Net Rental Only.
22
The Synergy @ 1 IBP
4.20
7min walk to Jurong East MRT.
Sizes fr 2000 - 36000 sft.
22
The Strategy @ 2 IBP
4.50
7 min walk to Jurong East MRT.
Sizes fr 600 - 6000 sft.
22
Tolaram @ 1A IBP
4.20
Sizes fr 10000 - 18000 sft.