---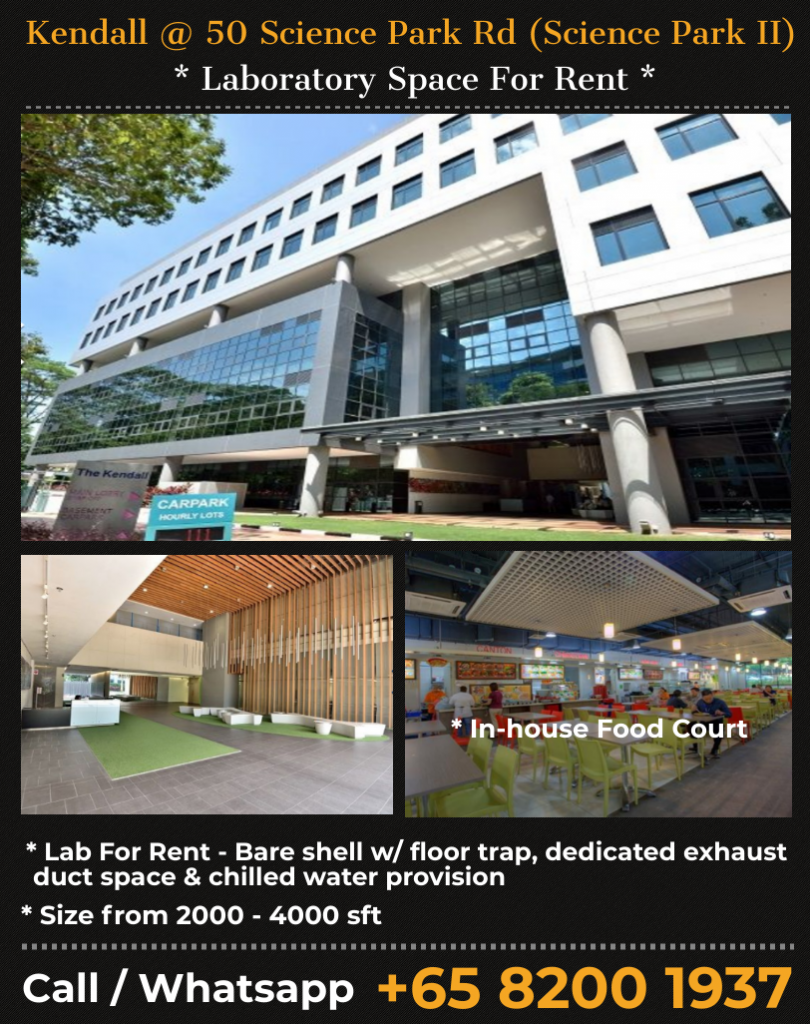 ---
The Kendall Location : 50 Science Park Rd, Singapore 117406 (Science Park 2)
---
The Kendall is situated at the back of Science Park II and has a short cut walking path to Haw Par MRT. There is an in-house food court in the building that serve varieties of food to the lunch crowd.
The Kendall at Science Park 2 mainly offers research unit or lab space for rent with sizes from 2000 – 4,000 sft. It is specifically designed for chemicals, life sciences and IT companies.
All laboratory space for rent are equipped with fire sprinkler, floor trap, dedicated exhaust duct space, and chilled water . Companies who does R&D activities will need to renovate the space in accordance to their requirements. An option of renovation to equip the lab space by the landlord is available with inclusion of the capital expenditure into the rental amount over the duration of the lease. Please discuss with us the rental procedure in more detail.
---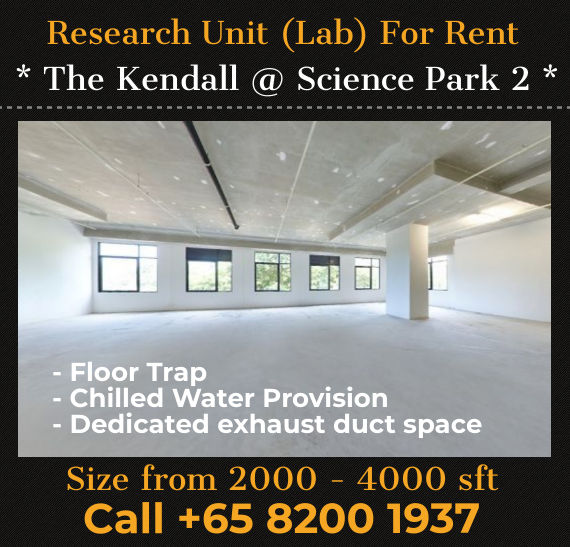 ---
The Kendall – Science Park Lab & Office For Rent – Building Specs :
---
Floor Loading : 1st storey: 12.5 kN/sqm ; 2nd – 6th storey: 7.5 kN/sqm
Ceiling Height : Floor to Slab Soffit Height 4.6 m
Passenger Lifts: 3 x 1,155 kg (capacity for 17 people)
Service Lift: 1 x 2,450 kg (capacity for 36 people)
Goods Lift: 1 x 2,500 kg
Loading Bay : 3 covered lots for 20-foot containers
---
Directions – How to go to Science Park 2 :
---
Internal Shuttle Bus Service within Science Park 1 and Science Park 2
To add to the convenience of personnel working within Science Park Community, there is also an internal shuttle bus service that is free of charge that ply the routes from Singapore Science Park 1 to Science Park 2 and vice versa from Monday to Saturday (excluding public holiday).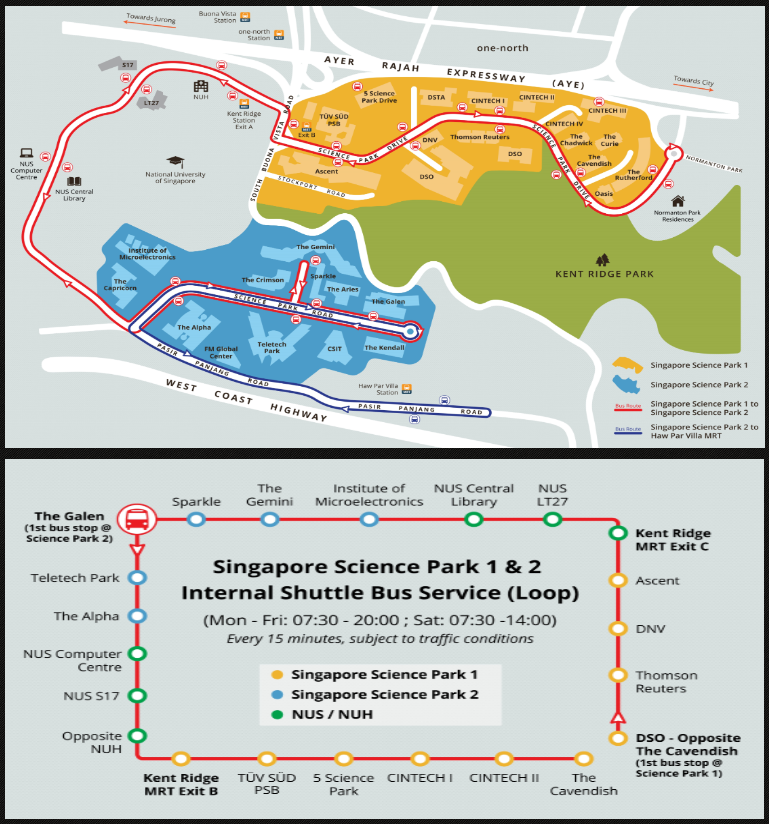 ---
Science Park Rental Rates Guide
| District | Project | Price psf/month (S$) | Remarks |
| --- | --- | --- | --- |
| 5 (Science Park 1) | Ascent @ 2 Science Park Dr | 6.80 | Sizes fr 1000 - 35,000 sft. Limited space available |
| 5 (Science Park 1) | Rutherford @ 89 Science Park Dr | 4.20 | Research unit. Sizes fr 1500 - 7500 sft. |
| 5 (Science Park 1) | The Franklin | 3.80 | Limited space available |
| 5 (Science Park 1) | Cintech I/II/III @ 73 Science Park Dr | 4.50 | IT-unit. Sizes fr 700 - 13000 sft |
| 5 (Science Park 1) | Cintech IV @ 79 Science Park Drive | 4.50 | Research Unit from 1700 - 20,000 sft |
| 5 (Science Park 1) | Chadwick/Curie/Cavendish @ 85 Science Park Dr | 4,20 | IT-unit. Sizes fr 1000 - 5000 sft |
| 5 (Science Park 2) | The Alpha @ 10 Science Park Rd | 4.30 - 4.70 | IT and Research units available. Sizes fr 800 - 40000 sft |
| 5 (Science Park 2) | The Gemini @ 41 Science Park Rd | 4.20 - 4.50 | Research units. Sizes fr 500 - 10000 sft |
| 5 (Science Park 2) | The Aries @ 51 Science Park Rd | 4.00 - 4.50 | Research units. Sizes from 1000 - 3500 sft |
| 5 (Science Park 2) | The Capricorn @ 1 Science Park Rd | 4.60 | IT and Research units available. Sizes fr 1000 - 5000 sft |
| 5 (Science Park 2) | Teletech Park @ 20 Science Park Rd | 4.70 | IT-unit. Sizes fr 1000 - 10000 sft |
| 5 (Science Park 2) | The Galen @ 61 Science Park Rd | 4.70 | Research unit. Sizes fr 1000 - 50000 sft |
| 5 (Science Park 2) | The Kendall @ 50 Science Park Rd | 4.70 | Research unit. Sizes fr 2000 - 3200 sft |
---