B1 Warehouse For Rent at Kallang Place with Cargo Lift Access
⭐ Kallang Warehouse For Rent Address :
7 / 9/ 11/ 16/ 28/ 30 Kallang Place (8 min walk to Boon Keng, Bendemeer, Lavender MRT)
19/ 21/ 25 Kallang Avenue (5min walk to Bendemeer MRT)
155 / 166 Kallang Way (Near PIE/CTE, buses to Potong Pasir & Boon Keng MRT)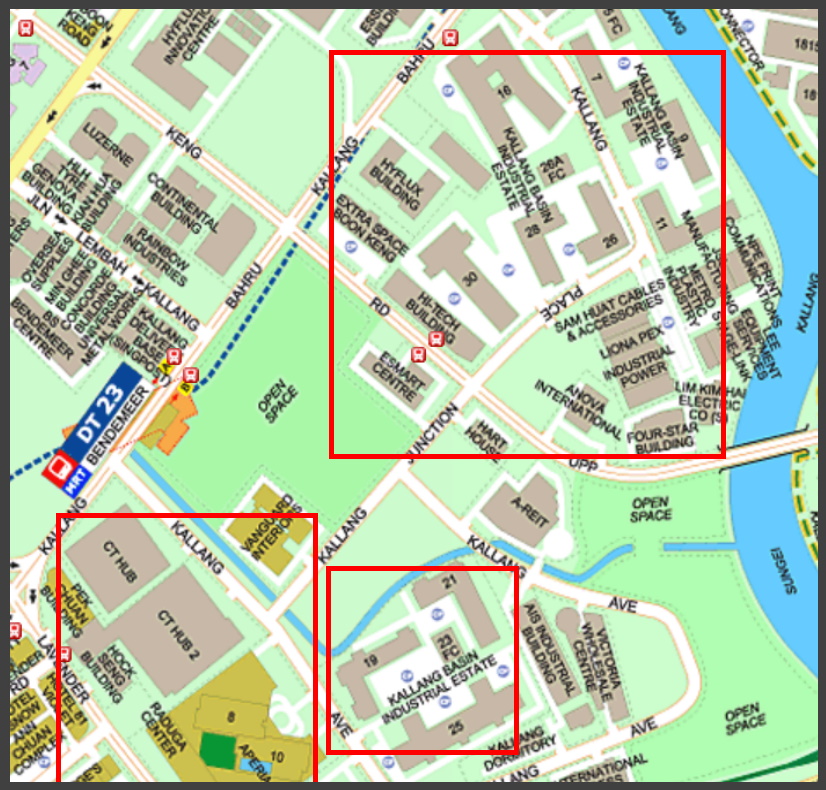 Kallang Warehouse Office For Rent
| Property Address | 7/ 9/ 11/ 16/ 28 Kallang Place | 19/ 21/ 25 Kallang Avenue |
| --- | --- | --- |
| Property Type | B1 Flatted Factory/ Warehouse | B1 Flatted Factory/ Warehouse |
| Floor Size Available | 1000 - 5000 sft | 3800 - 8000 sft |
| Rental Rates (S$/psf) | $1.70 - $1.90 psf | $1.70 - $1.90 psf |
| Asking Price (S$)/mth | Approx $1700 - $9000 / month | Approx $6000 - $15000 / month |
| Ceiling Height | 3.5 - 3.6 m | 3.5 - 3.6 m |
| Floor Loading | 7.5 - 15 kN/m2 | 7.5 - 15 kN/m2 |
| Loading Bays | Available (20/40-footer container accessible) | Available (20/40-footer container accessible) |
| Unit Condition | Bare unit | Bare unit |
| Lease Term | 3 Years | 3 Years |
| Contact No | +65 8200 1937 | +65 8200 1937 |

There are few blocks of B1 industrial building for rent at this Kallang Basin Industrial Estate, namely Block 7/9/11/ 16/26/28/30 Kallang Place and 19/21/23/25 Kallang Avenue. All these blocks are nearby to each other and are walkable. Smacked in between 3 MRT lines (Boon Keng, Bendeemer and Lavender MRT) makes block 7/9/11/16/26/28/30 Kallang Place sought after by many companies for their ease of commuting. The environment is clean and is meant for clean and light industry only. All warehouse office units are accessible via cargo lifts and passenger lifts.
Kallang warehouse for rent is popular with a lot of companies as the area is near residential estate, MRT and have easy access to amenities. Many companies have presence in these industrial buildings as their Kallang office cum warehouse due to the convenience and strategic location. Congregated in an industrial estate within walking distance to each other, this Kallang Basin industrial estate is only within walking distance to Boon Keng MRT/ Bendeemer MRT/ Lavender MRT.  They are very near to CTE / PIE and it only takes less than 10min drive to the central area. This Kallang industrial estate is surrounded by HDB residences, amenities, and various F&B options. There is also a market at Boon Keng MRT area. Various Kallang Place warehouse office for rent in this estate generally starts from 1000 – 5000 sqft. A larger unit of 6000 – 8000 sft can be found in 21/ 23/ 25 Kallang Avenue industrial building.
These blocks are basic B1 flatted factory offering bare warehouse cum office for rent. As standard ex-JTC B1 flatted factory, these industrial building offers warehouse / office space suitable for clean and light business (B1 category). Ceiling height of these Kallang warehouse office industrial building is typically 3.5 – 3.6m with floor loading of 7.5 – 15 kN/m2. The corridors's width are able to fit  standard pallet size movement. However,  please note that no forklift is allowed to the cargo lift or corridors in this Kallang warehouse for rent. Only pallet jack for transportation of goods are allowed. All units are accessible via cargo lifts and passenger lifts. Ground floor are rare in supply. These B1 industrial buildings for rent in Kallang have proper loading bays that iare equipped with deck leveler for 20/ 40-footer container access. VPC (Vehicle Parking Certificate) parking lot can be applied subject to availability upon signing of tenancy agreement. Note that the VPC is not transferable as it is issued for a specific vehicle and parking place. You will need to purchase a new VPC when there are any changes, such as transfer of SPT (Season Parking Ticket) to another vehicle or parking place.
Various sizes of warehouse office for rent are available for general warehousing, production, distribution, and office space purpose (URA 60/40 rule applies). Most units available are in bare condition with some rare occasion where there are fitted units for take-over by existing tenants who wanted to relocate or pre-terminate the tenancy. Asking rental rates for these Kallang warehouse office for rent is in the range of $1.70 – $1.90 psf or approx $1700 – $9000 per month depending on the size of the unit rented. These Kallang warehouse generally starts from 1000 sft up to 5000 sft. The rental rates is competitive to other industrial buildings in the vicinity as there are quite a number of blocks at this Kallang Basin area.
For companies that are looking at warehouse space for rent in Boon Keng or Bendeemer area, there is another B1 flatted factory for rent at Block 994/996 Bendeemer Road, just opposite Bendeemer market and food centre. It is also super convenient, only 3 min walk to Boon Keng MRT. Unit specifications are pretty much the same as the rest of the other Kallang warehouse for rent above with ceiling height of 3.6m and floor loading from 10 – 15kN/m2. However, unit sizes starts from 2600 sft up to 4700 sft. Asking rental rates is $1.80 psf negotiable. Please call hotline to check on the availability of the units in this block.
---
High Spec Office For Rent @ 164 Kallang Way 
For company that is looking for good corporate image building with fitted lights, aircon and ceiling board, there is a high spec premium industrial office space available at Solaris @ 164 Kallang Way. This is a new building completed in 2019 and is within 7 minutes walk to Geylang Bahru MRT via an overhead bridge. It features a corporate image facade and has more office-like environment. This business office for rent at Solaris 164 Kallang Way is suitable for companies that want to be located not too far from the city, near to MRT and yet want a cheaper rental rate compared to full fledged commercial office space. Most units have efficient layout, squarish and have windows offering natural lights. Rental rates for this premium industrial office space is around $4 psf.