Toa Payoh North Blk 970/ 978/ 988/ 998/ 1004/ 1008
Warehouse Office For Rent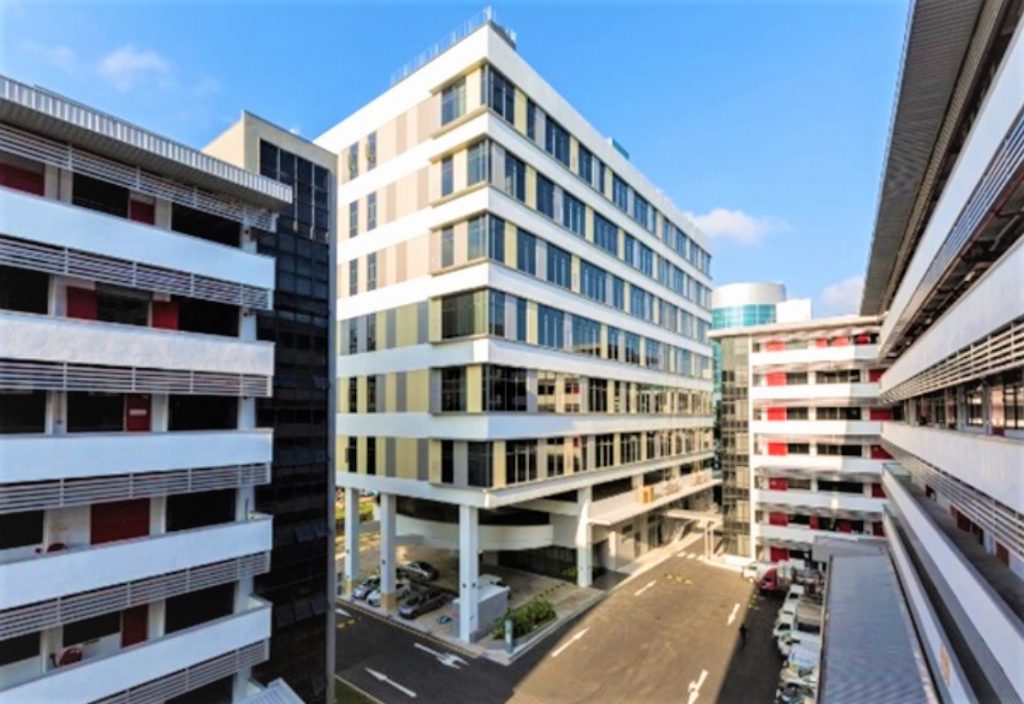 Toa Payoh North Industrial estate for rent is popular with a lot of companies as the area is near residential estate and easy access to amenities. Many companies have made these industrial buildings as their Toa Payoh office cum warehouse due to the convenience and strategic location. Next to SPH centre, this estate is only 7 min walk to Braddell MRT and is very near to CTE / PIE. It only takes less than 15min drive to the city. Bishan MRT station is less than 1 km away. This Toa Payoh industrial estate is surrounded by HDB residences, banks, post office and secondary schools. Various Toa Payoh warehouse office for rent in this estate starts from 1000 -- 4000 sqft.
There are 6 blocks of B1 industrial building for rent at this Toa Payoh North Industrial Estate, namely Block 970 / 978 / 988 / 998 / 1004 / 1008. These buildings have been upgraded and refurbished few years ago. Block 978 / 988/ 998 are situated in one compound separated from block 970 /1004 / 1008 by SPH News Centre. These 2 compounds are nearby, which is only 2 min walk away from one another. Block 988 is a high spec business space building with great corporate image with higher rental than the rest of the other blocks. The environment is clean and is meant for clean and light industry only. All warehouse office units are accessible via cargo lifts and passenger lifts.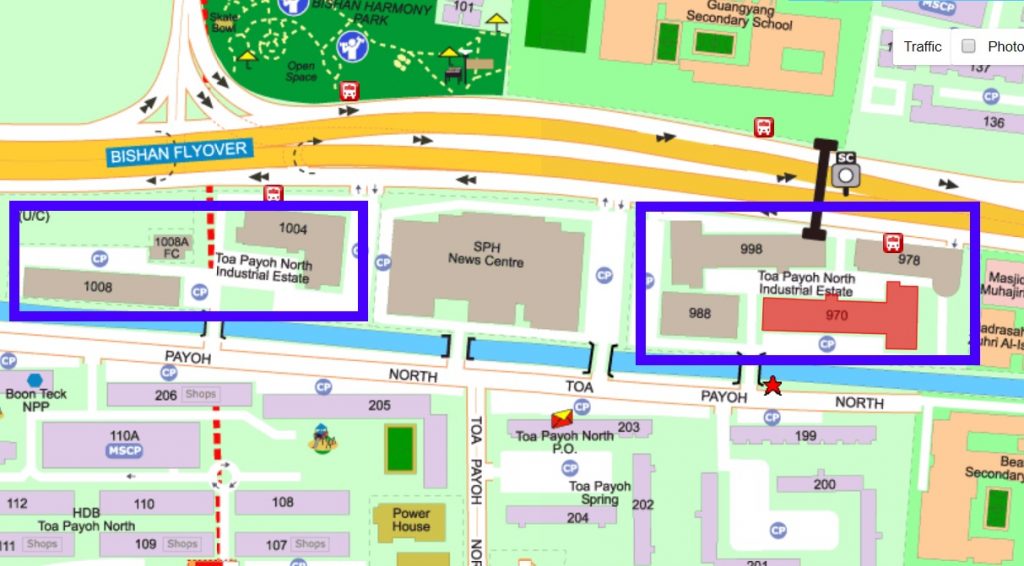 For company that is looking for good corporate image building with fitted lights, aircon and ceiling board, block 998 Toa Payoh North is a more suitable high-specs business office for rent at asking rental of $4.20 psf. This building has a nice corporate image and all units have have efficient layout. The occupancy in  998 Toa Payoh North is  quite high and is fully occupied most of the time. Located next to SPH News Centre and with excellent transportation network and surrounding convenience, this location is highly sought after. Please call hotline to check the availability of vacant office for rent at this 998 Toa Payoh North building and to discuss about your space requirement.
The rest of the other Toa Payoh industrial blocks (Blk 970 / 978 / 988 / 1004 / 1008) are B1 flatted factory offering bare warehouse cum office for rent. Asking rental rates of these blocks is $2.10 psf. These industrial building offers warehouse-cum-office space suitable for clean and light business (B1 category). There is also a childcare within the premises for the convenience of existing tenants to care for the young children during working hours. Ceiling height of these Toa Payoh warehouse office industrial building is typically 3.5 -- 3.6m with floor loading of 7.5 -- 15 kN/m2. The corridors's width are able to fit  standard pallet size movement. However,  please note that no forklift is allowed to the cargo lift or corridors in this Toa Payoh warehouse for rent. Only pallet jack for transportation of goods are allowed. All units are accessible via cargo lifts and passenger lifts. Ground floor are rare in supply. These B1 industrial buildings for rent in Toa Payoh have proper loading bay which is equipped with deck leveler for 20/ 40-footer container access.
Various sizes of warehouse office for rent are available for general warehousing, production, distribution, and office space purpose (URA 60/40 rule applies). Most units available are in bare condition with some rare occasion where there are fitted units for take-over by existing tenants who wanted to relocate or pre-terminate the tenancy. Asking rental rates for these Toa Payoh warehouse office for rent is in the range of $2 -- $2.10 psf or approx $2000 -- $9000 per month depending on the size of the unit rented. The rental rates is slightly higher in comparison to other warehouse's location at city fringe as there is a rarity of industrial building supply in this Toa Payoh estate, which is located in a mature residential estate surrounded by amenities coupled with the ease of transport connection via MRT, buses and expressway.
Some specifications of Block 970 / 978 / 988 / 1004 / 1008 :
Sizes available are from 1000 -- 4000sft

Only 7 min walk to Braddell MRT !

Suitable for clean and light industry.

Surrounded by many amenities and F&B shops

Ceiling Height 3.6m

Loading bay with deck leveler available

20/40 footer container accessible.

Units accessible by cargo lifts.

Corridor width able to fit standard pallet size

Floor loading 7.5 -- 15kN/m2

24/7 availability

In-house food court

Asking rental rates  for Blk 970 / 978 / 988 / 1004 / 1008 is $2.10 psf
Rental rates for Blk 988 High Spec Business Space is $4.20 psf

Immediate occupancy units are available
Toa Payoh Warehouse Office For Rent
| Property Address | Blk 970/ 978/ 988/ 998/ 1004 / 1008 Toa Payoh North |
| --- | --- |
| Property Type | B1 Flatted Warehouse Office |
| Floor Size Available | 1000/ 1700/ 1900/ 2000/ 2300/ 3700 sft |
| Rental Rates (S$/psf) | $1.80 - $2.10 psf |
| Asking Price (S$)/mth | Approx $2,000 - $9,000 / month |
| Ceiling Height | 3.6m |
| Floor Loading | 7.5 - 15 kN/m2 |
| Unit Condition | Bare unit |
| Contact No | +65 8200 1937 |