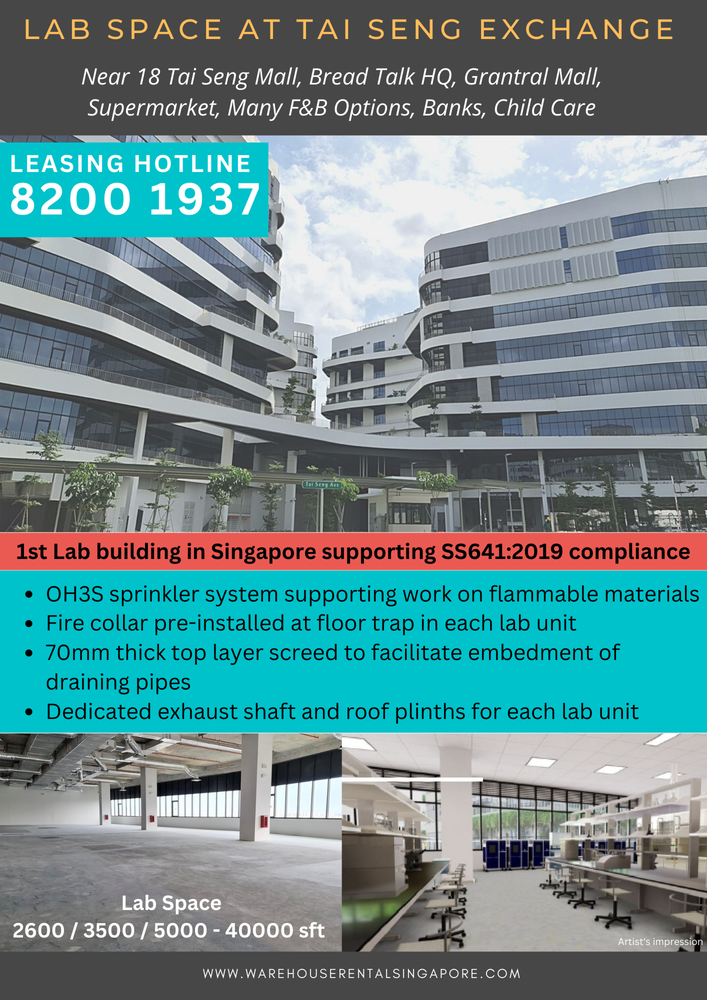 Tai Seng Exchange Address : 1 Tai Seng Avenue, Singapore 536464
Tai Seng Exchange is completed in Q1 2023 and is classified under B2 zoning, which offers an excellent corporate image for company that is looking for affordable business space or lab-cum-office for rent near city-fringe.
The building has 2 types of space available for rent:
High Spec Business Space (Tower A / B / D)

Lab unit (Tower C).
Lab-cum-office size available for rent at Tai Seng Exchange – Tower C :
Size available from 2600 / 3000 / 5000 up to approximately 25000 sft on 1 floor plate.

Half floor plate size is approximately 12,500 sft.

Note : All lab units are located at Tower C only – 56 units (7 floors of 8 units per floor).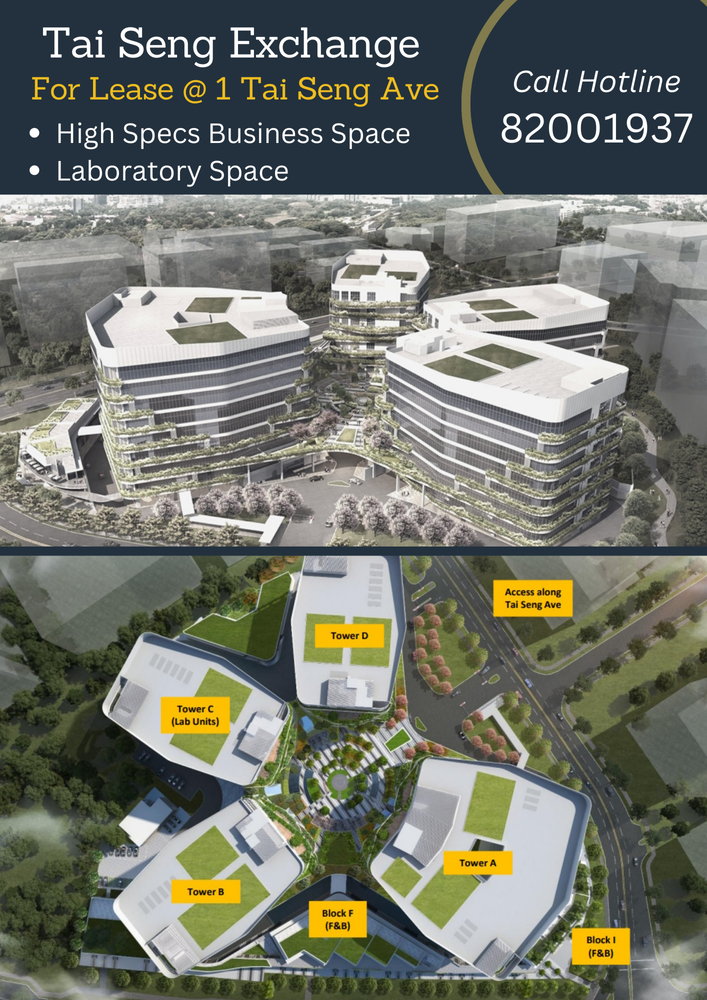 Tai Seng Exchange Laboratory Unit For Rent Specifications :
The lab space at Tai Seng Exchange is in the first building in Singapore that conform to SS641:2019 requirement (suitable for research that deals with flammable materials).
Fitted with OH3S sprinkler system supporting research and development works on flammable materials

Fire collar is pre-installed at floor trap in each of lab unit at Tai Seng Exchange

70mm thick top layer screed to facilitate embedment of draining pipes

Dedicated exhaust shaft and roof plinths for each lab unit
Lab Units

Tower C (2nd to 9th Storey)

Floor Loading

8.2kN/m2

Ceiling Height

4.9m (floor to underside of beam); 5.65m (floor to floor)

Ceiling

Bare ceiling in order to give Tenant more flexibility in layout planning as well as more headroom for M&E services installation and distribution

Basic false ceiling with lighting can be installed upon Tenant's request

Flooring

Bare flooring – 75mm screed top-up to facilitate Tenant's installation of concealed M&E services. Tenant shall ensure that the finished floor level within the laboratory unit matches with the existing finished floor level of the common area / corridor

ACMV (Air Conditioning & Mechanical Ventilation)

24-hour chilled water supply adequate for lab ACMV use from energy efficient chillers (chargeable based on usage; BTU meter pre-installed and linked to BMS)

Flexibility for Tenant to install own FCU/ACMV distribution system, including fresh air intake and exhaust system

Unit provided with fresh air louvres to facilitate fresh air intake to support lab air change needs

Corridor equipped with fresh air AHU to facilitate negative pressurization of the tenancy units

Infrastructure

2-hour fire compartmentalized tenancy units

Unit equipped with quick response fire sprinklers designed for OH3S occupancy

Unit provided with floor wastes / floor traps suitable for wet lab use

Fire protection on drainage line to facilitate Fire Code and SS641 compliance

No building level waste treatment provided. Tenant shall be responsible for complying with NEA's requirement for trade effluent discharge.

Dedicated exhaust riser shaft to roof for each unit to facilitate installation of exhaust ductwork to roof for discharge

Doghouses at roof to facilitate duct penetration for connection to roof installed exhaust fans

Dedicated roof space available for tenant's duty/standby exhaust fans installation on roof / electrical power generator (first come first serve basis)

Provision of genset secondary power for Tenant's exhaust fans
Power Supply Specifications at Lab Space (Tower C of Tai Seng Exchange) :
Note: Emergency power generator support for lab exhaust fan is available
| | | |
| --- | --- | --- |
| Units | Power entitlement assumption (W/m2) | Estimated max allowable load per unit (kW / A) |
| #01 | 204 | 97kW / 165A |
| #02 | 204 | 147kW / 250A |
| #03 | 204 | 147kW / 250A |
| #04 | 204 | 147kW / 250A |
| #05 | 204 | 107kW / 182A |
| #06 | 204 | 107kW / 182A |
| #07 | 204 | 100kW / 170A |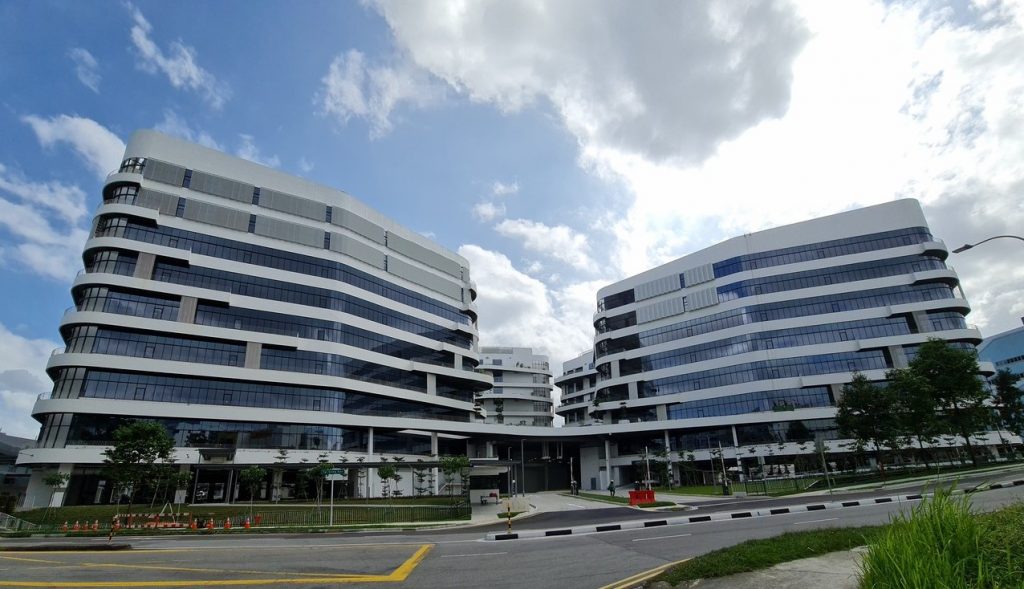 Tai Seng Exchange Amenities / Features :
End-of-trip facilities (Shower rooms, lockers, and bicycle docking stations available
Smart lift system (Destination control system from 1st storey main lobby to tenanted unit)
Childcare facilities (Currently under proposal at Block H – subject to authority's approval)
In-house F&B shops
Green Mark Platinum : Green Mark requirements for tenants
Suitable Trades in Tai Seng Exchange – Tower C Lab Space Only :
Research and development in biomed, food & agriculture, life science, electronics, etc

Lab testing

Customer Service / Technical servicing

Design and Product Development
Suitable Trades in Tai Seng Exchange – Tower A / B / D  :
E-commerce

IT-related trade / Software development

Customer Service / Technical servicing

Design and Product Development

Distribution Trade

Media and telecommunication
Availability : Immediate
Asking Rental : $4.80 psf (negotiable)
Lease Term : Min 3 years