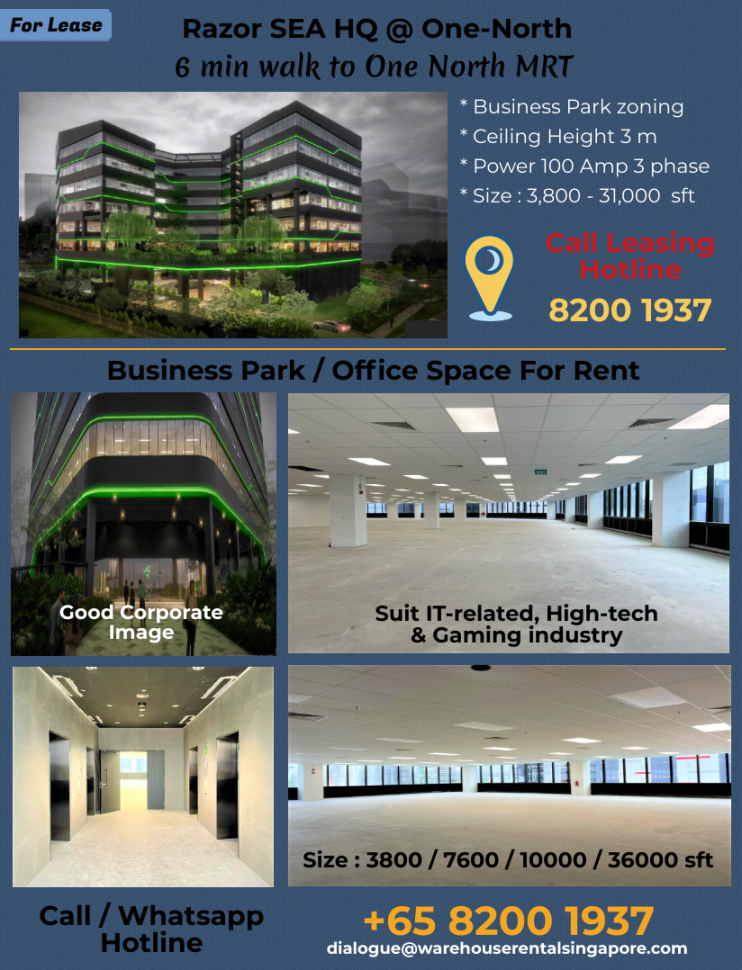 ---
Razer SEA HQ Location : 1 One-North Crescent, Singapore 138538
Razer is the world leader in high-performance gaming hardware, software and systems. The triple-headed snake trademark of Razer is one of the most recognized logos in the global gaming and esports communities. With a fan base that spans every continent, the company has stationed it's South East Asian (SEA) headquarter at Fusionopolis,  One North. Fusionopolis hub is a business park zoning designated bio-medical, physical science, engineering, and R&D industries. This new Razer's headquarter has just been completed in Jul 2021 and boasts a smart-looking clean lines design with end trip facilities for male and female. The building has also been awarded with BCA Green Mark Gold Plus.
The building sits on a 6,427 m² site that yields a gross floor area of 19,281 m² consisting of 7-story single tower.  The building has obtained approval for a separate usage of the space, namely business park usage of 16,389 m² and commercial office usage of 2,892 m². Only level 5, 6  (Business park usage) & level 7 (Office usage) are available for lease with a total net area for lease of 8,682 m². 
The building is located at the corner of Stars Avenue and One North Crescent and is only within 6 minutes fully sheltered walk to One North MRT.  Amenities such as food courts, ATM, DXS, child-care center are all nearby, providing convenient facilities and ease of accessibility for staff who are working in the area. 
---
Razer SEA HQ @ 1 One North Crescent, Singapore 138538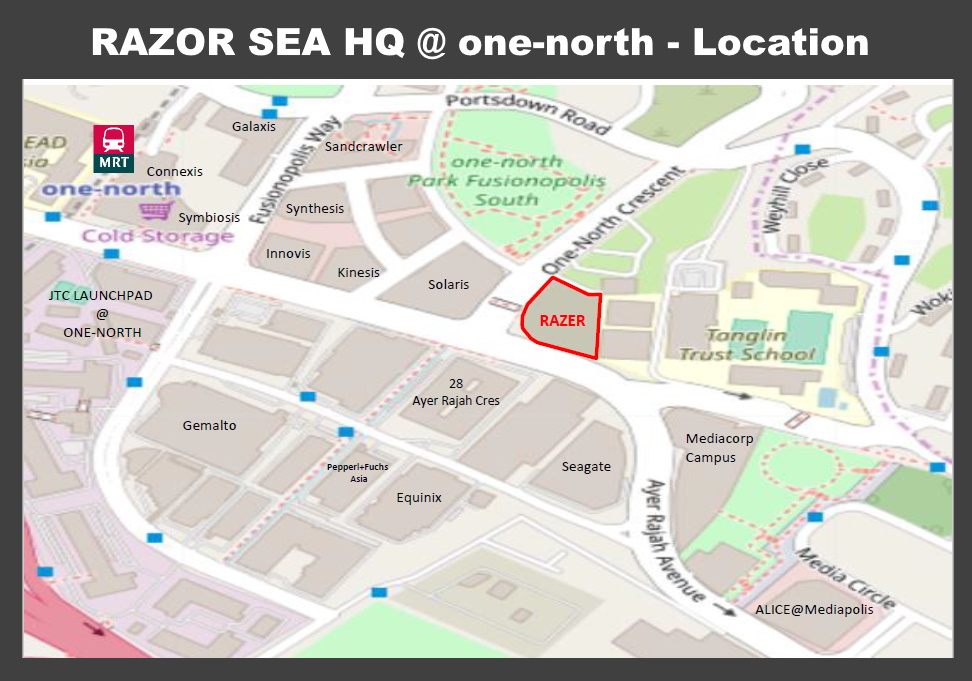 ---
Razer SEA HQ @ one-north Office Rental – Building Spec
Razer @ one-north business park & office for rent has good regular layout that features ample windows for natural lightings with good view. Typical unit size for lease are 3,800 / 7,100 / 10,000 sft. While a contiguous space per floor level (Level 5/ 6/ 7) is 31,000 sft. At this moment, the business park space at Razer building is almost fully leased. Please call leasing hotline to check availability of office for rental information.
With a mere 6 minutes fully sheltered walk to One North MRT and surrounding amenities, business park space and office rental at Razer SEA HQ is sought after by IT-related trade company that looks forward for a good branding in technology and sustainability.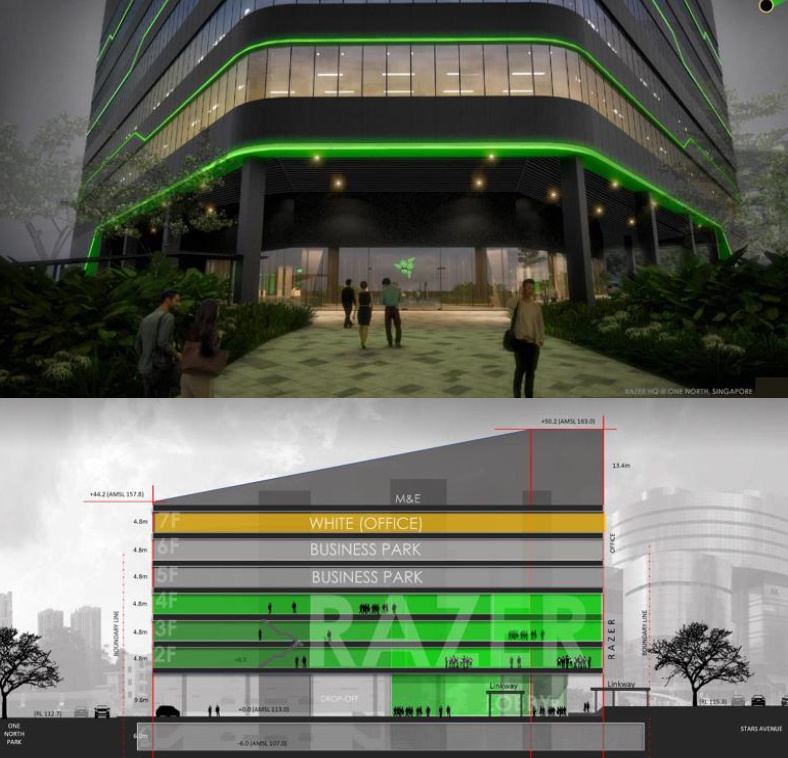 Key Highlights of Razer SEA HQ building @ 1 North Crescent : 
Ceiling Height : 3 m
Floor Loading : 5 kN/m2
Power : 100W/m2, Isolator and 100A Distribution Board & 3 Phase
Centralised aircon (District Cooling System)
Passenger lifts : 4 nos
Loading bay facilities : 2 lots
Car park lots : 75 lots
Bicycle lots : 55 lots
Other provisions : End of trip facilities rooms available at the basement
Unit size available for lease : 7100 / 7600 sft (Business Park)
Asking rental : $5.80 psf
Suitability : IT-related trade, Gaming, physical science & engineering trade. 
---
Typical Floor Plan of Razer SEA HQ building @ One North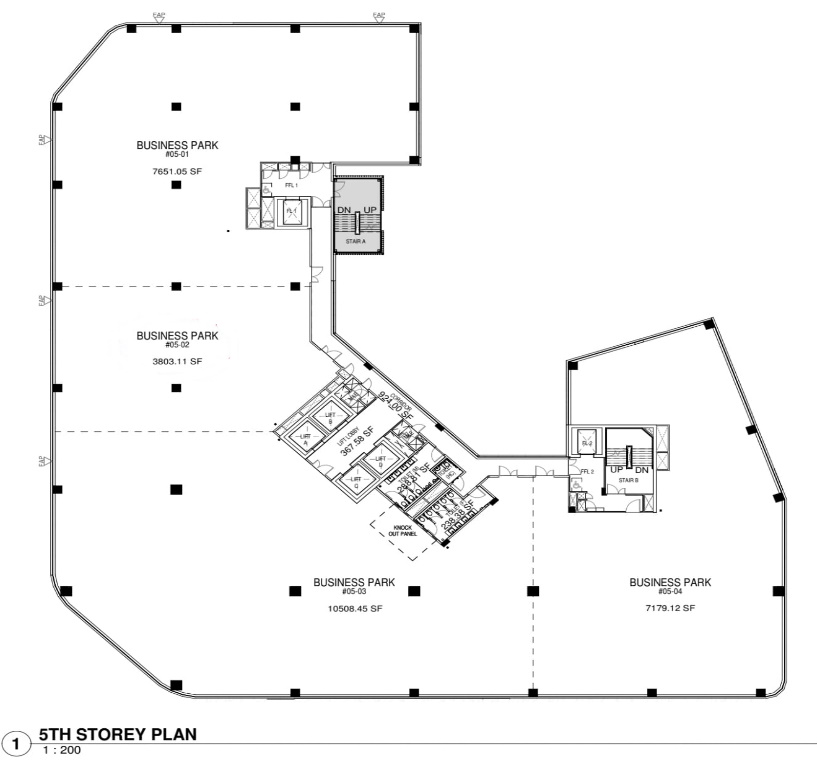 ---
Razer SEA HQ @ One North Fusionopolis Transport accessibility via MRT & Car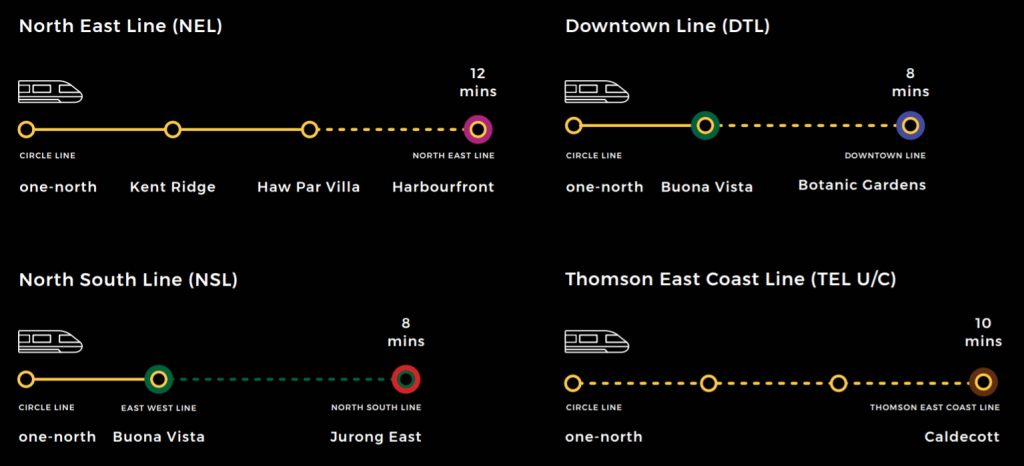 One-north MRT to Harbour Front (North East Line)  – 12 mins
One-north MRT to Botanic Gardens (Downtown Line) – 8 mins
One-north MRT to Jurong East (North South Line) – 8 mins
One-north MRT to Caldecott (Thomson East Coast Line) – 19 mins

For those who drive from Razer SEA HQ to go for business meeting at CBD, it takes only approx 17 minutes to reach. And those who need to catch a flight at Changi airport, it will take 30 minutes with cab or private vehicle via AYE.
---
One-North Business Park & Lab Rental Rates Guide
(Disclaimer : The rental rates guide below serves as a reference only and is subject to change without any prior notice).
District
Project
Price/psf/mth
(S$)
Remarks
5
Nexus @ Fusionopolis
5.80 - 6.30
Business Park & Pure office for rent. Suit Bio-research & physical science, electronics & technology company.
5
Galaxis @ Fusionopolis
6.00 - 6.30
Business Park & Pure office for rent. Suit Bio-research & physical science, electronics & technology company.
5
Solaris @ Fusionopolis
5.90 - 6.80
Research unit. Award winning project. Sizes fr 2700 - 13000 sft.
5
Razer @ One-North
5.80
Business Park Fr 3800 - 31,000 sft. Suitr IT or technology related industry. Sheltered 6 min walk to One North MRT. Sublet fee applies for > 10K sft
5
Nucleos @ Biopolis
5.80 - 6.30
Research unit for Bio-medical trade.
Sizes fr 1000 - 8000 sft.
5
Neuros/Immunos @ Biopolis
5.80 - 6.00
Research unit for Biomedical. Suit Bio-research & physical science company.
5
Amnios @ Biopolis
5.75
Biomedical R&D usage. Office Size from 10000 sft.
5
Synapse / Amnios @ Biopolis
5.75 - 6.60
Biomedical R&D usage. Size about 2400 sft. Fitted unit or bare condition.
5
Infinite Studios @ Mediapolis
4.60 - 5.10
Business Park and office-type unit available. Fr 1500 sft.
5
Alice @ Mediapolis
3.85 - 5.20
Suits SMEs in InfoComm, Media, Physical Science and Engineering R&D industries. Launchpad graduates & SME enjoy rental subsidy. Sizes from 1000 - 45000 sft.
---