---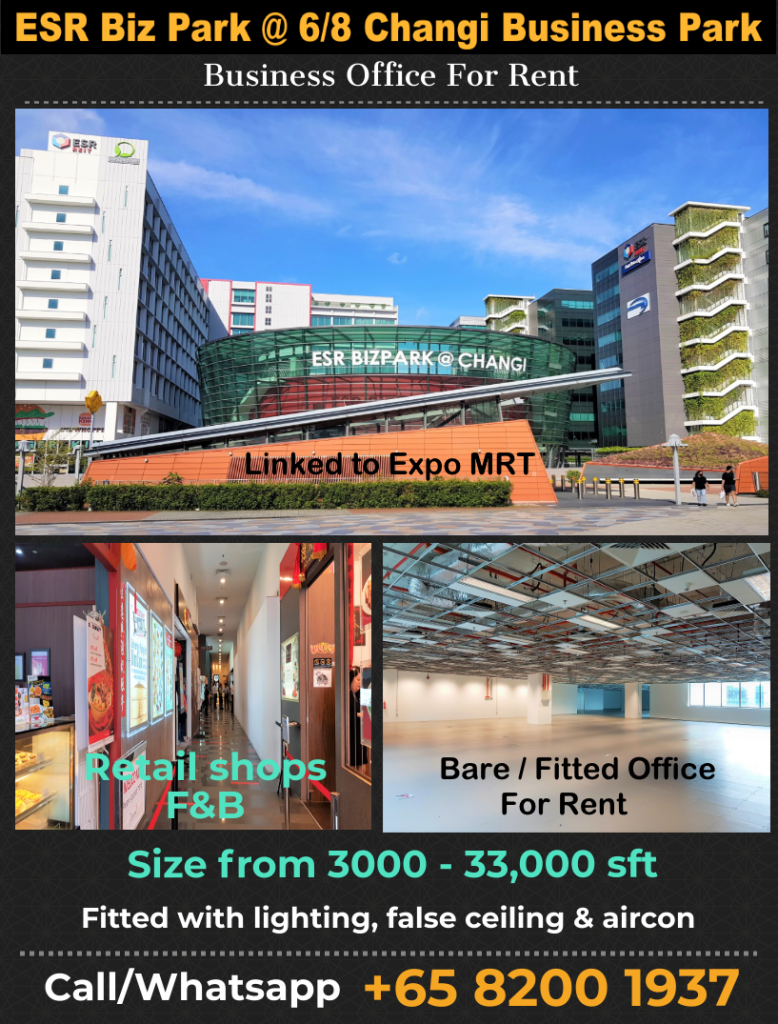 ---
ESR Business Park @ Changi (Former UE Bizhub East) – Linked to Expo MRT
Location : 6 / 8 Changi Business Park Ave 1, Singapore 486017
---
ESR Busines Park @ Changi was formerly known as UE Biz Hub East and is conveniently linked via basement to Expo MRT, which is an interchange between East West line as well as Downtown MRT line, making it highly accessible to the city and to the airport easily. This is an integrated development comprising of hotel, retail and business park. ESR Business Park @ Changi offers retail amenities, F&B options, and Fair Price supermarket adding to the convenience of the existing tenants there. It is less than 10 minutes drive to Changi airport and 20 minutes drive to city downtown area.
ESR Changi Business Park has a huge compound of 783,415 sft floor space with approximately 670,000 sft of business office and retail space for rent. It is just a stone throw away from Changi City Point Mall and Capri Hotel by Fraser. Retail and F&B shops (800 – 1600 sft) with good frontage are also available for rental as of now. Please call hotline to enquire availability.
The smallest office space for rent @ ESR Changi Business Park starts from 3,000 sft to the largest single floor plate of 65,000 sft (sub-divisible). Nevertheless, most of the typical office sizes that are sought here is between 5,000 – 15,000 sft. All of the office units are fitted with false ceilings, centralised aircon and lighting with or without raised flooring. Some of the office have its own exclusive lobby and toilet. Many of other buildings at Changi Business Park also offer flexible configuration layout to suit different business requirement and easy set-up.
Please Do NOT Be Confused!
There are 2 ESR Business Parks in Singapore, namely ESR Business Park @ Chai Chee (near Bedok area) and ESR Biz Park @ Changi Business Park.  They are under Business Park zoning but are located in different area and exhibits different features, companies and environment. Both buildings are also an integrated business parks with white site that features retail component. 
---
ESR Business Park @ Changi Business Park (Linked to Expo MRT)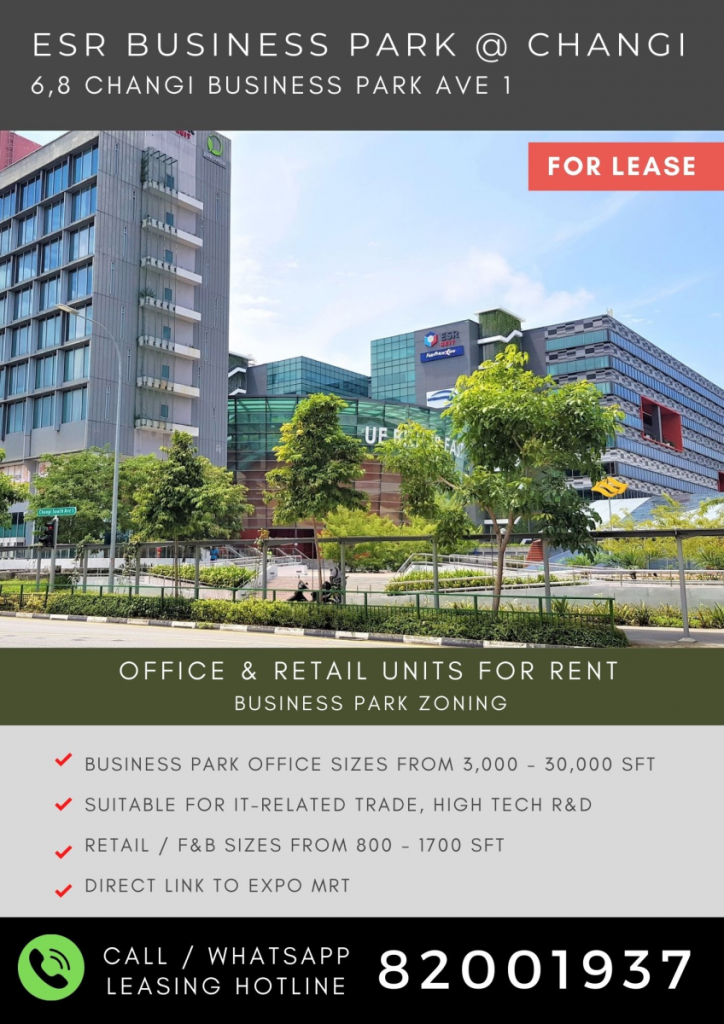 ---
ESR Business Park @ Changi Business Park – Key Highlights :
Consists of 2 towers – North and South Tower

Awarded with BCA Green Mark Gold Plus

Total 9 floors

Office & Retail floor area for rent total 670,000 sft

Centralised aircon – AHU system

9 loading bays

10 Passenger lifts

299 parking lots

Auditorium space available

Estimated lettable space is 423,000 sqft in two towers

Business office space size available : From 3,000 / 5,000 / 10,000 / 20,000 / 30,000 / 65,000 sft (sub-divisible)

Continuous single floor plate with exclusive use of lobby and toilets available

Retail & F&B Units available : From 800 sft
Location Overview :
Located opposite Expo MRT (Downtown Line)

It has direct link to ESR Biz Park @ Changi via basement

20 min drive to the city

10 min drive to Changi airport

Easy access to ECP and PIE

Several bus stops nearby for public commuters

Near Changi Ferry Terminals and Singapore University Technology & Design (SUTD)

Next to Capri Hotel and One Changi City shopping mall

Surrounded by amenities eg. F&B, retail, banks, supermarkets, healthcare, learning centers, etc
---
Qualifying Trade For Changi Business Park
ESR Business Park @ Changi (former UE Biz Hub East) is located under Business Park zoning by Urban Redevelopment Authority (URA). Under Business Park zoning, the land usage that is permissible includes high tech manufacturing, product design/development, computer centre, data processing, industrial training, central distribution, e-business, core media activities, and IT / ICT related activities.
Below are the list of uses which are allowed and not allowed within Business Park (non-white):
Allowable (within the non-White component)
Not Allowable
Minimum 60% Predominant
Maximum 40% Ancillary
Uses with the following characteristics
Core Media Activities
Ancillary Office
Pollutive Uses
Research and Development
Sick Room/First Aid Room
Bad Neighbour
Data Processing
Industrial Canteen
Independent Warehousing
Central Distribution Centre
Childcare Centre
Test Laboratory
Meeting Room
Product Design/Development
Showroom
Industrial Training
E-Business
Manufacturing of High Technology Products using Advanced Processes
---
ESR Business Park @ Changi Business Park – Location Map – 2,4,6,8 Changi Business Park Ave 1
---
ESR Business Park @ Changi Business Park – Office Rental Procedure
Typical Lease Term : 3 – 5 years + renewal option

Security Deposit : 3 months

Advance Rental : 1 month

Rent Free Fitting-up Period : Typically 1 month (depending on unit size, lease term and rental rate)

NEA and JTC approval are required 
ESR Business Park @ Changi office rental is generally based on 3 + 3 renewable lease term lease with a certain rental-free fit-out period given. 
Please note that NEA and JTC approval are required for all leases at ESR Business Park @ Changi. NEA approval takes approximately 2 weeks and JTC processing could stretch to 1 month or longer. Hence, please allocate sufficient planning and processing time for your company's business space set-up or relocation.
Most of the office units offered in Changi Business Park usually are fitted with false ceilings, lights, and centralised aircon with or without raised flooring. Tenants are expected to renovate and furnish the office unit according to their specifications within the fit-out period given by the landlord. The length of this rent-free period also depends on the rental amount agreed and the length of the lease term. Tenants are allowed to partition the space into small office rooms, meeting or conference rooms, pantry, etc as long as the renovation doesn't violate fire safety rule. Please note that upon expiry of the lease, the tenants are required to reinstate the office unit into its original condition.
Other Changi Business Parks office for rent are available at Honeywell, One @ Changi City, Plaza 8, Akzonobel House, The Eightrium, The Signature, Rigel, and Haite. 
Please call our enquiry hotline to discuss about your office space requirements at Changi Business Park Singapore.
---
Changi Business Park Rental Rates Guide
| District | Project | Price/psf/mth (S$) | Remarks |
| --- | --- | --- | --- |
| 16 | 1 Changi Business Park Ave 1 | 4.50 | Sizes fr 2500 sft |
| 16 | Honeywell @ 17 CBP Central | 4.50 | Sizes fr 6000 - 13000 sft |
| 16 | AkzoNobel House @ 3 CBP Vista | 4.50 | Sizes fr 4000 sft |
| 16 | Hansapoint @ 10 CBP Central 2 | 4.50 | Limited space available. Call to check. |
| 16 | One@Changi City @ 1 CBP Central 1 | 5.50 | Sizes fr 2000 - 10000 sft |
| 16 | Plaza 8 @ 1 CBP Crescent | 4.20 | Sizes fr 1200 - 7000 sft |
| 16 | ESR Business Park @ 6 CBP Ave 1 | 4.50 | Linked to Expo MRT station. Sizes fr 3000 - 30,000 sft. Retail space available. |
| 16 | The Signature @ 51 Changi Business Park Central 2 | 4.20 | Sizes fr 1000 - 8000 sft. Bare/Fitted options. |
| 16 | Rigel Innovation Centre | 2.80 - 3.00 | Sizes fr 3000 - 24,000 sft. Bare condition. |
| 16 | Eightrium @ 15A CBP | 4.00 | Sizes fr 3600 - 12800 sft. Bare or Fitted unit available. |
| 16 | Haite Building | 2.90 - 3.00 | Sizes from 1500 - 20000 sft |
---