---
Featured – Changi Business Park Buildings
---
---
Quality Office At Changi Business Park For Rent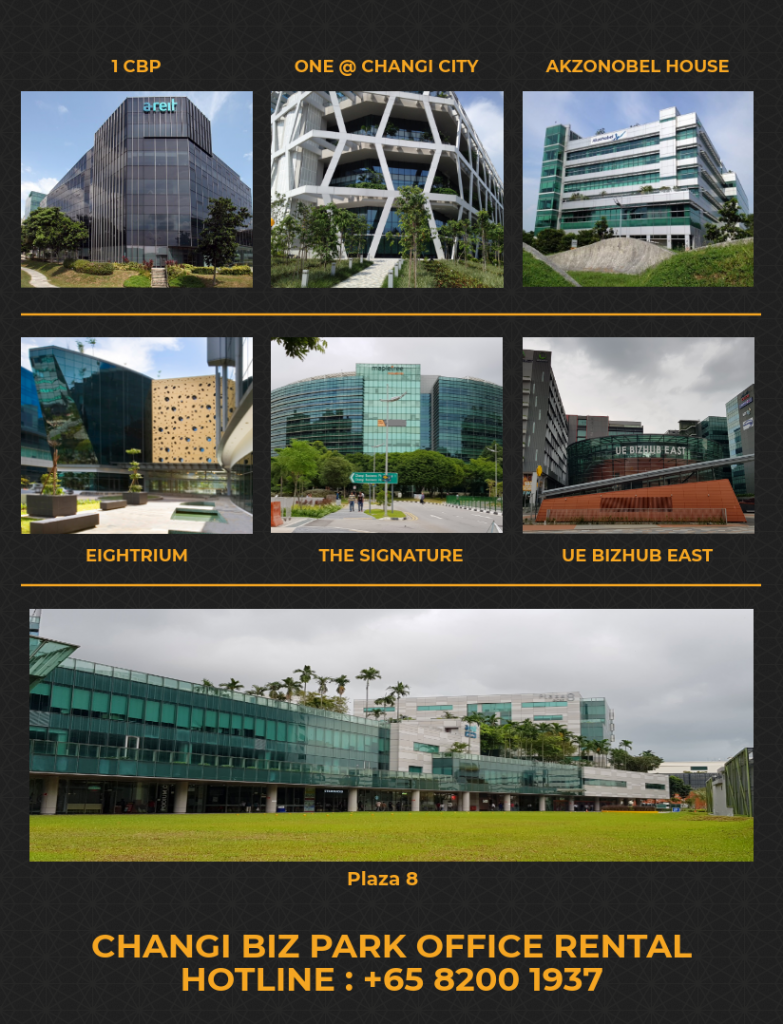 Buildings at Changi Business Park Office For Rent:
1 Changi Business Park Ave 1
Akzonobel House (3 Changi Business Park Vista)
Honeywell (17 Changi Business Park Central)
One @ Changi City
Plaza 8 @ CBP (1 Changi Business Park Crescent)
UE Bizhub East
The Signature (51 Changi Business Park Central 2)
The Strategy (2 International Business Park)
Rigel (20 Changi Business Park Central 2)
Haite (15 Changi Business Park Crescent)
Changi Business Park space for rent is suitable for office space, back-end operations, customer service centre, research and development, and IT-related activities.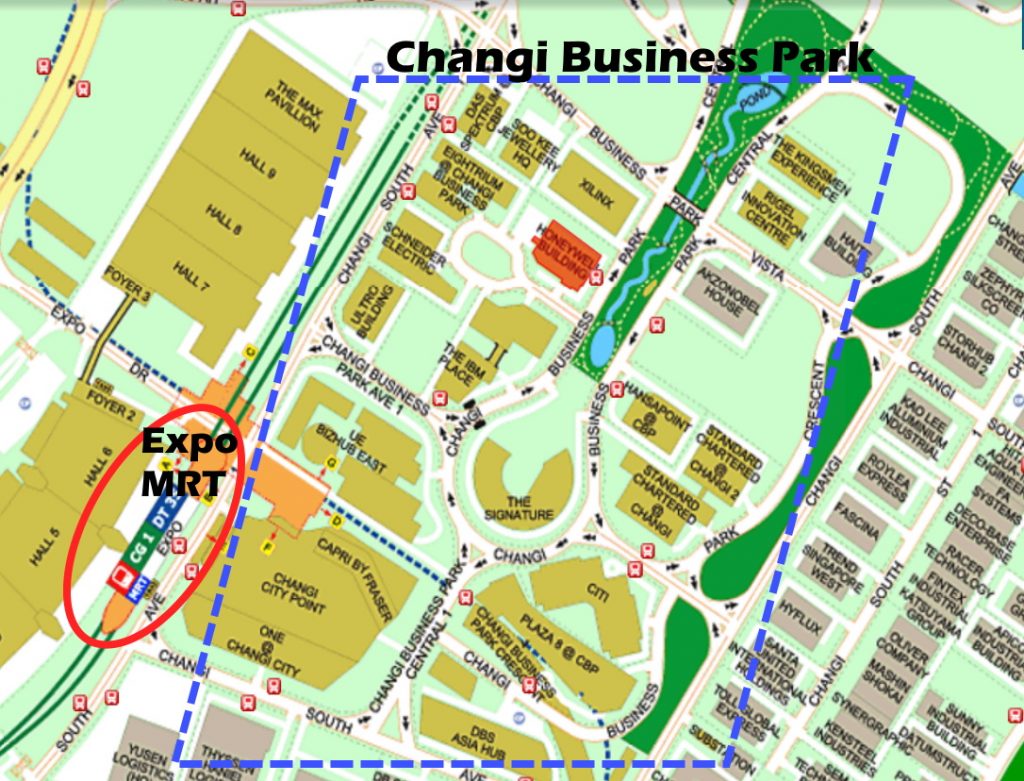 About Changi Business Park Singapore
JTC Corporations debuted the 66-hectare Changi Business park in the first month of the second half of 1997, and the Park has been growing ever since. Currently, Changi Business Park Singapore encompasses roughly 71.07 hectares of land of a mixed-use project that encompasses a four-star hotel (Capri by Fraser), a retail mall (Changi City Point), and offices.
Changi Business Park are mostly packed by tech companies, such as IT-related, software developing companies, research and development, consumer products, financial institutions, telecom, and so on. Without a doubt, Changi Business Park is home to some of the most prominent technology and financial services companies in Singapore, and it holds a lot of potential for startup companies as well. From the time when Changi Business Park Singapore opened its doors to customers, and office owners, high-tech and financial service companies have been using its floors for their businesses. It is often hyped as the center point of modern tech-related business and the back room of the financial institutions. Changi Business Park proximity to other high standard independent facilities such as hotels, serviced suites, supermarket, gym, and childcare center makes it even more appealing to many companies, both Small Medium Enterprise (SME) or Multi National Corporations (MNC) to rent office in Changi Business Park compound.
Being one of the biggest economies in the world, Singapore is home to many high-tech companies, and a good number of them are housed in Singapore Business Parks eg. Changi Business Park, International Business Park, One North, and Science Parks. The modern corporate image that office buildings in Changi Business Park give good impression to company that needs certain public image.
Changi Business Park is also in close proximity to Expo where most of the famous and large-scale MICE (Meetings, Incentives, Conventions, Exhibitions) are held frequently. This presence of all these amenities and niche trade which Changi Business Park offer are advantageous to companies that are based in the area since it gives room for close business collaboration within the same trade and ease of conducting business with convenience all around. This collaboration opportunities, highly educated work force and transportation convenience are one of the factors that make Singapore as the forefront runner for many foreign companies to set up their Asia headquarters. And at a fraction of office rental cost in CBD area (40 – 60% cheaper), Changi Business Park is a strong contender for technology companies to set up offices here. Many financial institutions have their front office in CBD area but house their back-room operations in Business Park.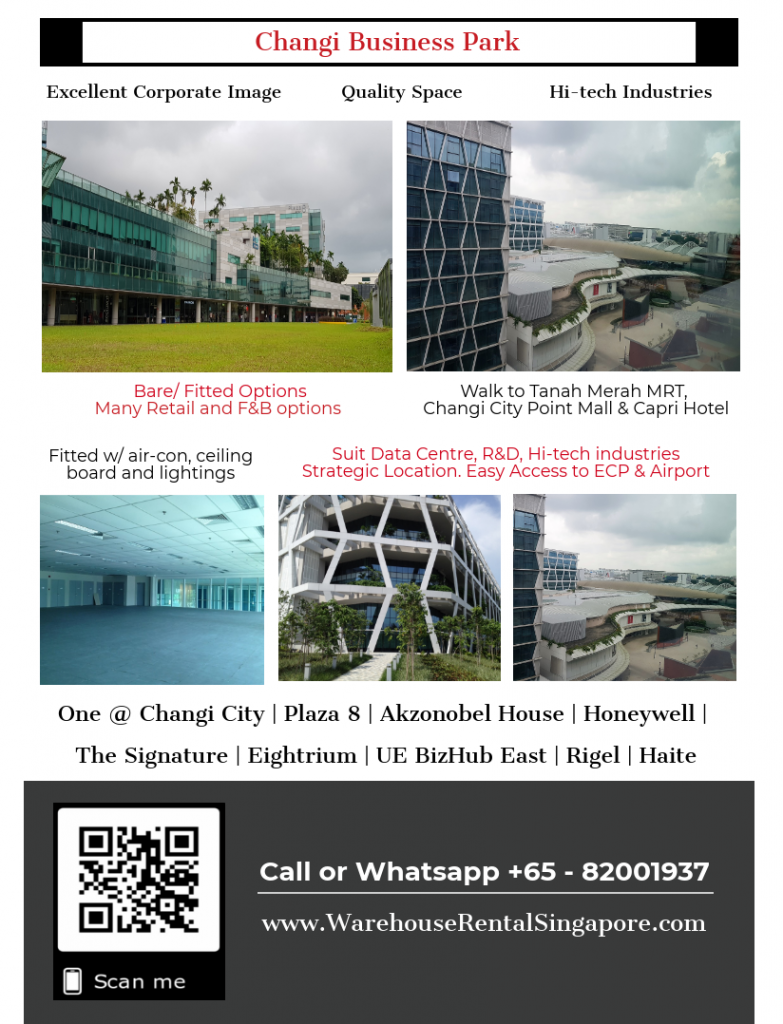 ---
Changi Business Park Rental Rates Guide
| District | Project | Price/psf/mth (S$) | Remarks |
| --- | --- | --- | --- |
| 16 | 1 Changi Business Park Ave 1 | 4.50 | Sizes fr 2500 sft |
| 16 | Honeywell @ 17 CBP Central | 4.50 | Sizes fr 6000 - 13000 sft |
| 16 | AkzoNobel House @ 3 CBP Vista | 4.50 | Sizes fr 4000 sft |
| 16 | Hansapoint @ 10 CBP Central 2 | 4.50 | Limited space available. Call to check. |
| 16 | One@Changi City @ 1 CBP Central 1 | 5.50 | Sizes fr 2000 - 10000 sft |
| 16 | Plaza 8 @ 1 CBP Crescent | 4.20 | Sizes fr 1200 - 7000 sft |
| 16 | ESR Business Park @ 6 CBP Ave 1 | 4.50 | Linked to Expo MRT station. Sizes fr 3000 - 30,000 sft. Retail space available. |
| 16 | The Signature @ 51 Changi Business Park Central 2 | 4.20 | Sizes fr 1000 - 8000 sft. Bare/Fitted options. |
| 16 | Rigel Innovation Centre | 2.80 - 3.00 | Sizes fr 3000 - 24,000 sft. Bare condition. |
| 16 | Eightrium @ 15A CBP | 4.00 | Sizes fr 3600 - 12800 sft. Bare or Fitted unit available. |
| 16 | Haite Building | 2.90 - 3.00 | Sizes from 1500 - 20000 sft |
---
How much does Changi Business Park Office Rental cost?
Changi Business Park office rentals are in the range of $4.00 – $5.50 psf versus CBD office rental of $8 – $12 psf. It is almost 40% – 60% cheaper. This is why many financial institutions have their front office in the CBD but place the back-room operations in Changi Business Park (eg. DBS, Standard Chartered, Citibank, etc). The price differential comes down to several factors: the size of the office space, the building image (newer building commands higher price), the proximity to amenities & MRT, the layout and the fitting of the unit. Most of the units are pre-fitted with ceiling board, lights and aircon. There are some units that come in a bare condition offering cheaper rental. But again, please note that only tech related, research and development and financial industry can be based in Changi Business Park.
Why Changi Business Park is one of the suitable places to set up an Office?
The strategic positioning of Changi Business Park and its state-of-the-art building façade and energy saving cooling system set it apart as one of the best locations for high-tech companies, software and data businesses, as well as research and development enterprises in Singapore. The congregation of these companies in the same compound offer an opportunity for business collaboration, work opportunities and a highly conducive work environment. The presence of childcare center and a gym are also good pulling factory for employees to work around in Changi Business Park.
The proximity to Changi airport and popular residential and amenities area in the East region also lent some weight to tech companies to rent offices in Changi Business Park. The trade niche, good corporate image for branding, presence of amenities such as hotel, retail mall and abundance of F&B options, and convenience of commuting via buses or MRT are perfect consideration for many companies. It is also one of the most convenient area to conduct businesses with foreign visitors. These guests can check-in to the nearby Capri Hotel by Frasers while visiting offices based at Changi Business Park on a tight schedule as it takes only 1 stop from Expo MRT to the airport.
That is why it comes as no surprise that renowned companies like Wipro, Cisco Systems, IBM, Xilinx, Huawei, Honeywell, and Infosys have set up offices in Changi Business Park. While some of them have both their front and back office together in the same place, others have only backroom offices (especially for financial institutions).
How to rent an office unit for your business in Changi Business Park Singapore?
JTC Corporation (a statutory board under Ministry of Trade and Industry ) offers the land in Changi Business Park for sale to companies that would like to build its' headquarter in the area under a 30-year lease. But for most companies, renting an office unit is the most effective way to start operating immediately without the headache of getting a developer to build from scratch. This is the most affordable (probably the only) way to have an office here.
Changi Business Park office rental is generally based on 3 + 3 renewable lease term lease and prospective tenants can pick from a range of good corporate image buildings to be based at. Most of the office units offered in Changi Business Park usually are fitted with false ceilings and lights. Also, they are ventilated by a centralized air conditioner. Tenants are expected to renovate and furnish the office unit according to their specifications within the fitting-out period given by the landlord. A completely bare unit is also available at a cheaper rental. These bare units will suit companies that do not mind to spend a certain sum of renovation dollar to fit-up their space nicely for long-term use.
Changi Business Park is the probably one of the best options for technology companies that do not want to pay a costly office in CBD but wants to have the good branding and opportunity to be seen together with the same trade niche.
Warehouse Rental Singapore specializes in sourcing for suitable warehouse and office space in industrial buildings and Singapore Business Parks (eg. One @ Changi City, UE Biz Hub East, Plaza 8, Honeywell, Akzonobel House, The Eightrium, The Strategy, The Signature, Rigel, etc). Some of these buildings have nice lounges and open sitting area for discussion purposes. Most of the landlord will give a rent-free period commonly known as fitting-up period. The length of this rent-free period also depends on the rental amount agreed and the length of the lease term. Tenants are allowed to partition the space into small office rooms, meeting or conference rooms, pantry, etc as long as the renovation doesn't violate fire safety rule. Please note that upon expiry of the lease, the tenants are required to reinstate the office unit into its original condition.
For start-up companies, Changi Business Park office rental allows you to set up office units that are well positioned in tech-related industry and inexpensive. Some co-working space are also available (on first come first serve basis). This implies that you won't be stressing your budget too much.
Please call our enquiry hotline to discuss about your office space requirements at Changi Business Park Singapore.