---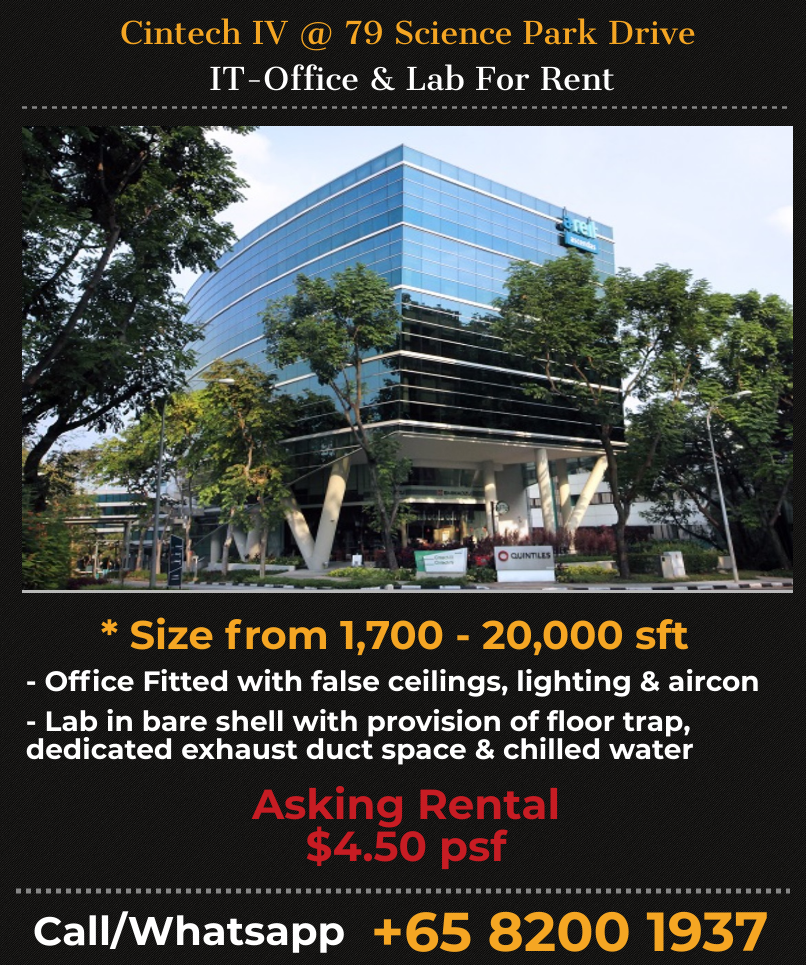 ---
Cintech IV Location : 79 Science Park Dr, Singapore 118264 (Science Park 1)
---
Cintech IV are situated in the middle part of Science Park I and are next to Cintech III and the Chadwick. It is a more flexible variant of the "Cintech" series of buildings that provides IT office and R&D laboratory space for rent. The units are completed either with bare shell or fitted units with false ceiling, central air-conditioning with/without raised flooring and lighting available for activities ranging from dry-based R&D or wet laboratory to IT-related activities. Cintech IV have an excellent corporate image and have a futuristic Grade A building facade with fresh & warm welcoming lobby.
Science Park 1 is situated along Singapore's Technology Corridor. The compound of the Park's campus-like setting provides an ideal working environment for more than 300 companies, be it MNCs, local companies and research organisations. The proximity of Science Park to the National University of Singapore (NUS) is also strong consideration factor as companies based in Science Parks can easily collaborate with researchers / students from the University and companies based at One North.
For transport convenience, there is a complimentary internal shuttle bus shuffling between Science Park 1 and Science Park 2 for personnel working there. Starbucks is also present at Cintech IV giving anyone a chill-out time at a great welcoming space.
Staff working at Science Park 1 can also take advantage of the complimentary lunch shuttle service that go to different market places such as Holland Drive Market, Ghim Moh Food Centre, Holland Village and Sparkle at Science Park 2. The lunch shuttle service starts from 11.45 am with a returning service provided. Please see below table.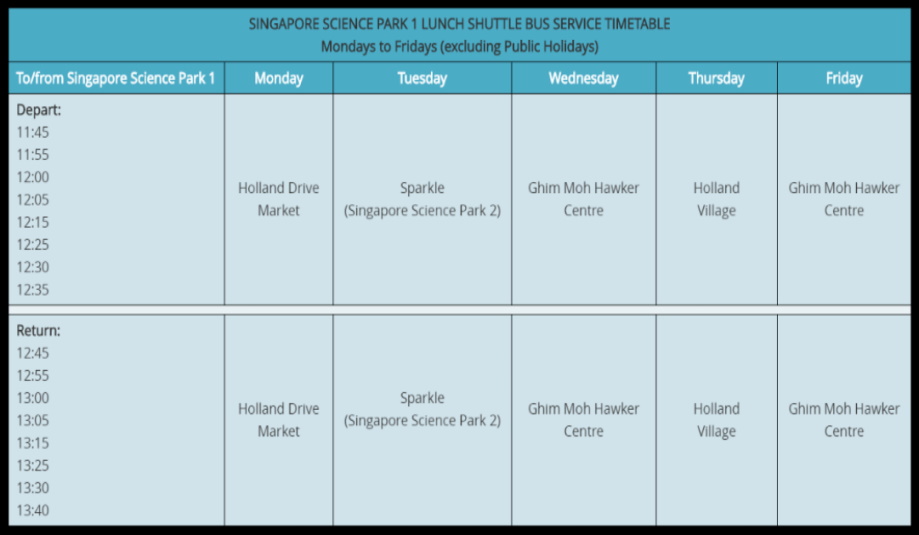 ---
Cintech IV Lab & Office For Rent – Building Specification :
Floor Loading: 1st storey: 10 kN/sqm ; 2nd to 6th storey: 5 kN/sqm
Ceiling Height
Floor to Slab Soffit Height
1st storey: 3.5 m ; 2nd to 6th storey: 3.0 m
Passenger lifts: 3 with capacity for 15 people each
Service lift: 1 x 2500 kg
– Dimensions: 2.45m (W) x 2.05 m (D) x 2.7 m (H)
---
Science Park Rental Rates Guide
| District | Project | Price psf/month (S$) | Remarks |
| --- | --- | --- | --- |
| 5 (Science Park 1) | Ascent @ 2 Science Park Dr | 6.80 | Sizes fr 1000 - 35,000 sft. Limited space available |
| 5 (Science Park 1) | Rutherford @ 89 Science Park Dr | 4.20 | Research unit. Sizes fr 1500 - 7500 sft. |
| 5 (Science Park 1) | The Franklin | 3.80 | Limited space available |
| 5 (Science Park 1) | Cintech I/II/III @ 73 Science Park Dr | 4.50 | IT-unit. Sizes fr 700 - 13000 sft |
| 5 (Science Park 1) | Cintech IV @ 79 Science Park Drive | 4.50 | Research Unit from 1700 - 20,000 sft |
| 5 (Science Park 1) | Chadwick/Curie/Cavendish @ 85 Science Park Dr | 4,20 | IT-unit. Sizes fr 1000 - 5000 sft |
| 5 (Science Park 2) | The Alpha @ 10 Science Park Rd | 4.30 - 4.70 | IT and Research units available. Sizes fr 800 - 40000 sft |
| 5 (Science Park 2) | The Gemini @ 41 Science Park Rd | 4.20 - 4.50 | Research units. Sizes fr 500 - 10000 sft |
| 5 (Science Park 2) | The Aries @ 51 Science Park Rd | 4.00 - 4.50 | Research units. Sizes from 1000 - 3500 sft |
| 5 (Science Park 2) | The Capricorn @ 1 Science Park Rd | 4.60 | IT and Research units available. Sizes fr 1000 - 5000 sft |
| 5 (Science Park 2) | Teletech Park @ 20 Science Park Rd | 4.70 | IT-unit. Sizes fr 1000 - 10000 sft |
| 5 (Science Park 2) | The Galen @ 61 Science Park Rd | 4.70 | Research unit. Sizes fr 1000 - 50000 sft |
| 5 (Science Park 2) | The Kendall @ 50 Science Park Rd | 4.70 | Research unit. Sizes fr 2000 - 3200 sft |
---