---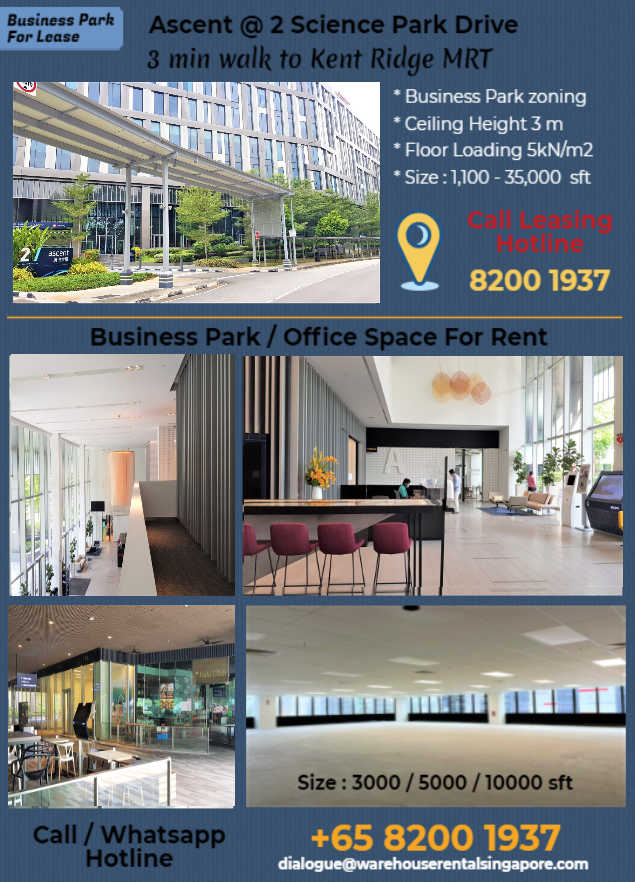 ---
Ascent Location : 2 Science Park Dr, Singapore 118222 (Science Park 1)
---
Ascent @ Science Park 1 is the nearest building to Kent Ridge MRT (approximately 3 minutes walk) and is situated right in the beginning corner of Science Park I. It is also walking distance from NUH and NUS, making the location a favorite among companies that have plenty of collaboration with the two institutions. The building has a premium wide frontage facade facing Science Park Drive specifically designed for company dealing with IT-related trade such as software/hardware development, quick start-up units for dry-based R&D companies, etc. Ascent is an iconic development that excellent corporate image, lush landscaping throughout the grounds, and posh lobby with super high ceiling. The building boasts several well known MNCs clientele such as Johnson & Johnson, Dyson, etc.
Ascent at Science Park 1 offers premium business park space for rent with typical sizes from 1000 to large contiguous floor plates of up to 35,000 sft (Please call leasing hotline to check availability of the space for rent at Ascent). It also has an impressive food, retail and services arena on its ground floor. There is also a co-working space provider, Bridge+, that offers flexible workspace solutions on flexible terms on level 1. This flexi/fixed desks will help the need of companies that need to expand their workforce temporarily on project basis.
All of the business park office for rent comes with false ceilings, lighting, and central air-conditioning with/without raised flooring.
Science Park 1 is situated along Singapore's Technology Corridor. The compound of the Park's campus-like setting provides an ideal working environment for more than 300 companies, be it MNCs, local companies and research organisations. The proximity of Science Park to the National University of Singapore (NUS) is also strong consideration factor as companies based in Science Parks can easily collaborate with researchers / students from the University and companies based at One North.
---
Ascent @ Science Park Space For Rent – Key Highlights :
AWARDS : BCA Green Mark Platinum
ACCESSIBILITY :
• 2 minutes' walk to Kent Ridge MRT Station
• Walking distance to NUH and NUS
• 15 minutes' drive from Central Business District and from Clementi and Buona Vista MRT Stations
• Free shuttle services : Singapore Science Park 1 & 2, NUS and Kent Ridge MRT Station
BUILDING SPECIFICATIONS
Type of Building
• 7-storey Business Park Space
• Single storey F&B, Retail and Services Space
Floor Area
• Total NLA:
– Business Park Space: Approx. 39,056 sqm
– Retail / F&B Space: Approx. 4,189 sqm
Typical Floor Plate
• Business Park Space: Approx. 70 sqm to 7,267 sqm
• Retail / F&B Space: Approx. 34 sqm to 1,214 sqm
Floor Loading
• 1st – 7th storey: 5.0 kN/sqm

Ceiling Height
• Floor to ceiling clear height
– Business Park Space: 3.0 m
– Retail / F&B Space: 4.0 m
Lifts
• Passenger lifts:
– Business Park Tower: 6 per tower x 1,630 kg (24 persons)
– Retail car park: 1 x 1,020 kg (15 persons)
• Service lifts:
– Business Park Tower: 1 per tower x 3,000 kg (Dimension: 2.0 m (W) x 3.0 m (D) x 2.8 m (H))
– Retail / F&B Space: 2 x 3,000 kg (Dimension: 2.0 m (W) x 1.9 m (D) x 2.7 m (H))

Loading Bay Facilities
• 5 loading/unloading bays with 2 dock levellers

Parking Lots
• Car: Approx. 300
• Motorcycle: Approx. 48
• Bicycle: Approx. 10
• Parking lot allocation: 1 lot per 200 sqm leased
Air-conditioning System
• Business Park Space
– Central chilled water system
– Air-con provided from Mon to Fri (8am – 6pm) except Public Holidays
• Retail/F&B Space
– Fan Coil Unit for Retail/F&B units and Air Handling Unit with
chilled water connection for Food Court
Air-conditioning Charges
• After office hours: $60 per hour
• Chilled water supply is available (subject to terms and conditions)
Amenities
• Meeting rooms, auditorium and fitness centre with swimming pool at Oasis
• F&B outlets at Ascent, Cintech I, Oasis and One@KentRidge
• Retail shops and supermarket at One@KentRidge
---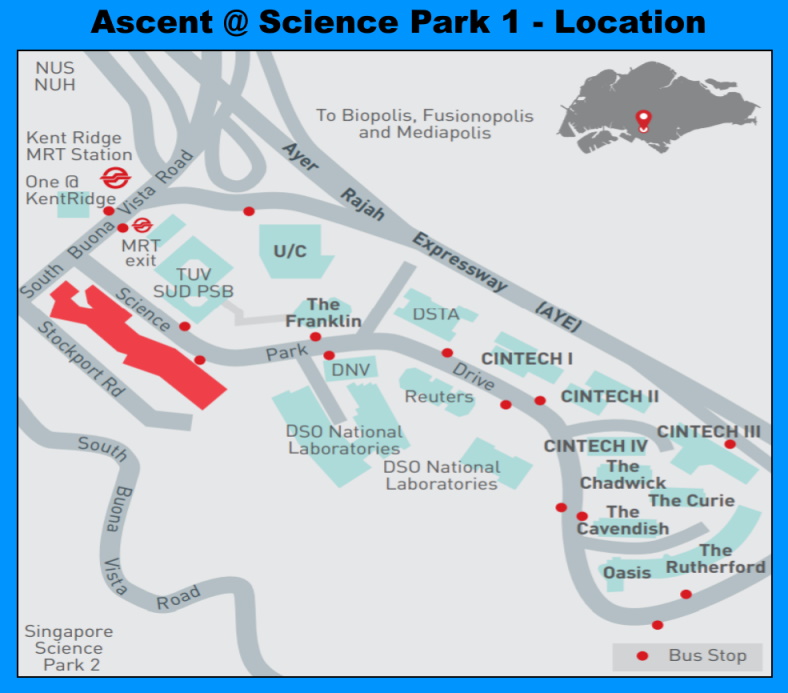 Directions – How To Go To Science Park 1
By Car: From the Ayer Rajah Expressway (AYE), take the Normanton Park or South Buona Vista Road exit and turn into Science Park Drive.
By MRT: Take the Circle Line and alight at Kent Ridge MRT station Exit B. Visitors can then access the park by foot or take the Singapore Science Park shuttle bus.
By Public Bus: Take public SBS Bus No. 92 from Buona Vista MRT Station.
Park Shuttle Service from Kent Ridge MRT.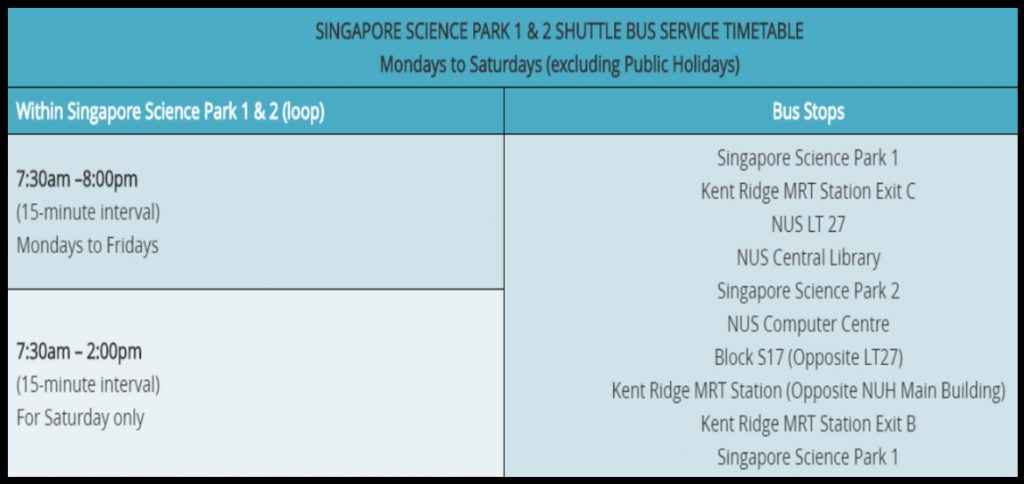 ---
Internal Shuttle Bus Service within Science Park 1 and Science Park 2
To add to the convenience of personnel working within Science Park Community, there is also an internal shuttle bus service that is free of charge that ply the routes from Singapore Science Park 1 to Science Park 2 and vice versa from Monday to Saturday (excluding public holiday).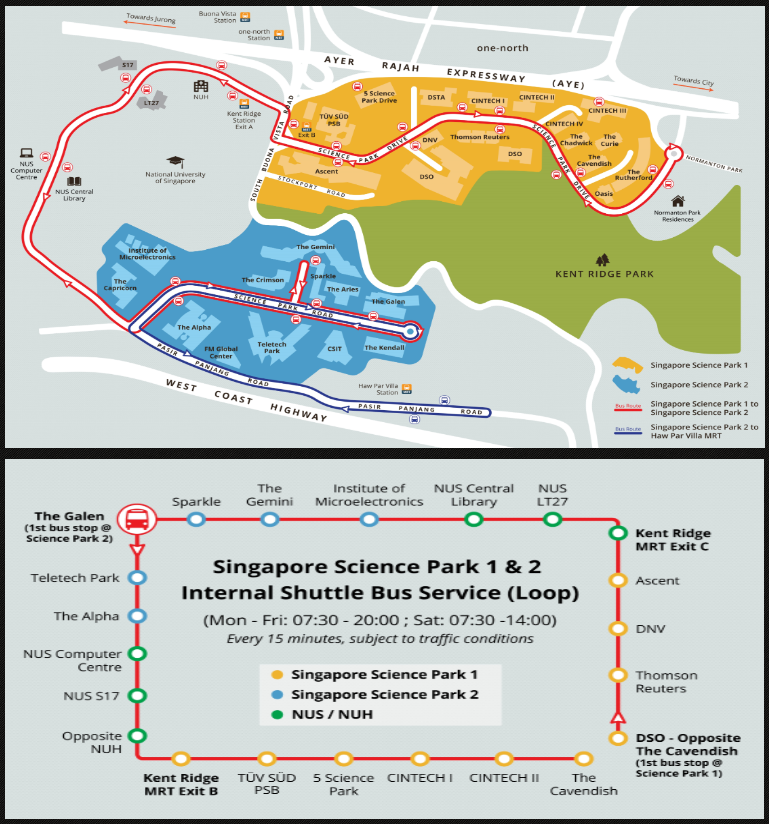 ---
Science Parks Rental Rates Guide
| District | Project | Price psf/month (S$) | Remarks |
| --- | --- | --- | --- |
| 5 (Science Park 1) | Ascent @ 2 Science Park Dr | 6.80 | Sizes fr 1000 - 35,000 sft. Limited space available |
| 5 (Science Park 1) | Rutherford @ 89 Science Park Dr | 4.20 | Research unit. Sizes fr 1500 - 7500 sft. |
| 5 (Science Park 1) | The Franklin | 3.80 | Limited space available |
| 5 (Science Park 1) | Cintech I/II/III @ 73 Science Park Dr | 4.50 | IT-unit. Sizes fr 700 - 13000 sft |
| 5 (Science Park 1) | Cintech IV @ 79 Science Park Drive | 4.50 | Research Unit from 1700 - 20,000 sft |
| 5 (Science Park 1) | Chadwick/Curie/Cavendish @ 85 Science Park Dr | 4,20 | IT-unit. Sizes fr 1000 - 5000 sft |
| 5 (Science Park 2) | The Alpha @ 10 Science Park Rd | 4.30 - 4.70 | IT and Research units available. Sizes fr 800 - 40000 sft |
| 5 (Science Park 2) | The Gemini @ 41 Science Park Rd | 4.20 - 4.50 | Research units. Sizes fr 500 - 10000 sft |
| 5 (Science Park 2) | The Aries @ 51 Science Park Rd | 4.00 - 4.50 | Research units. Sizes from 1000 - 3500 sft |
| 5 (Science Park 2) | The Capricorn @ 1 Science Park Rd | 4.60 | IT and Research units available. Sizes fr 1000 - 5000 sft |
| 5 (Science Park 2) | Teletech Park @ 20 Science Park Rd | 4.70 | IT-unit. Sizes fr 1000 - 10000 sft |
| 5 (Science Park 2) | The Galen @ 61 Science Park Rd | 4.70 | Research unit. Sizes fr 1000 - 50000 sft |
| 5 (Science Park 2) | The Kendall @ 50 Science Park Rd | 4.70 | Research unit. Sizes fr 2000 - 3200 sft |