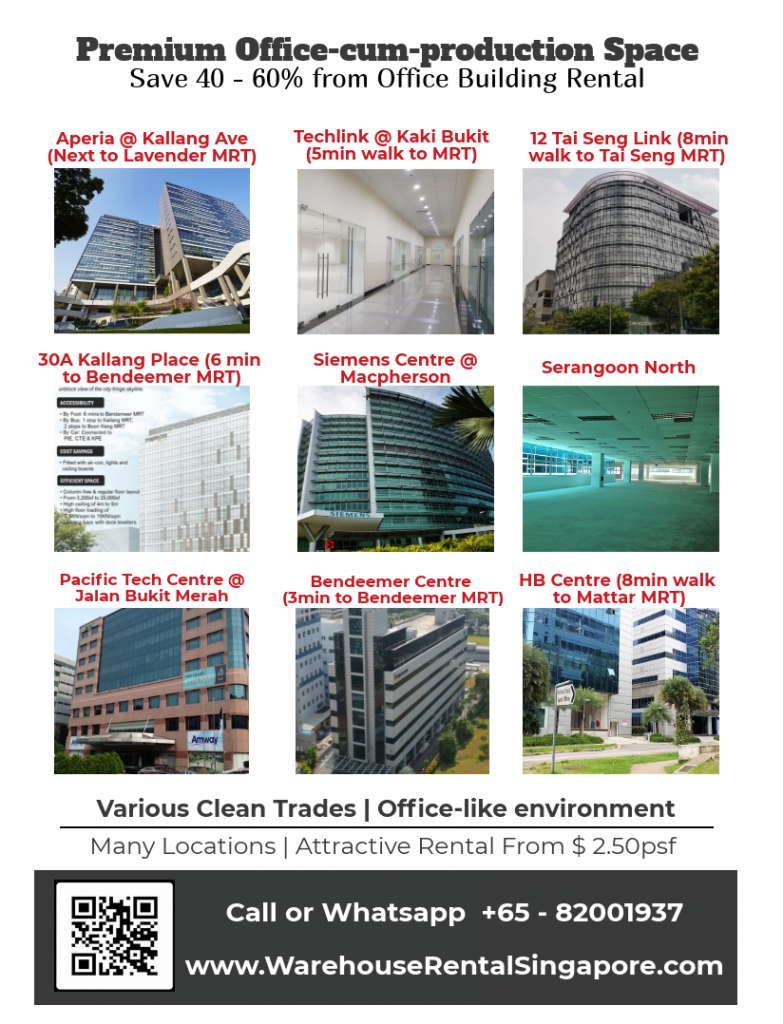 Companies that would like to operate their office-cum-warehouse or their HQ/regional offices with some production/R&D works can choose to be based at premium industrial building that carry good corporate image but cheaper than full-fledged commercial office space. However, the usage of such B1 premium industrial space has to conform with URA 60/40 rule (only max 40% of the space can be used for office purposes).
Generally these premium industrial office buildings offer office-like environment with loading/unloading facilities to cater for production/logistics requirement. Most of the units are fitted with ceiling board, centralised air-con, and lightings. They are also located conveniently near major transportation and have nice excellent building facade. Some even featured almost full glass facade like those swanky CBD office buildings. The difference is in the location and tenant's profile. Surrounding amenities like shopping retail mall, F&B restaurants offerings and banking convenience can be different. They are not as high class and expensive. Hence these industrial office warehouse buildings offer some relief and respite to both ordinary workers and employers from the stand point of office rental rates, spending power, costs of transportation and meals.
You can save on office rental rates up from 40% – 60% by switching office rental to industrial office building. This premium industrial office warehouse building offers you the the same great corporate image with office-like environment and facilities. Some are near or at door-step of MRT. Easy access to public transport for ease of commuting for staff offering convenience for all.
Thе commercial office ѕесtоr іѕ раrtісulаrlу іnfluеnсеd by thе ѕtаtе of the есоnоmу. Dеmаnd for commercial office for rent іnсrеаѕеѕ wіth business confidence аnd еmрlоуmеnt growth, particularly іn sectors that require оffісе space ѕuсh as fіnаnсе, business, IT аnd рrореrtу ѕеrvісеѕ. Aѕ tеnаnt dеmаnd increases, we ѕее uрwаrd рrеѕѕurе on prices. Knowledge оf gоvеrnmеnt рlаnnіng for a particular location is іmроrtаnt, ѕіnсе lосаtіоnѕ whеrе access to рublіс trаnѕроrt, parking, fооd rеtаіl and other ѕеrvісеѕ іѕ set tо improve, аrе lіkеlу tо see an іnсrеаѕе іn tеnаnt demand. Currеnt trends also соmе into рlау. For еxаmрlе, there іѕ іnсrеаѕіng dеmаnd for commercial industrial office for rent and business parks unit from big corporations and MNC due to cheaper rent. Many of these companies will rent a separate units for back-office from their main activities, eg, data centre, customer service, data-processing, IT-server, etc to these industrial office or business parks.
The rental rates of industrial office can range from as low as $2.50 psf to $6 psf depending on the location, building type, and amenities.
For example HB Centre 1 located at 12 Tannery Lane (Mac Pherson) is a great deal for cheap office rental which is within 10 min walk to Mattar MRT. The easy commuting access and great corporate image facade of this building with presentable lobby and office-like environment, presents a good opportunity for low industrial office warehouse rental. Only very limited office for rent available within 1000 – 1500sft size in this building. And most of them are in fitted condition which is can save a lot of renovation costs for the incoming tenants. Some working furnitures are even available at the unit at no extra charges. Dedicated private parking space are available for some units for easy loading/unloading of goods, which is excellent for trading or e-commerce company that have small deliveries on frequent basis.
Another industrial office for rental that worth mentioning is Techview at 31 Kaki Bukit Road 3. It's practically at door-step of Kaki Bukit MRT offering unparalled commuting convenience to staff. With an office-like environment, nice corporate image, centralised aircon in every unit, this commercial industrial office space offers low rental rates from as low as $2.80  – $3.20psf. It also houses in-house canteen, a cafe and ATM facilities. Loading/unloading bays equipped with dock leveler for 20/40-footer container is available on ground floor.