---
Featured – Changi Business Park Building
---
Featured – International Business Park Building
---
Featured – Science Parks 1 & 2
---
Featured – One North
---
Singapore Business Parks – For Rent:
Changi Business Park

International Business Park @ Jurong

ESR Business Park @ Chai Chee

Science Parks 1 & 2

One North
---
Business park enable companies in the same cluster (i.e. pharmaceutical, infotech, telecommunications, etc) to operate in a conducive, landscaped environment with easy access to public transportation and security coverage.
This unique facilities and ambience serve as plus point when recruiting and retaining professionals staff.
In short…business parks is modern, safe, and cheaper in rent compared to full fledged commercial space.
It is specifically set aside for non-pollutive industries and mostly suitable for businesses in IT, software development, R&D, high-tech manufacturing, laboratory testing, and data processing activities.
---
The 4 Business Parks For Rent in Singapore:
---
1. Changi Business Park (CBP)
CBP is strategically located in a beautifully-landscaped environment that is supported by an energy-saving District Cooling System. It is a natural choice for high-technology businesses, data and software enterprises, research and development divisions of multinational companies and knowledge-intensive enterprises.
Who & who are here?
Honeywell, Invensys, Ultro Technologies and IBM also have their presence in CBP.
Similar to IBP, companies can customise their facilities to the maximum of lease of 30 years.
Available units for lease at Changi Business Park:
One @ Changi City | UE Biz Hub East| Akzonobel House | Hansapoint | Honeywell | Plaza 8 |3 Changi Business Park Vista | The Signature @ 51 Changi Business Park | Rigel Innovation Centre | Haite

---
2. International Business Park (IBP)
Unique feature: Able to custom-build own facilities for a maximum of 30 years.
Who & who are here?
Acer Computer, Creative Technologies, Sony, M+W Zander, Mobile One, German Centre for Industry, and Nordic European Centre, which function as incubators for start-ups.
Available units at International Business Park for rent:
Acer (29 International Business Park)

Icon @ IBP (3A International Business Park)

Nordic (3 International Business Park)

iQuest @ IBP (27 International Business Park)

Techquest (7 International Business Park)

The Synergy (1 International Business Park)
The Strategy ( 2 International Business Park)

---
3. ESR Business Park @ Chai Chee
Formerly known as Viva Business Park @ Chai Chee, ESR Business Park is conveniently located in between Bedok and Kembangan MRT and is surrounded by residential estates and amenities. The site has been redeveloped to encompass retail stores & F&B shops within the compound offering convenience to existing tenants. It is easily accessible to public transport and amenities. The office rental rates at ESR Business Park is also the lowest among the rest of the Business Parks in Singapore eg Changi Business Park, International Business Park

---
4. One North
One North is the biggest R&D cluster ever developed by JTC encompassing 200 hectare of land. It is in a stages of development within 15-year to time frame. The changes toward this area has improved the area's accessibility and amenities considerably. It has also brought in many knowledge-intensive companies, scientists, start-ups and is the conducive place where innovation takes place amongst the brightest minds.
One North have 3 major hubs to house key public and private institutes and organizations, namely : Biopolis, Fusionopolis, and Mediapolis.
There is an underground connection from One North MRT to Fusionopolis Hub making accessibility and convenient towards this area a breeze.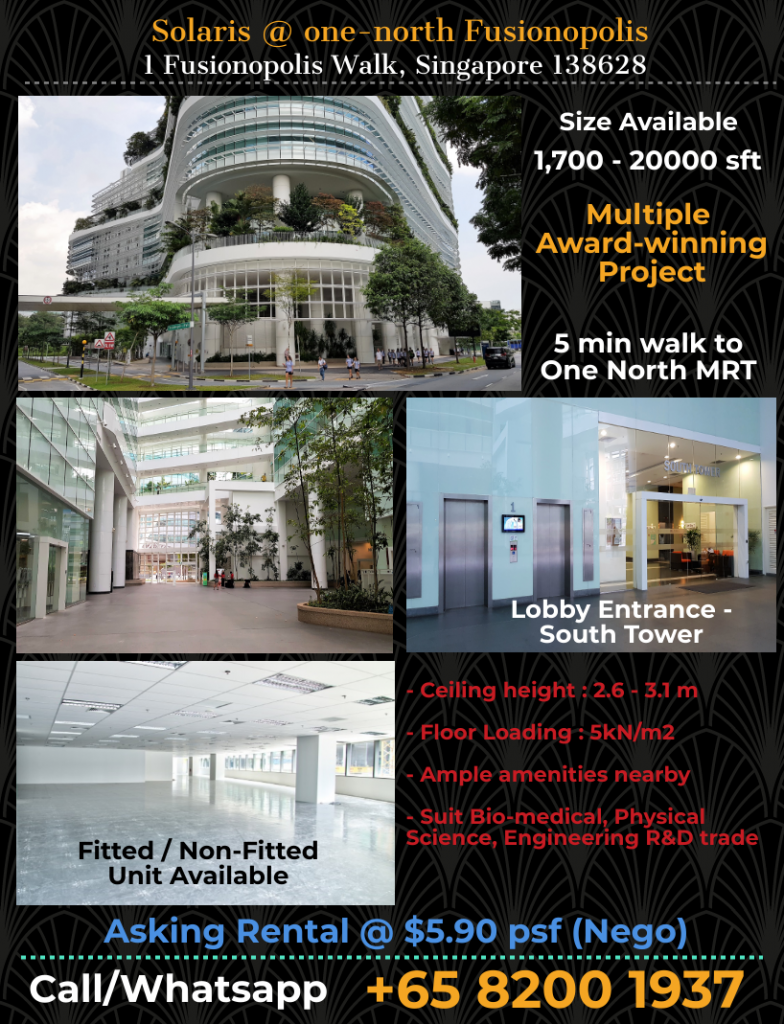 ---