---
Nucleos @ one-north Biopolis Rental – Building Specs :
Gross Floor Area : 46,182 sqm
Net Lettable Area : 36,592 sqm
Floor Loading :
1st storey: 7.5 kN/sqm
2nd to 7th storey: 7.5 kN/sqm for typical laboratory
2nd to 7th storey: 12.5 kN/sqm for 7th storey
Ceiling Height (Floor to Floor) :
– 1st storey: 4.0 m to 9.0 m
– 2nd to 6th storey: 5.3m
– 7th Storey: 8.5m (North Tower); 5.3m (South Tower)
Passenger lifts: 8 x 1,360 kg (20 people)

Cargo/Service lifts: 2 x 2,515 kg (37 people)
Loading Bay : 5 loading/unloading bays


---
Nucleos @ One North Biopolis Transport accessibility via MRT & Car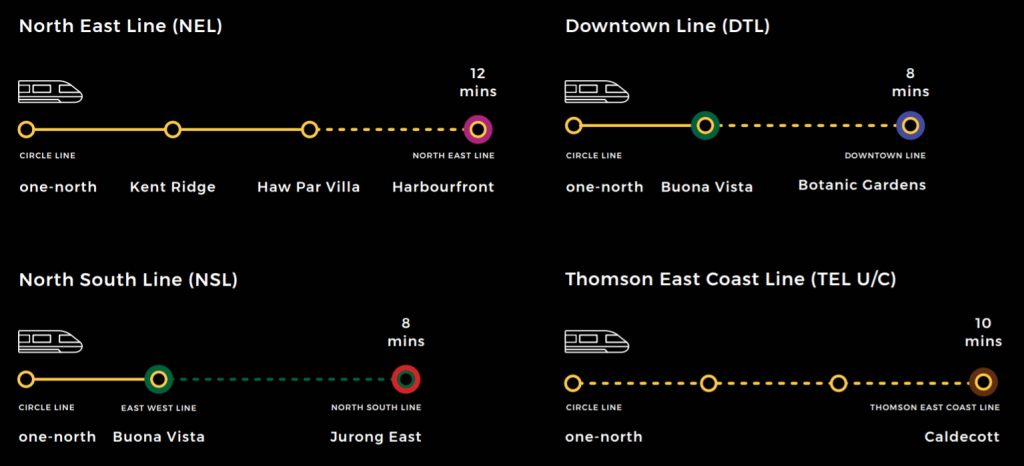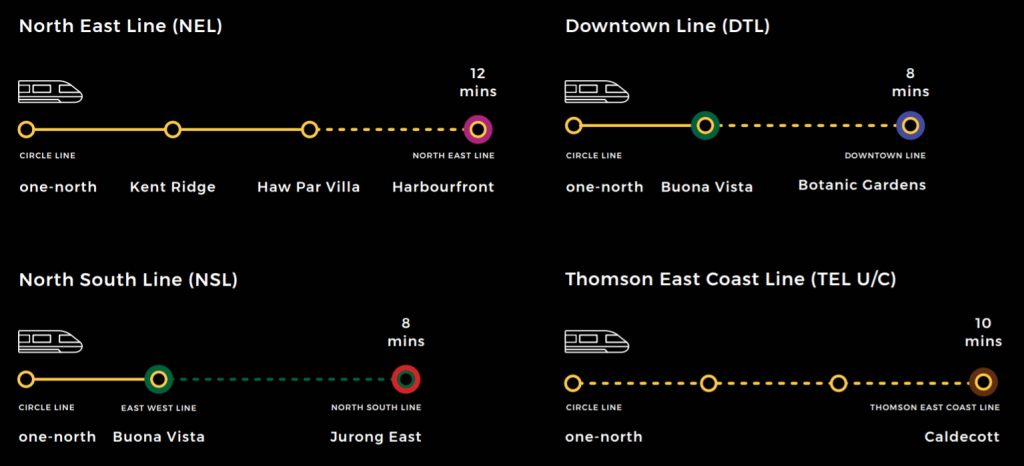 One-north MRT to Harbour Front (North East Line)  – 12 mins
One-north MRT to Botanic Gardens (Downtown Line) – 8 mins
One-north MRT to Jurong East (North South Line) – 8 mins
One-north MRT to Caldecott (Thomson East Coast Line) – 19 mins

For those who drive from Alice Mediapolis to go for business meeting at CBD, it takes only approx 17 minutes to reach. And those who need to catch a flight at Changi airport, it will take 30 minutes with cab or private vehicle via AYE.
---
One-North Business Park & Lab Rental Rates Guide
(Disclaimer : The rental rates guide below serves as a reference only and is subject to change without any prior notice).
District
Project
Price/psf/mth
(S$)
Remarks
5
Nexus @ Fusionopolis
5.80 - 6.30
Business Park & Pure office for rent. Suit Bio-research & physical science, electronics & technology company.
5
Galaxis @ Fusionopolis
6.00 - 6.30
Business Park & Pure office for rent. Suit Bio-research & physical science, electronics & technology company.
5
Solaris @ Fusionopolis
5.90
Research unit. Award winning project. Sizes fr 2700 - 13000 sft.
5
Razor SEA HQ @ Fusionopolis
5.90
Business Park Usage. Suitable for IT or techonology related industry. Fully sheltered 6 min walk to One North MRT. Sublet fee applies.
5
Nucleos @ Biopolis
5.80 - 6.20
Research unit for Bio-medical trade.
Sizes fr 1000 - 8000 sft.
5
Neuros/Immunos @ Biopolis
5.80 - 6.00
Research unit for Biomedical. Suit Bio-research & physical science company.
5
Amnios @ Biopolis
5.75
Biomedical R&D usage. Office Size from 10000 sft.
5
Synapse @ Biopolis
5.75 - 6.60
Biomedical R&D usage. Size about 2400 sft. Fitted unit or bare condition.
5
Infinite Studios @ Mediapolis
4.60 - 5.20
Research unit and office-type unit available. Sizes fr 3000 sft.
5
Alice @ Mediapolis
3.85 - 5.70
Suits SMEs in InfoComm, Media, Physical Science and Engineering R&D industries. Launchpad graduates will enjoy rental subsidy. Sizes from 1000 - 45000 sft. imageAmenities available to tenants: Meeting rooms, childcare centre, huge event halls, F&BShuttle bus at 10 mins' interval to Buona Vista and one-north MRT
---