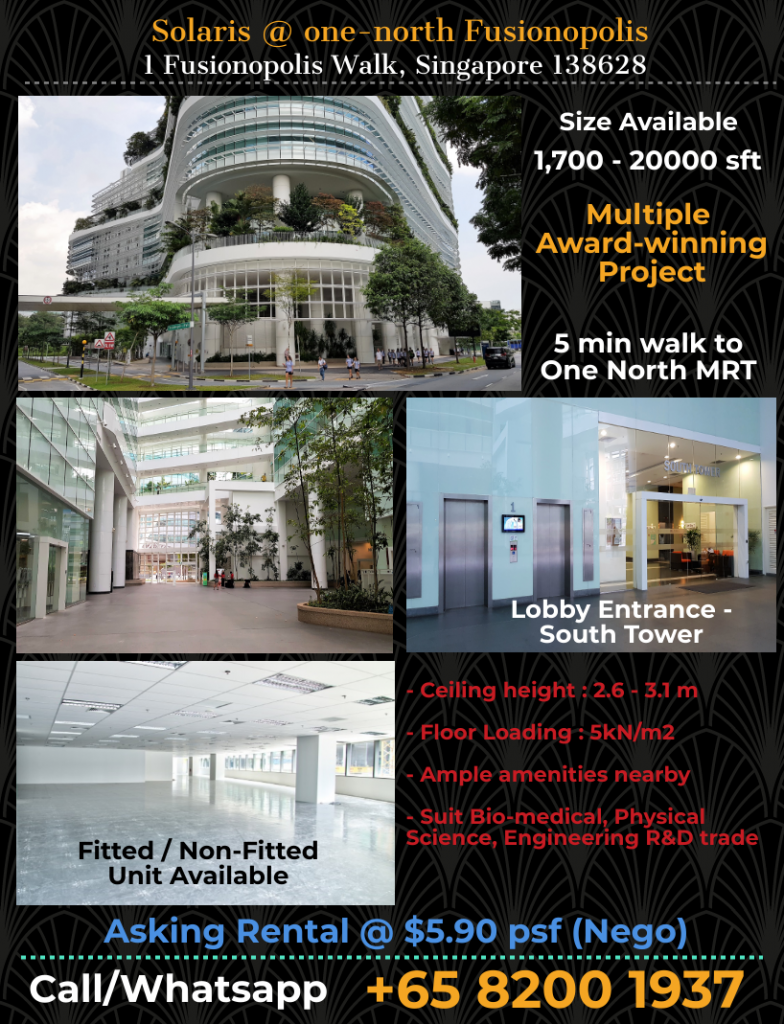 ---
Solaris @ Fusionopolis Space For Rent
Solaris @ one-north is located at Fusionopolis hub which is catered for bio-medical, physical science and engineering R&D trade. The building scores high on sustainability, which won multiple awards for its green and thoughtful design. In September 2009, Solaris was awarded a Green Mark Platinum rating, the highest level of certification granted by BCA's Green Mark, Singapore's sustainable building benchmark.
The building sits on a 1.9 acre (7,734m²) site and comprises two tower blocks separated by a glass-roofed public plaza. The first tower block has 15 levels and the second tower nine, while both have landscaped rooftop gardens. The total floor area is 51,282m² (551,995ft²), the landscaped area is 8,363m² (90,018ft²) and the building is 80m high.
The open space of the ground floor plaza provides a good place for gatherings and hosting events, while the two towers (North and South) are linked by sky bridges over the public plaza on the top floors. The rooftop garden and the corner sky terraces also provide open space to allow constant interaction with nature and a clear view of the surroundings.
---
Awards & Publications obtained by Solaris @ one-north
First Prize – Skyrise Greenery Awards 2009
– Singapore Institute of Architects & Singapore National Parks
GreenSource Magazine – May 2009 "Ramping Up Green"
Time Based Architecture International – June 2009 "Continuous Green"
FutureArc – 1st Quarter 2010, Vol 16 'Solaris"
---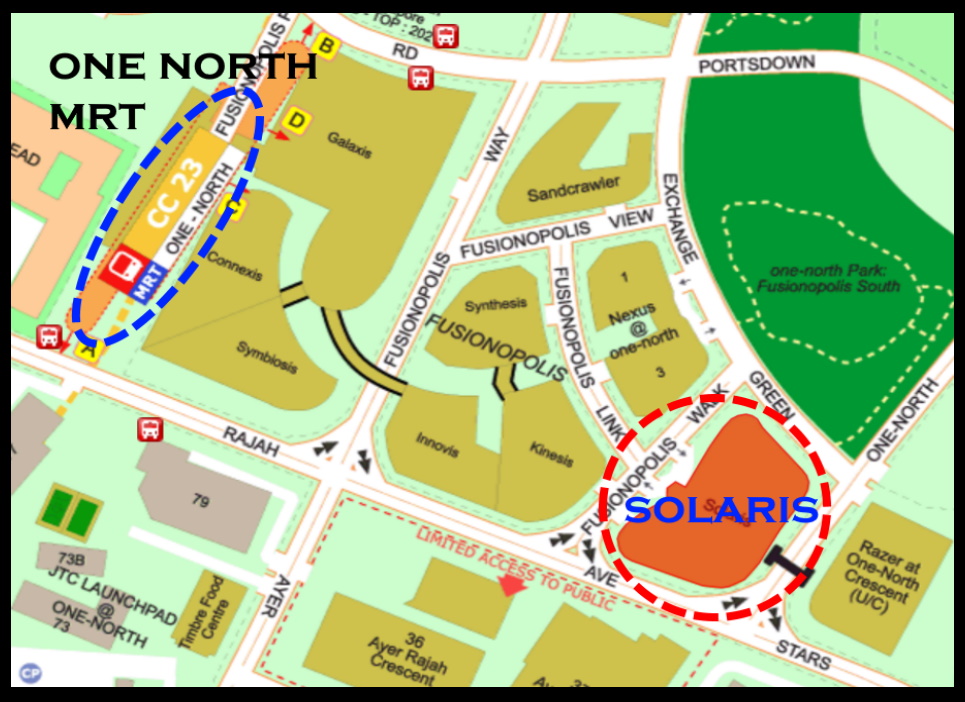 ---
Solaris @ one-north Office Rental – Building Spec
Solaris @ one-north office for rent has good regular layout that features ample windows for natural lightings with good view. Smallest unit starts from 1700 sft. While a contiguous office space per floor level is 20,000 sft. Fitted units are available from time to time. Please call Solaris office leasing hotline for more information.
With a mere 5 min walk to One North MRT and surrounding amenities, Solaris Office Rental is sought after by many prestigious company that looks forward for a good branding in sustainability.
Ceiling Height : 2.9 – 3.1 m
Floor Loading : 5kN/m2
---
Solaris @ One North Fusionopolis Transport accessibility via MRT & Car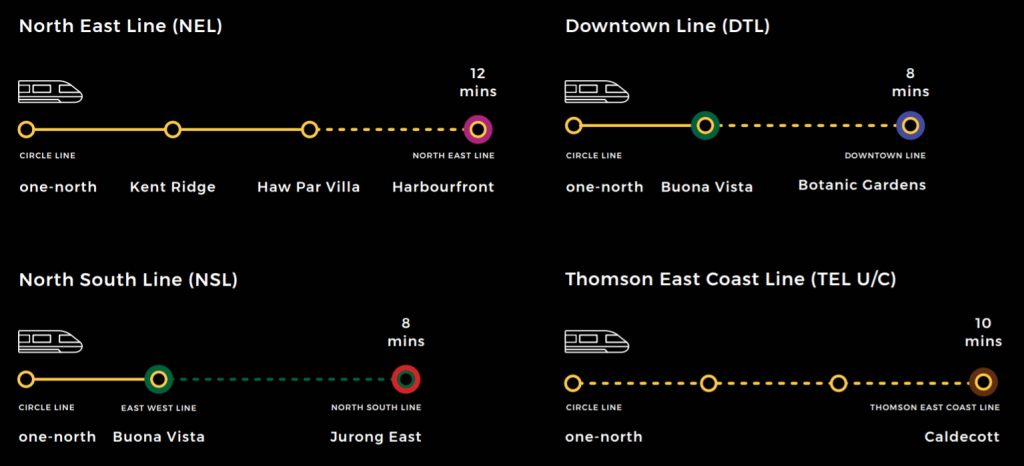 One-north MRT to Harbour Front (North East Line) – 12 mins
One-north MRT to Botanic Gardens (Downtown Line) – 8 mins
One-north MRT to Jurong East (North South Line) – 8 mins
One-north MRT to Caldecott (Thomson East Coast Line) – 19 mins

For those who drive from Alice Mediapolis to go for business meeting at CBD, it takes only approx 17 minutes to reach. And those who need to catch a flight at Changi airport, it will take 30 minutes with cab or private vehicle via AYE.
---
One-North Business Park & Lab Rental Rates Guide
(Disclaimer : The rental rates guide below serves as a reference only and is subject to change without any prior notice).
District
Project
Price/psf/mth
(S$)
Remarks
5
Nexus @ Fusionopolis
5.80 - 6.30
Business Park & Pure office for rent. Suit Bio-research & physical science, electronics & technology company.
5
Galaxis @ Fusionopolis
6.00 - 6.30
Business Park & Pure office for rent. Suit Bio-research & physical science, electronics & technology company.
5
Solaris @ Fusionopolis
5.90 - 6.80
Research unit. Award winning project. Sizes fr 2700 - 13000 sft.
5
Razor SEA HQ @ Fusionopolis
5.60
Business Park Fr 3800 - 29000 sft. Suitable for IT or technology related industry. Sheltered 6 min walk to One North MRT. Sublet fee applies.
5
Nucleos @ Biopolis
5.80 - 6.30
Research unit for Bio-medical trade.
Sizes fr 1000 - 8000 sft.
5
Neuros/Immunos @ Biopolis
5.80 - 6.00
Research unit for Biomedical. Suit Bio-research & physical science company.
5
Amnios @ Biopolis
5.75
Biomedical R&D usage. Office Size from 10000 sft.
5
Synapse @ Biopolis
5.75 - 6.60
Biomedical R&D usage. Size about 2400 sft. Fitted unit or bare condition.
5
Infinite Studios @ Mediapolis
4.60 - 5.10
Business Park and office-type unit available. Fr 1500 sft.
5
Alice @ Mediapolis
3.85 - 5.50
Suits SMEs in InfoComm, Media, Physical Science and Engineering R&D industries. Launchpad graduates enjoy rental subsidy. Sizes from 1000 - 45000 sft.
---